Here at MovetoTacoma.com we are super proud of our clickable neighborhood map. If you're trying to understand where cities and neighborhoods around Pierce County are located in relation to one another, we don't think you will find a better resource. You can compare architecture, amenities, median home prices, and find out what the neighbors are saying about what it's really like to live in each neighborhood. There are dozens of neighborhood pages, and we're still bringing a few of them online, but there is no better guide to Pierce County Neighborhoods than this one!
Tacoma Neighborhoods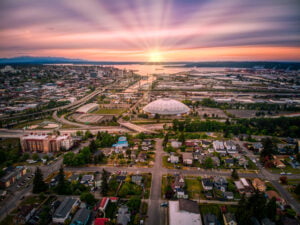 These are neighborhoods located within the City of Tacoma itself:
North Tacoma – These are the neighborhoods north of 6th avenue all the way to the water. The tiny city of Ruston is not technically part of Tacoma, but is located within this boundary. North Tacoma neighborhoods include:
Most of the West End and West Slope
Northeast Tacoma/ Browns Point
Central Tacoma – Central Tacoma is bordered on its north side by the thriving 6th avenue neighborhood. Folks who live in Central Tacoma neighborhoods have the most convenient access to surrounding neighborhoods and attractions as well as the quickest commutes.
St Helens / Theater District Neighborhood
South Tacoma/ South End / Eastside – South Tacoma is the area to the west of I-5 which includes the Tacoma Mall. South End is east of I-5 to Pacific Ave and includes smaller neighborhoods such as Lincoln, Whitman, and Fern Hill. The Eastside is to the east of Pacific Avenue.
Waller
Pierce County Cities and Neighborhoods (Outside of Tacoma)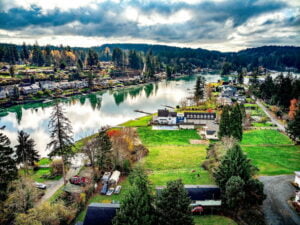 Gig Harbor Neighborhoods
City of Gig Harbor (Downtown area)
Pierce County Cities to the South West of Tacoma
City of Fircrest
Cities and Neighborhoods in East Pierce County
City of Fife
City of Puyallup
          Orting
Tehaleh
For more information about buying a house in Pierce County check out these resources:
If you're relocating to Tacoma and Pierce County, there is a lot of information out there to digest. We hope this post and the neighborhood guides we have created are helpful as you choose the neighborhood or city in Pierce County that's right for you. If you'd like a recommendation to a local real estate agent who specializes in one of these cities, Move to Tacoma creator Marguerite would love to answer any questions you have and make a recommendation. Click here to contact Marguerite!