Pierce County Neighborhoods are many and varied! In this article we breakdown where the neighborhoods and cities in Pierce County are and everything you need to know about them.
What do I need to know about moving to Pierce County and choosing a neighborhood?
Here at MovetoTacoma.com we are super proud of our clickable neighborhood map. If you're trying to understand where cities and neighborhoods around Pierce County are located in relation to one another, we don't think you will find a better resource. You can compare architecture, amenities, median home prices, and find out what the neighbors are saying about what it's really like to live in each neighborhood. There are dozens of neighborhood pages, and we're still bringing a few of them online, but there is no better guide to Pierce County Neighborhoods than this one!
We know Pierce County is an incredible place to live. From the waters of the Puget Sound to the peak of Mt. Rainier- Pierce County is a varied and beautiful place. With of neighborhoods and communities from brand new construction to historic neighborhoods, Pierce County has something for everyone.
While folks can find urban living in Tacoma- Pierce County also small cities & towns, suburbs, and rural communities. Whether you're looking for a salt water view with your own dock, a condo in the city, a new home in a gated community, or a horse property- you will find it all here in Pierce County.
For a list of schools, city websites, transportation options, and more check out "Moving to Pierce County? Here's what you need to know."
What are the differences between Thurston County and King County?
The biggest difference up front is that Thurston is quite a bit smaller and more rural than Pierce.  According to Jana this just means a little bit of a slower pace of life compared to Pierce County. Pierce County has about three times as many people and is about three times as large as Thurston. Thurston County has a population of about 300,000 people and an area of 775 square miles. Pierce County has a population just under 1,000,000 and an area of 1,800 square miles. Both counties have large rural areas where the population is more spread out.
Tacoma Neighborhoods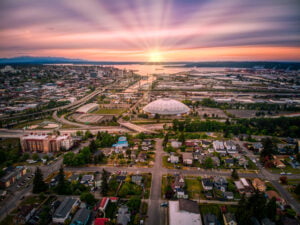 These are neighborhoods located within the City of Tacoma itself:
North Tacoma – These are the neighborhoods north of 6th avenue all the way to the water. The tiny city of Ruston is not technically part of Tacoma, but is located within this boundary. North Tacoma neighborhoods include:
Most of the West End and West Slope
Northeast Tacoma/ Browns Point
Central Tacoma – Central Tacoma is bordered on its north side by the thriving 6th avenue neighborhood. Folks who live in Central Tacoma neighborhoods have the most convenient access to surrounding neighborhoods and attractions as well as the quickest commutes.
St Helens / Theater District Neighborhood
South Tacoma/ South End / Eastside – South Tacoma is the area to the west of I-5 which includes the Tacoma Mall. South End is east of I-5 to Pacific Ave and includes smaller neighborhoods such as Lincoln, Whitman, and Fern Hill. The Eastside is to the east of Pacific Avenue.
Pierce County Cities and Neighborhoods (Outside of Tacoma)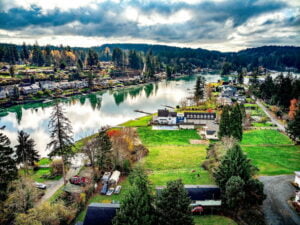 Gig Harbor Neighborhoods
City of Gig Harbor (Downtown area)
Pierce County Cities to the South West of Tacoma
City of Fircrest
Cities and Neighborhoods in East Pierce County
City of Fife
City of Puyallup
          Orting
Tehaleh
For more information about buying a house in Pierce County check out these resources:
If you're relocating to Tacoma and Pierce County, there is a lot of information out there to digest. We hope this post and the neighborhood guides we have created are helpful as you choose the neighborhood or city in Pierce County that's right for you. If you'd like a recommendation to a local real estate agent who specializes in one of these cities, Move to Tacoma creator Marguerite would love to answer any questions you have and make a recommendation. Click here to contact Marguerite!