Thinking of moving to Pierce County, Washington? Pierce County is an incredible place to live. From the waters of the Puget Sound to the peak of Mt. Rainier- Pierce County is a varied and beautiful place. Pierce County has a varied mix of communities. While folks can find urban living in Tacoma- Pierce County also small cities & towns, suburbs, and rural communities. Whether you're looking for a salt water view with your own dock, a condo in the city, a new home in a gated community, or a horse property- you will find it all here in Pierce County.
Moving to Pierce County? Here are the Cities and Neighborhoods
Pierce County is located in the South Puget Sound of Washington State. It's the second largest county in Washington State after King County to the North. There are currently 23 cities in Pierce County (three which are also in King County). The city of Tacoma is the largest city in Pierce County and the smallest is South Prairie. 
Population & Demographics
Pierce County's population is 921,130 people, up nearly 16% from 2010 to 2020. 
List of Pierce County Cities and their populations
The City of Tacoma population 198,900
Lakewood population 58,190
Puyallup population 37,240
University Place population 31,170  
Bonney Lake population 17,500
Sumner population 9,450
Edgewood population 9,405
Fife population 9,220
Dupont population 8,430
Auburn population 7,655 (also 63,050 in King County)
Gig Harbor population 7,200
Orting population 6,770
Fircrest population 6,500
Milton population 6,140 (Also 835 people live in King County)
Steilacoom population 6,000 
Buckley population 4,345
Eatonville population 2,775
Roy population 795
Ruston population 750 
Carbonado population 610
Town of Wilkeson population 475
Town of South Prairie population 435
Pacific population 85 (Also 6,520 people live in King County)
Demographic Resources for Pierce County
Includes information on the age, race, military service, health, education, families and living arrangements, and more.
Populations of Cities and Towns in Pierce County
For more detailed information about each of the cities and towns in Pierce County.
Home Prices and Real Estate
As of 2022 the median home price in Pierce County is $515,000. The average home price is $566,584. Pierce County is a seller's market with very little inventory (.32 months supply in January 2022). Pierce County's housing prices increased over 17% from 2021 to 2022. The double-digit gain followed a 15% increase in 2020. This has created concerns about affordability in the region.
Most Affordable Neighborhoods in Pierce County
Most Expensive Neighborhoods in Pierce County
Tacoma isn't affordable anymore, here's why.
Source:
NWMLS Real Estate Data January 2022
Local Media and Podcasts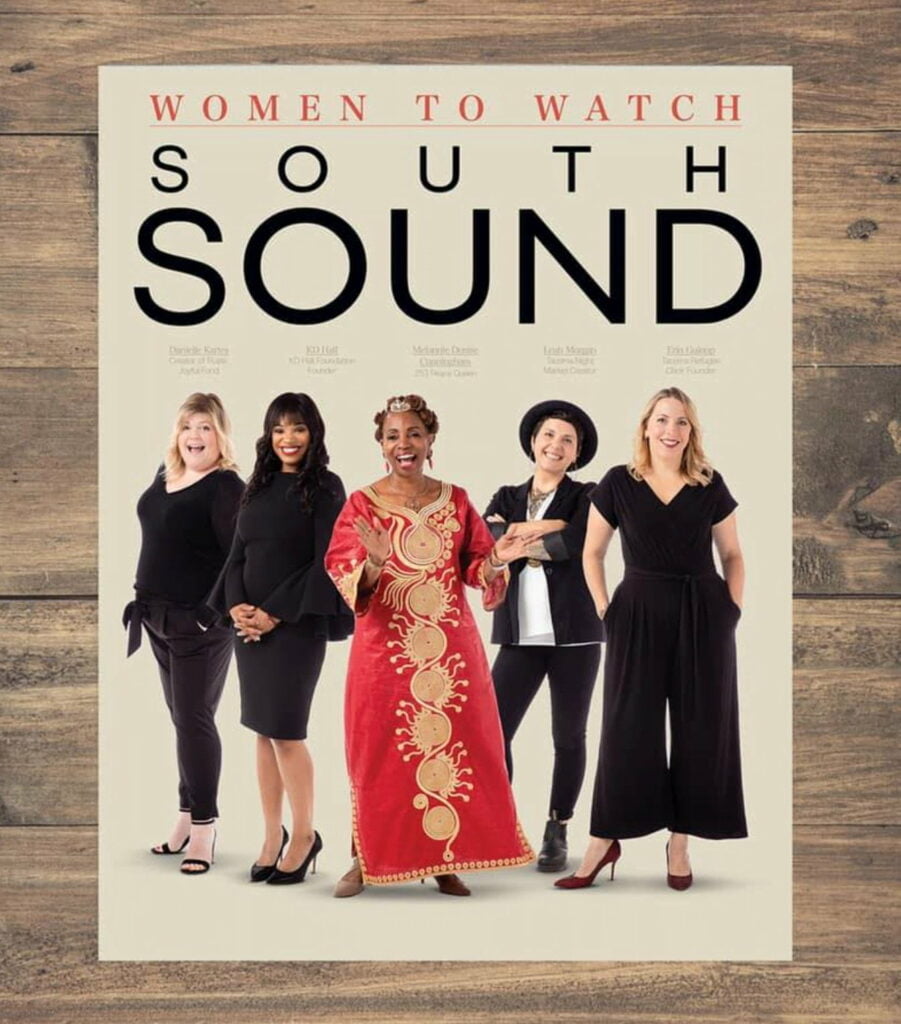 Pierce County has a number of newspapers, the largest of which is The News Tribune. In addition to Newspapers across the county Pierce County also has an award-winning public radio affiliate, multiple magazine, and podcasts.
Radio
KNKX 88.5FM NPR – Tacoma's award-winning NPR Radio affiliate
List of Newspapers in Pierce County
The News Tribune – Largest newspaper in Pierce County
Tacoma Weekly – Tacoma newspaper
The Suburban Times – West Pierce County Newspaper
Puyallup Herald – Puyallup newspaper
Bonney Lake & Sumner Courier Herald – Newspaper covering Bonney Lake and Sumner
The Peninsula Gateway – Newspaper covering Gig Harbor and the Key Peninsula
Tacoma Daily Index – Online
List of Magazines in Pierce County
South Sound Magazine – Lifestyle magazine for Tacoma and Pierce County
Grit City Magazine – Tacoma magazine (print and online)
South Sound Business – Formerly the Business Examiner, Business Journal for Pierce County
Podcasts
Channel253 Podcast Network – Locally owned podcasts covering news, politics, culture, race, eduaction, and more.
Grit City Podcast – one of Tacoma's first podcasts
Move to Tacoma Podcast – Interviews with Tacomans
Nature and Parks
Moving to Pierce County means access to some of the best National and Municipal Parks in the Country. From Pt. Defiance Park in Tacoma to the Mt. Rainier National Park just past Ashford and Elbe. In addition to city and state parks, there are three major parks organizations in Pierce County.
More information on Parks in Pierce County:
Pierce County Parks and Recreation – Parks and facilities across Pierce County including Chambers Bay, Sprinkler Recreation Center, Lakewood Comunity Center, and more.
Metro Parks Tacoma – 2,905 acres of parks, zoos, community gardens, and experiences (including a marina and the famous NW Trek Wildlife Park).
Pen Met Parks – Handles the parks and recreation facilities within the area of unincorporated Pierce County west of the Tacoma Narrows Bridge and east of the Purdy Bridge (except for the City of Gig Harbor's parks).
Schools and Universities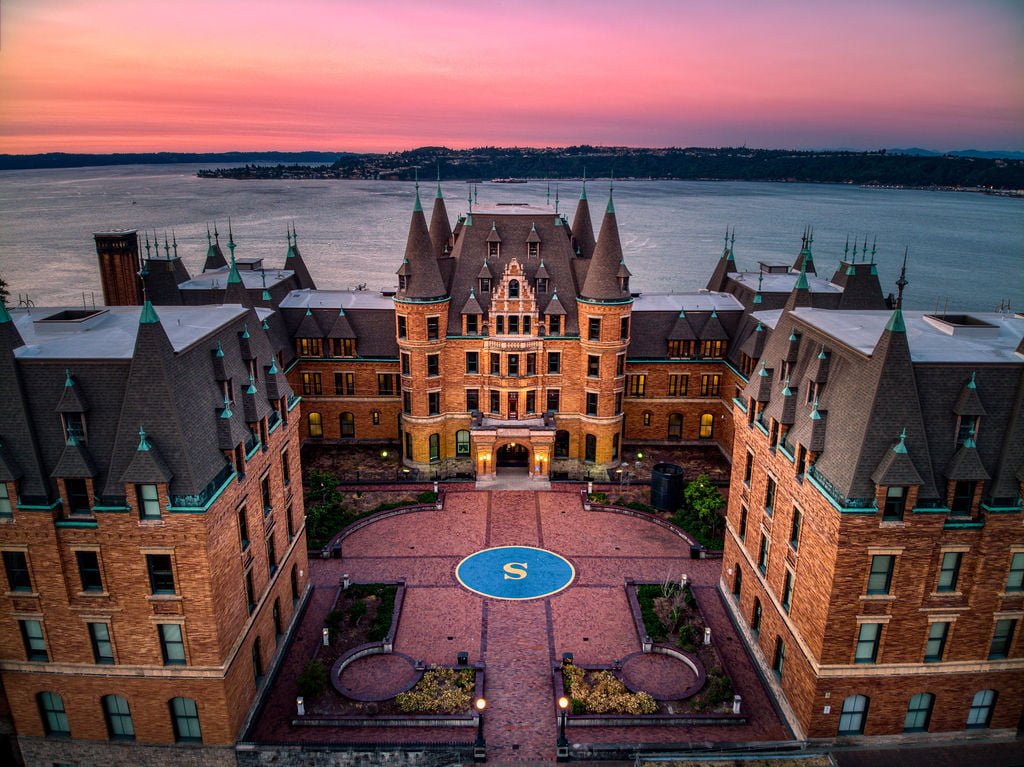 There are a wide variety of educational opportunities in Pierce County. In addition to public schools there are independent schools, boarding schools, and religious education. There are also top rated universities.
Universities & Colleges in Pierce County:
University of Washington Tacoma
Puget Sound University (aka UPS)
Evergreen State College Tacoma
Northwest College of Art & Design
Public School Districts in Pierce County:
Franklin Pierce School District
Steilacoom Historical School District
Sumner Bonney Lake School District
University Place School District
Private Schools in Pierce County:
Charles Wright Academy – University PLace
Annie Wright Schools – Tacoma
Community Montesori – Tacoma
Seabury School – Tacoma
Religious Education:
Life Christian Academy – Tacoma
Puget Sound Christian School – Tacoma
Heritage Christian School – Tacoma
Bellarmine Preparatory High School (Catholic) – Tacoma
Lakewood Lutheran School – Lakewood
Sound Christian Academy – Tacoma
Concordia Christian School (Lutheran) – Tacoma
Holy Rosary School (Catholic) – Tacoma
Covenant High School – Tacoma
St Francis Cabrini (Catholic) – Lakewood
Northwest Christian School – Puyallup
Cascade Christian Schools – Frederickson, Puyallup, McAlder
Lighthouse Christian School – Gig Harbor
Tacoma Christian Academy – Tacoma
Tourism and Travel Destinations
Pierce County is an increasingly popular destination for travelers. From looking for whales in Commencement Bay, golfing at the world class Chambers Bay Golf Course, to climbing or hiking in Mt Rainier National Park- there's something for everyone. 
Popular tourist destinations in Pierce County:
Chambers Bay Golf Course – You can play a round of golf on the Scottish links style course that hosted the 2015 Men's Open.
Pt Defiance Zoo & Aquarium – One of the finest zoos and aquariums in the Pacific Northwest, located in the 760 acre Pt Defiance Park.
Mt Rainier National Park – Visit this active volcano located 90 minutes from Downtown Tacoma. Hiking, camping, climbing and more.
NW Trek Wildlife Preserve – An incredibly unique experience, NW Trek is a wildlife park home to Bison, Elk, Bears, Mountain Lions, and so much more. See native animals in their own habitat.
LeMay America's Car Museum – For collectors, auto enthusiasts, and car people!
Museum of Glass – Glass art exhibitions and live creation of glass art in the MOG hot shop. 
Crystal Mountain – Skiing in the winter and great hikes in the summer, two hours from Downtown Tacoma.
Transportation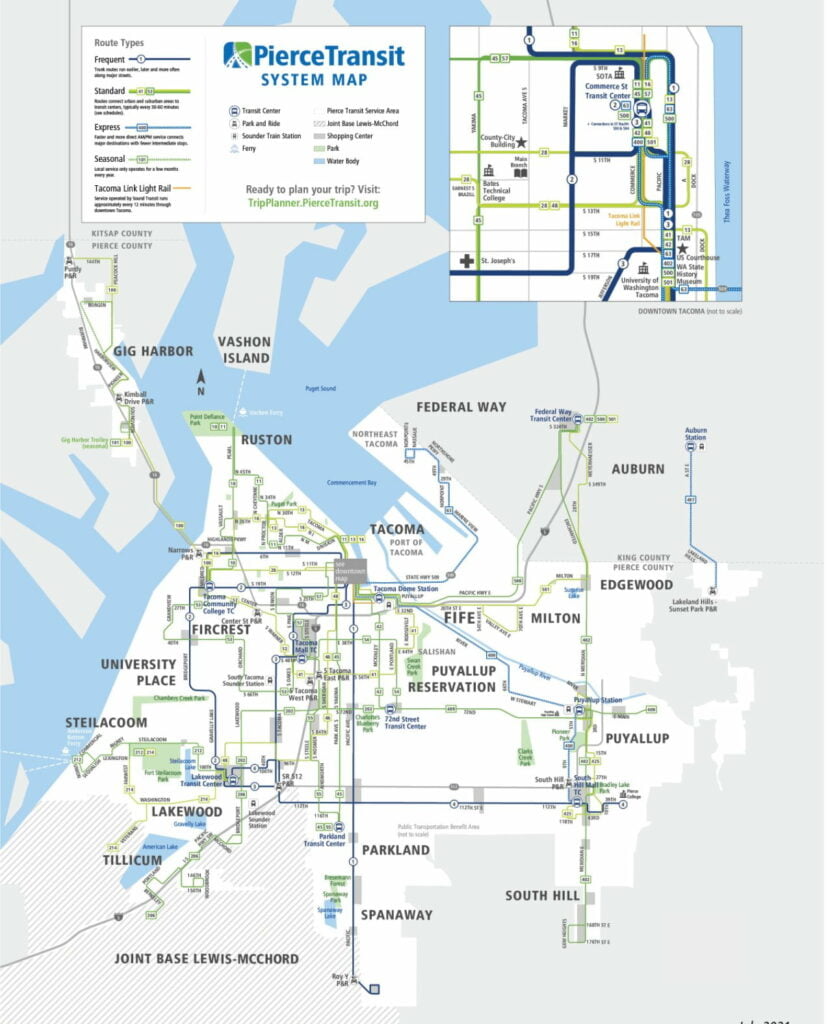 The more urban areas of Pierce County are served by public transportation. There are buses and trains that connect Tacoma with Seattle. Within Pierce County there is Pierce Transit with bus service continuing to the suburbs like Puyallup, South Hill, Gig Harbor, Milton, Edgewood, and Northeast Tacoma. More rural areas like Graham, Kapowsin, Bonney Lake, and Key Peninsula are less accessible by public transportation.
Buses:
Pierce Transit runs all of the buses in most of Pierce County. To see a system map click here. There are ST Express buses that take people from Tacoma to Seattle, Bellevue, and Everett operated by Sound Transit. 
Light Rail:
Sound Transit operates the Link Light rail that connects Downtown Tacoma to the Tacoma Dome Station. You can see a service map and schedule on the Sound Transit website here.
Trains:
Sounder Trains run from Lakewood to Everett stopping in South Tacoma, Tacoma Dome, Puyallup, Sumner, Auburn, Kent, Tukwila, Seattle, Edmonds, Mukilteo, and finally Everett.
Amtrak Cascades Trains take passengers from Tacoma Dome Station all the way to Vancouver Canada (to the north) and through Portland Oregon and on to California (to the South). 
Lyft/Uber:
The Tacoma area is served by Lyft and Uber, though service can be slow. Coverage by car sharing companies outside of Tacoma is unreliable in Pierce County.
For more information about moving to Pierce County check out these resources:
Would you like to learn more about moving to Pierce County? Marguerite is ready to help—click here to get in touch!