How to Find a Home on Land in Pierce County
Many people who move to Pierce County do so because they're in search of greener pastures (literally), homes with more square footage to enjoy, and of course, more land. Living on land means different things to different people—to some this means 1 acre and to others this means 20+ acres. For the purpose of this list, we're thinking about homes on 1+ acre of land. 
Whether you dream of raising chickens, you love the peace and quiet, you want to create an incredible garden, or embark on a life of homesteading, these Pierce County cities offer more opportunity to try your hand at all of this and more! 
Spanaway is south of Tacoma and just east of JBLM, and this area offers lots of opportunity to buy homes on more land. You're still close to lots of city amenities, and Pacific Ave has tons of variety when it comes to dining, grocery stores, local services, etc.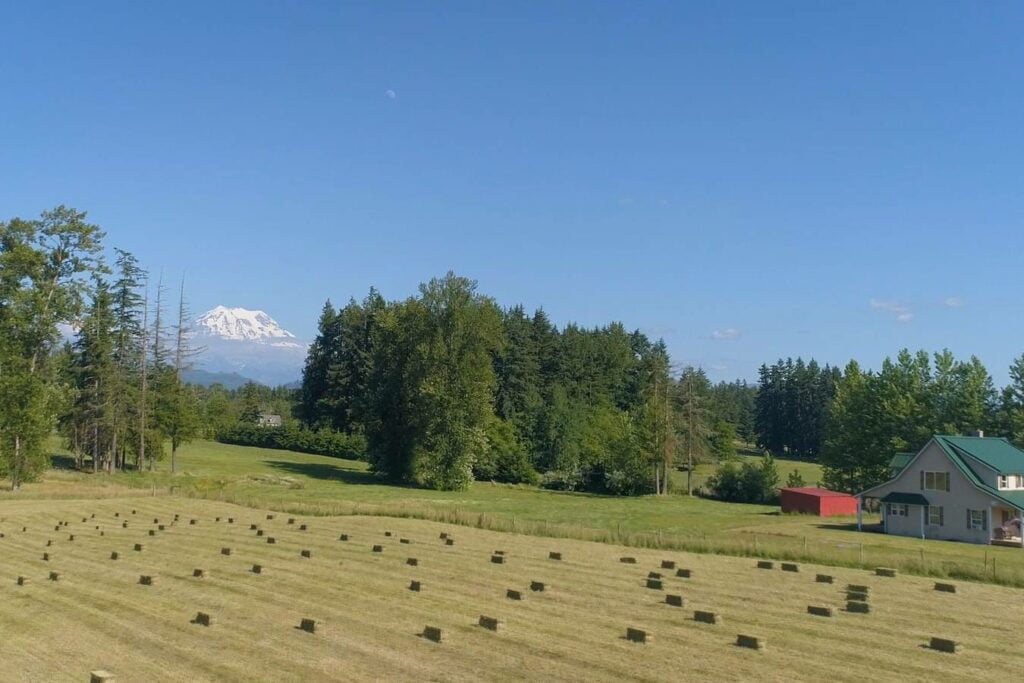 Graham is just south of Puyallup, and this community is definitely known for its rural setting and country atmosphere. There are plenty of huge properties here with acreage, and lots of people raise animals. While the community has its own city amenities, neighboring Puyallup has a ton more variety. You don't have to go far when you need more choices. And when you're done shopping on South Hill, you can head back to Graham and have tons of space to yourself. 
The Midland area is a smart choice for those who want to live on more land in Pierce County yet be close to Tacoma amenities, Highway 512, Interstate-5, and Joint Base Lewis-McChord. Much of Midland has been zoned as a rural area and new zoning in recent years has opened up for more building and more residential housing density. However, this means that there are many opportunities in this area to buy a home with some acreage. Many Midland residents have horses, chickens, goats, and other livestock and enjoy living in a more rural setting. 
Eatonville is a small town in Pierce County. And when we say small, it is SMALL. (According to the 2010 census there were ~2,700 people living here.) In the heart of Eatonville you'll find shops, eateries, schools, local services, and residential setting, but you don't have to get far out of town to find homes on sprawling properties with plenty of distance between each other. 
Mountains, rivers, wilderness, and lakes. This is as beautiful and rugged as living gets in Pierce County. Nestled up against Mt Rainier National Park and far from the worries of town. Speaking of town, Tacoma is a little over an hour drive. So while there are people who commute from Elbe, Ashford, Alder Lake, et al – it is a bit of a drive! That said, if a home on land is your dream Elbe and Ashford area two of the most affordable parts of Pierce County to achieve it.
Bonney Lake offers a unique scenario. Located just to the east of Puyallup, Bonney Lake is a particularly convenient city for commuters to live in AND live on more land. You have lots of city amenities close by, and Highway 410 runs right through the middle of Bonney Lake making it easy to connect to both Highway 167 and Highway 512.
Edgewood is just north of Puyallup and depending where you have to commute to, this is an even better option than Bonney Lake! Right in-between Interstate-5 and Highway 167, Edgewood also has the convenience of 161 (aka Meridian Ave) running right through the middle of town. You'll find newer suburban neighborhoods, more established communities where the houses are on larger lots, and of course, homes on properties where you can really spread out and use the space as you please. 
If you don't mind being a little further out from conveniences, the Key Peninsula (to the west of Gig Harbor) presents a great opportunities for privacy + living on more land. You're also surrounded by water (as the name suggests!), so there are lots of opportunities for boating, paddle boarding, kayaking, etc. in addition to all of the hikes and camping opportunities at the states parks on the peninsula.