If you need to commute to Joint Base Lewis-McChord for work, there are several surrounding cities and neighborhoods near JBLM to choose from. There are pros and cons to each community, and it's important to work with a real estate agent who is also a local expert if you're planning to buy a home. 
We chose to include the following cities on our list due to their close proximity to JBLM and excellent commuting options. Keep in mind that most of these places will mostly require that you commute via car (although sometimes the bus is an option). Traffic during rush hour in this area can get intense, so it's never a bad idea to try out your commute during different times a day to see what will be best and sustainable for you. 
Also, your commute to JBLM will of course depend on which gate you're trying to access. Joint Base Lewis-McChord is huge, and as the name suggests, it includes Fort Lewis and McChord Air Force Base. There are several different gates throughout JBLM that provide access. 
To explore neighborhoods near JBLM and across Pierce County check out the Clickable Neighborhood Map.
Pierce County Cities to Live in That Are Great for Commuting to JBLM
South Tacoma is one of Tacoma's most affordable neighborhoods, and it's also very convenient. It's proximity to businesses on South Tacoma Way, the Tacoma Mall, to University Place, and Joint Base Lewis-McChord make it popular with commuters of all kinds. South Tacoma has tons of shopping. From South Tacoma Way's historic business strip to the Tacoma Mall to Costco and everything in between. South Tacoma is also convenient to Whole Foods and Trader Joe's in University Place.
South Tacoma has a huge variety of restaurants including Monteczuma's, Marcia's Silver Spoon, Peanut Sauce Thai, and more. Tacoma kids have been going to Chuck e Cheese on 48th street since the 80s, and nowadays Tacoma kids have a brand new community center at The Star Center. South Tacoma way has cool new bars like The Mule and old favorites like The Airport.
The South Tacoma area is just north of JBLM, and one of its big perks is that it's absolutely surrounded by convenience (especially shopping and restaurants), and also is right along Interstate-5 for quick and easy access. Depending where you live in South Tacoma, you can generally expect to drive 8-15 minutes to McChord's Main Gate.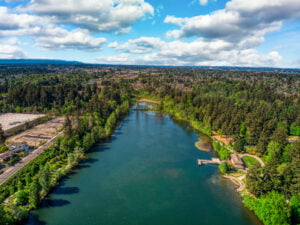 Living in Tacoma's South End is super convenient. Whether you're commuting north to Seattle, to Downtown Tacoma, or south to JBLM, all of the freeways are right there. The Tacoma Mall is just across I-5. The South End has several local business districts including the Lincoln International District and the Fern Hill Business District. Pacific Avenue and all of the accompanying businesses also runs through the South End.
Tacoma's South End is different from what is generally considered "South Tacoma." Tacoma's South End includes neighborhoods like Lincoln District, McKinley, and Fern Hill, for example. It can take anywhere from 9-17 minutes to get to McChord's Main Gate from the South End in Tacoma. 
Click here to learn more about neighborhoods in Tacoma's South End.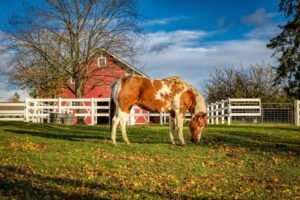 Midland is a very special neighborhood in Pierce County. In spite of its proximity to the City of Tacoma many of the properties are large and rural feeling. Many people in Midland have horses and other animals. It's extremely convenient because of it's location between I-5 and Highway 5-12. So whether you're commuting north to Seattle or South to JBLM or Olympia the location is choice.
Midland is a popular place to live especially for those who like to live on more land. Another major perk of living in Midland is how close it is to Highway 512, giving you quick access to McChord's Main Gate. Depending on where you live in Midland, you can generally drive about 12-17 minutes to McChord's Main Gate.  
Visit the Midland Neighborhood Guide to learn more about what it's like to live there. Also check out the neighboring areas of Waller, Summit, and Tacoma's Eastside.
Parkland is centrally located. Whether you're headed north to Tacoma and Seattle or south to JBLM and Olympia, it's a very convenient place to live. The presence of Pacific Lutheran University adds the vibrancy of students. The sporting events, music, and lecturers that the university attracts to the community add so much. Take a walk and enjoy the beautiful campus of Pacific Lutheran University. Wander down Garfield Street and check out the local shops. The best Italian food in Pierce County is located in Parkland on Garfield Street at Marzano's Italian Restaurant. The pasta boscaiola will change your life.
Parkland is located immediately to the east of JBLM. Parkland is about 3-10 minutes to McChord's Main Gate and 17-26 minutes to East Gate. 
To learn more about life in Parkland, visit the Parkland Neighborhood Page.
Spanaway can feel like it's out in the country, but it's really just a half an hour from Downtown Tacoma. The main highway through the area is Pacific Avenue, which is lined with a variety of services and locally-owned businesses.
Spanaway is home to the Bresemann Forest. There you can discover a canopy of towering firs surrounded by a lush under story, and a rushing creek with a channel built just for returning salmon. The peace and quiet is a welcome contrast to the urban world just beyond the gate. The trailhead is located adjacent to the Sprinker Recreation Center where you can ice skate, play tennis, basketball, or soccer, as well as shred the skate park.
Located right to the east of JBLM, Spanaway is a popular area for people who are in the military to live in. Spanaway is only about 11-20 minutes to East Gate. 
Click here to learn more about life in Spanaway.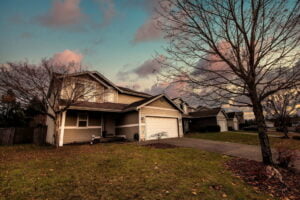 While Frederickson is getting more coffee shops, restaurants, and grocery stores all the time, one of the big advantages of living in Frederickson is how central it is to other East Pierce County Neighborhoods like South Hill, Graham, Spanaway, and Parkland, plus JBLM. With it's convenient central location you have easy access to all that those neighborhoods have to offer as well.
Frederickson is an area that's basically in between Puyallup and Spanaway. It's known having opportunities to buy new construction and also for having properties with a bit more land. It's about 15-25 minutes to drive from Frederickson to JBLM's East Gate. 
Click here to learn more about Frederickson in the neighborhood guide.
Puyallup's thriving historic downtown neighborhood offers a small-town vibe. DT Puyallup is filled with one-of-a-kind businesses that have been owned and operated by the same families for generations. Downtown is down the hill from the newer South Hill neighborhood of Puyallup. It's a bustling expanse of suburban housing, restaurants, businesses, shopping and schools.
Puyallup is one of the furthest neighborhoods from JBLM that we're including on this list. It's anywhere from 23-40 minutes to get from Puyallup to Joint Base Lewis-McChord's East Gate, but still, Puyallup is another very popular city for people with a commute to JBLM. 
Want to know more about life in Downtown Puyallup? Check out the Downtown Puyallup Neighborhood Guide.
You can find great shopping at the South Hill Mall, as well as one of the area's best movie theaters. If you need to get some fresh air, South Hill Community Park has a great walking path and playground for the kids. In one direction, you are short drive away from the glories of the Cascade Mountains, and in the other, you can find the dining and entertainment options of downtown Puyallup.
South Hill is part of Puyallup, and people refer to the same area as either/or. (Yes it's kind of confusing at first). You can expect to drive 26-35 minutes from South Hill to the East Gate at JBLM.
Click to earn more about life on South Hill.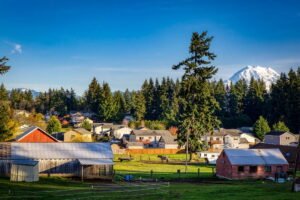 If you love living in the country you will love Graham. Homes out here generally have more land than many other communities in Pierce County. Going out to eat at Amici's Italian restaurant and Mekong Thai are popular choices with locals. Going for drives, riding your horses, or going for a scenic drive.
Many Graham residents live here because they enjoy having more space, quick access to the outdoors, and easy access to the huge variety of convenience that awaits in next door Puyallup/South Hill. You can expect to spend 20-30 minutes driving from Graham to JBLM. 
Click here to learn more about living in Graham, WA.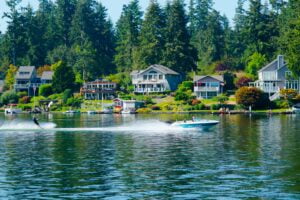 You can find it all in Lakewood. As it's name suggests, there are plenty of lakes and woods, but you can also find one of the region's best shopping centers, with one of the last remaining large chain book stores. There is easy access to I-5 and Lakewood sits in close proximity to JBLM.
Lakewood has several lovely parks, including American Lake and Ft. Steilacoom Park, with miles of trails, off-leash areas for dogs, and historic landmarks to explore. The Lakewood Towne Center has plenty of dining and shopping options, as well as a movie theater with stadium seating. Don't miss the Original House of Donuts for friendly service and a scrumptious sugar high!
Lakewood offers the potential for an incredible quick commute to JBLM. You can expect to drive 5-24 minutes from Lakewood to the Main Gate. 
Click here to learn more about the City of Lakewood.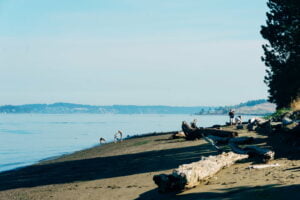 Steilacoom is a small town with beautiful views. Everything is quite close together in town, and getting to nearby Tacoma and Lakewood for larger town amenities is pretty convenient. Whether commuting south to JBLM or north to Tacoma, Steilacoom is right in the middle!
There are 12 public parks to enjoy in Steilacoom, as well as 2 museums. You can also hop on the ferry to Anderson Island and truly have a Pacific Northwest outing! Steilacoom feels like it's far from the bustle of urban life, but it's really only a few minutes away from the shopping, dining, and entertainment options of Lakewood and Tacoma.
Nestled on the shores of the Puget Sound, Steilacoom is a small city that offers a 14-20 minute commute to JBLM's Main Gate.
Learn more about Steilacoom here.
DuPont is one of the South Sound's best kept secrets. It's proximity to Joint Base Lewis-McChord and its easy access to incredible natural beauty make it popular with military folks.
DuPont is a very popular choice for those in the military, and it's right along Interstate-5 which makes it easy to get around the rest of the region as well. You can expect to drive 7-14 minutes to JBLM's Main Gate.  
Click here to learn about Dupot, WA.
Thurston County Cities to Live in That Are Great for Commuting to JBLM
Lacey 
Located in Thurston County, Lacey provides lots of commuting potential due to the fact that Interstate-5 runs right through it. People love all of the new construction, the great community, and all of the suburban amenities. You can expect to spend 13-22 minutes commuting from Lacey to JBLM's Main Gate. 
Olympia 
Olympia, WA is 21-41 minutes to JBLM's Main Gate, but as you can see it is pretty big and the commute can vary wildly based on where you live. The city of Olympia is Washington States capitol, and is also right on I-5 for easy access. 
To learn more about the Thurston and Pierce check out our article, "The Differences Between Thurston County and Pierce County."
What is the commute like from Tacoma to Seattle (and elsewhere?)
Here are the most common commute times from Downtown Tacoma by car:
Downtown Seattle – 1 to 1.5 hours in rush hour
Olympia – 30 to 45 minutes in rush hour
Bellevue – 50 minutes to 1.5 hours in rush hour
JBLM – 15 to 30 minutes in rush hour
In addition to cars, buses and trains connect Tacoma with Seattle. Bus service in Pierce County is served by Pierce Transit- continuing to the suburbs like Puyallup, South Hill, Gig Harbor, Milton, Edgewood, and Northeast Tacoma. Areas like Graham, Kapowsin, Bonney Lake, and Key Peninsula are more rural and less accessible by public transportation.
Buses:
Pierce Transit runs all of the buses in most of Pierce County. To see a system map click here. There are ST Express buses that take people from Tacoma to Seattle, Bellevue, and Everett operated by Sound Transit.
Light Rail:
Sound Transit operates the Link Light rail that connects Downtown Tacoma to the Tacoma Dome Station. You can see a service map and schedule on the Sound Transit website here.
Trains:
Sounder Trains run from Lakewood to Everett stopping in South Tacoma, Tacoma Dome, Puyallup, Sumner, Auburn, Kent, Tukwila, Seattle, Edmonds, Mukilteo, and finally Everett.
Amtrak Cascades Trains take passengers from Tacoma Dome Station all the way to Vancouver Canada (to the north) and through Portland Oregon and on to California (to the South).
Info on how to buy a house near JBLM:
Additional resources for checking out how to move to cities near JBLM:
Move to Tacoma is a neighborhood guide, podcast, and blog run by Tacoma real estate agent Marguerite Martin. When MovetoTacoma.com was created in 2015 there was very little information about neighborhoods, restaurants, or what life is like near JBLM, in Pierce County, or in Tacoma. Marguerite set out to provide people with neighborhood information that came from the people who live here.
That eventually turned into the Move to Tacoma Podcast which then expanded into the creation of Channel253 by Erik Hanberg and Doug Mackay- which now features hundreds of podcast episodes about life in Tacoma from many different people. You can learn more at Channel253.com.
Here is Marguerite talking about how Move to Tacoma works:
Whether you live in Tacoma right now or are moving to Tacoma from somewhere else, MovetoTacoma.com is the best resource for helping you find your place in the City of Destiny.
If you're looking for cities near JBLM this clickable neighborhood map of Tacoma's neighborhoods is our pride and joy. Click through to find images and videos of each neighborhood. The Neighborhood guides on the map also include median home price information, blog posts about the neighborhoods, podcast episodes about the neighborhoods, and candid quotes from local neighbors.
The best way to learn about Tacoma is to hear from the people who live here. On the Move to Tacoma Podcast Marguerite interviews Tacomans who've been here generations and Tacomans who just got here. From business and technology leaders to politicians and activists and everyone in between. The Move to Tacoma Podcast will give you insight into why people move here and how they find meaning and happiness in Tacoma.
On the Move to Tacoma Blog we have been writing about things to do in Tacoma, where to eat in Tacoma, hot button community topics, neighborhoods and more since 2015. There are hundreds of posts to help you find what you love in the City of Destiny. From posts about where to eat and drink to interviews with locals- the blog is a great place to keep up one what's happening in Tacoma and Pierce County.
Marguerite Martin is a different kind of Tacoma real estate agent. Reach out to find out answers to questions you have about neighborhoods in Tacoma and Pierce County. When the time is right to start looking, Marguerite can connect you with a local real estate agent who specializes in the neighborhoods you love most. You can see reviews from past clients who've worked with Marguerite on Yelp and on Google.
Want to learn more about the Tacoma real estate market?
How to Buy a House in Tacoma Right Now (Podcast)
2022 Tacoma Real Estate Market (Blog Post)
How to Buy a House in Tacoma (Video)
The Most Affordable Neighborhoods in Tacoma (Blog Post)
The Most Affordable Neighborhoods in Pierce County (Blog Post)
How to Move to Tacoma in 2022 (Blog Post)
Would you like to learn more about how you can move to cities near JBLM in 2022? 
Here are some additional resources for checking out how to move to Tacoma: