Looking for good neighborhoods for commuting to JBLM (Joint Base Lewis McChord)? We get a lot of folks reaching out to MoveToTacoma.com who are PCSing to JBLM. People move to Tacoma from across the country and across the world. They want to know what the neighborhoods are, how the commute is from neighborhood to neighborhood, and how much they will have to spend to buy a home near the base. We interviewed Jana, who moved to JBLM after PCSing with her partner to the area. She shares her insights and advice for people to consider when moving to JBLM in this video interview:
What are the commutes like to base from neighborhoods near JBLM?
One of the things that Jana emphasizes in the interview is that JBLM is a pretty large installation. It touches two different counties (Thurston and Pierce). If you want to live close to base there are a lot of access points. The first consideration for your commute is going to be whether you are working at the North or South End of JBLM. For the North Side Jana says a lot of folks consider Gig Harbor, Tacoma, University Place, Steilacoom. While Marguerite expressed surprise that Gig Harbor was close enough, Jana says the distance from Gig Harbor to Madigan Gate is only about 20 minutes because of the reverse commute!
Commuting to the North Fort? Dupont, Steilacoom, Lakewood, Lacey, and Tacoma might be good places to start your search.  If you're on the Army Side of JBLM Yelm, Roy, the Northern part of Olympia, and Lacey are the closest to your gates.
Where are the gates around JBLM?
There are a mix of 24 hour gates and gates designed for commuters on base. Right now at Lewis Main the Liberty Gate, Madison Gate, and East Gate are open 24 hours. At Lewis North the 41st Division Gate is 24 hours.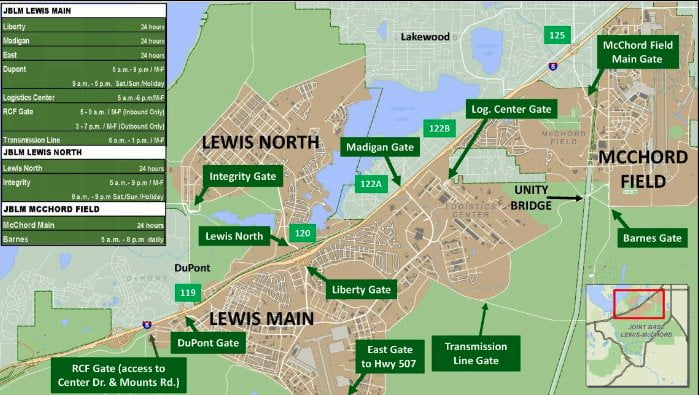 To see an updated list of gates, the map, and official hours check out Visitor and Gate Information at JBLM here.
How much do homes around JBLM cost to buy?
Right now the median home price in Thurston County (to the south of JBLM) is $480,000. In Pierce County the median home price is $520,000. You can see what's been happening with home prices around JBLM over the past year in the chart below. For more information on the differences between Thurston County and Pierce County check out our post, "What's the difference between Thurston County and Pierce County?"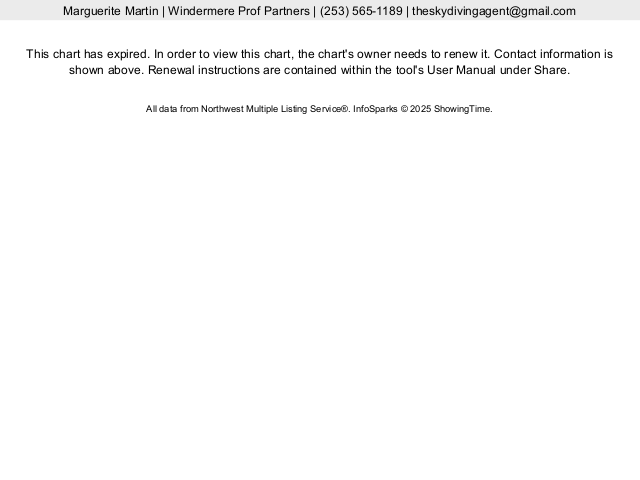 How long does it take to commute from Thurston County to Pierce County during peak commute times?
Lacey to Downtown Tacoma – 30-45 minutes
Olympia to Downtown Tacoma – 35-50 minutes
Olympia to Seattle – 1 hour to 1.5 hours
Downtown Tacoma to JBLM – 30-40 minutes
South Hill to JBLM – 30-40 minutes
You can also get from Olympia to Tacoma and Seattle by Amtrak Train. The Amtrak Train runs 5 times per day from Olympia and takes 38 minutes to get to Tacoma. It's an hour and a half from Olympia to Seattle. Information on bus routes from Thurston County to King and Pierce Counties can be found on Sound Transits website. 
What should I know before I move to JBLM?
We recently did an interview with Destiny who moved across the country to Lakewood, Washington. We asked her what she wish she'd known before she moved here:
If you really want to know what it's like to live in Tacoma you will want to visit between November and March. This is when the Pacific Northwest is at is darkest and rainiest. "The one thing I wish I knew before I moved to Tacoma was the weather," says Destiny. "We came here in the Spring and Summer and we just never got to experience it." For more about Destiny's recommendations for preparing for your move to the northwest, check out "Things I wish I knew Before I moved to Tacoma."
Additional resources for people looking to buy a house in Pierce County:
How to Choose the Best Tacoma Real Estate Agent (For you!)
The Most Affordable Neighborhoods in Pierce County
The Most Affordable Neighborhoods in Tacoma
How Much Does it Cost to Buy a House in Tacoma?
List of Neighborhoods Around JBLM
Marguerite Martin is a different kind of Tacoma real estate agent. Reach out to find out answers to questions you have about neighborhoods in Tacoma and Pierce County. Marguerite can connect you with a local real estate agent who specializes in the neighborhoods you love most. You can see reviews from past clients who've worked with Marguerite on Yelp and on Google.