Are you wondering what it's like living in Spanaway, Washington? We have a lot of resources here including home prices, what it's like in the neighborhood, commuting, and things to do in Spanway.
Spanaway is not a city like some people think. Even though its population is larger than many local cities, Spanaway is part of unincorporated Pierce County. There have been attempts over the years to form a city called, "Gateway" (as in the gateway to Mt Rainier). You can learn more about that in this article from The News Tribune, "Group of Spanaway Residents Starts Drive to Incorporate City."
What is it like living in Spanaway?
Check out this video from Move to Tacoma creator and Tacoma real estate agent Marguerite Martin. Marguerite first moved to Spanaway when she was 10 and bought her first house there when she was 25. She shares her experiences and perspective on why folks move to Spanaway and what they like about it:
How long does it take to get to drive to Spanaway from different parts of the Puget Sound?
Spanaway is located about 20 minutes south of Downtown Tacoma and and about 30 minutes northeast of Olympia. Driving to Spanaway from Seattle is going to vary based on traffic- expect a 90 minute drive during commuting hours. Pierce Transit offers Bus Service from Spanaway to Tacoma. Check out the systems map for Pierce Transit here.
If you're interested in other neighborhoods close to JBLM, check out our article, "Best Neighborhoods for Commuting to JBLM."
What is there to do in Spanaway?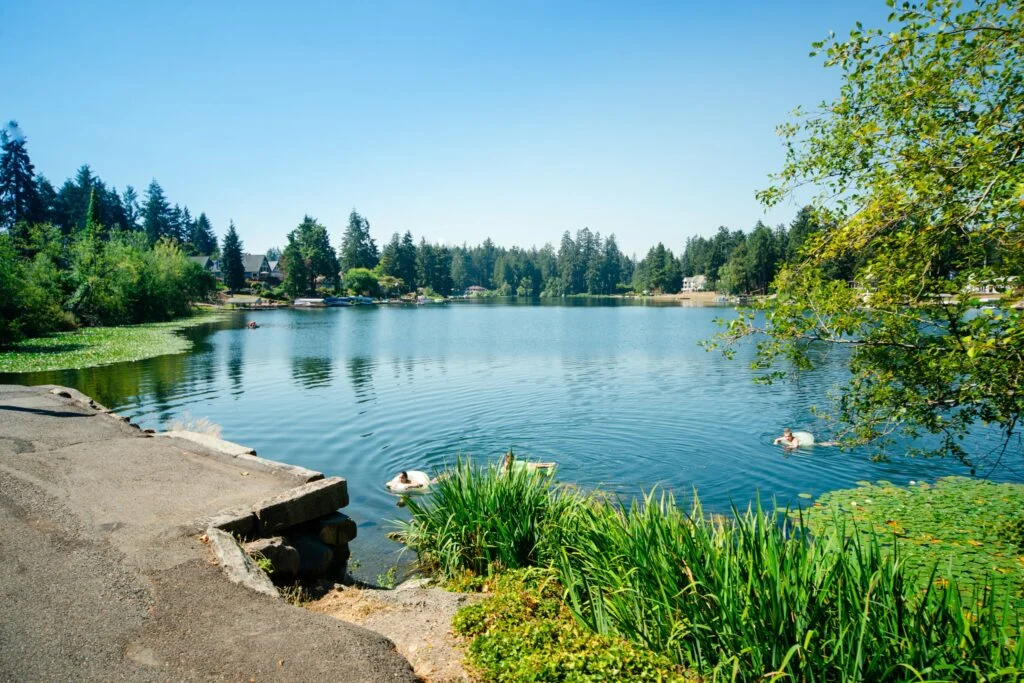 Spanaway is more of a suburb than a destination. That said, Spanaway does have some great options for locals wanting recreation and entertainment nearby.
Spanaway Lake – If swimming, boating, or barbecuing is your thing the 135 acre Spanaway Lake Park offers access to Spanaway Lake in the summertime. Throughout the year the park has softball fields, basketball courts, kids play areas, and walking trails along the waterfront. At Christmas time it is home to the Fantasy Lights Walk and Fantasy Lights. These displays are the largest drive-through holiday light shows in the area. You can learn more about Spanaway Lake Park on their website here.
Sprinker Recreation Center – Sprinker is one of the best recreation centers in all of Pierce County. It's a huge facility that offers a variety of both indoor and outdoor activities. The building includes an Ice Skating Rink (with NHL regulation ice surface), four indoor tennis courts, five racquetball courts, and meeting rooms for dance lessons, classes, and more. The outdoor area features six outdoor tennis courts, two pickleball courts, one of the largest skateboarding parks in Western Washington, eight softball diamonds, basketball courts, playground equipment, a family picnic area, walking trails, and Spire Rock- a mountain climbers rock. You can learn more about the facilities and events offered at Sprinker by clicking here.
How much does it cost to buy a home in Spanaway?
As of January 2022 the median home price in Spanaway was $450,000, but as of April 2022 the price is getting closer to $500,000. Spanaway is considered one of the more affordable neighborhoods in Pierce County where the median home price is now over $550,000. In 2020 The Seattle Times claimed Spanaway was the most challenging place in the country to buy a home. You can learn more about why by checking out "Spanaway Tops List of Toughest Places in the Country to Buy a Home."
If you're looking for more affordable neighborhoods than Spanaway in Pierce County check out our article, "The Most Affordable Neighborhoods in Pierce County in 2022."
For more information about moving to Pierce County check out these resources:
Would you like to learn more about moving to Pierce County? Marguerite is ready to help—click here to get in touch! 
Resources for buying a house in Tacoma:
Marguerite Martin, Founder of MoveToTacoma.com is a real estate agent in Tacoma, WA . As a real estate "Matchmaker," she specializes in connecting real estate clients to the perfect agent in Tacoma and across the country. Learn more at Meet Your Guide.