Every year Tacoma I interview my niece and fellow Tacoma real estate agent Keryn about the real estate market in Tacoma and Pierce County. You can find past conversations we've had here and here. This year we are talking about what advantages Tacoma buyers have (and what challenges buyers are facing). We also discuss how sellers in Tacoma and across Pierce County can prepare their homes so they don't sit on the market. Finally we talk about how to choose an agent who is a local expert and capable in a shifting market.
In the video we talk about how the Tacoma real estate market has been impacted by the increase in mortgage interest rates over the past year. The increase in rates means that buyers have a higher monthly mortgage payment than they did a year ago, which reduces how much home they qualify for. At the same time, sellers wanting to sell their homes and buy another face the prospect of selling a house where they had a 3% interest rate and having to get a new mortgage at more like 7%. This has lead to fewer homes for sale, which creates some pretty dynamic conditions in the local real estate market. As for what buyers and sellers should expect, Keryn repeatedly states in the video, "It Depends!"
Are home prices in Tacoma and Pierce County going up or down in 2023?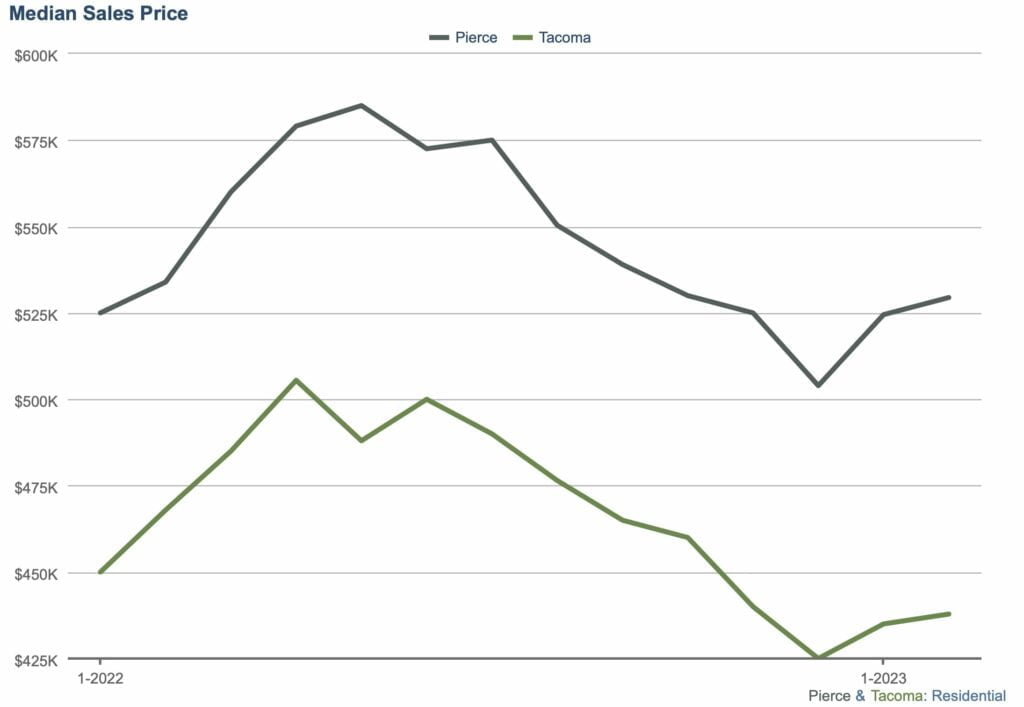 Home prices in Tacoma peaked at $480,000 in Spring of 2022. As of Spring 2023 that median home price is now $430,000. This is also reflected in Pierce County home prices which peaked at $560,000 in Spring 2022 and are currently about $500,000. This is also the case for our neighbors to the north in Seattle. Seattle home prices peaked at $880,000 in Spring 2022 and are now 750,000.
What is it like buying a house in Tacoma right now?
Because the interest rates have gone up (essentially doubling from 3.5% to 7%- though rates are fluctuating) buyers find themselves facing higher mortgage payments. While we are seeing some seller's homes sit on the market (Some buyers have even had the opportunity to buy homes contingent on the sale of their existing home) we're also seeing multiple offers on certain homes. Keryn advises staying fluid because depending on the neighborhood, the price of the house, the condition of the house, and the size of the house- things are fluctuating. Buyers and their buyers agents need to be on their toes and be constantly reevaluating the market as they go.
What do sellers in Tacoma need to know about the Tacoma real estate market in 2023?
There is still a demand for homes in Tacoma, especially homes that have been properly prepared for the market. The effort that sellers make preparing their homes for sale is more important than ever. First and foremost, sellers need to have their homes thoroughly cleaned before they are photographed and put on the market. Additionally sellers should make sure that repairs that will impact a buyers ability to finance the property are prioritized.
Additional Resources:
How to Buy a House in Tacoma Right Now
Explore Pierce County Neighborhoods
My Favorite Neighborhoods in Pierce County, WA
Most Expensive Neighborhoods in Tacoma
Most Affordable Neighborhoods in Tacoma
Marguerite Martin, Founder of MoveToTacoma.com is a real estate agent in Tacoma, WA . As a real estate "Matchmaker," she specializes in connecting real estate clients to the perfect agent in Tacoma and across the country. Learn more at Meet Your Guide.