Do you want to know how to buy a house in Tacoma right now? Great! MovetoTacoma.com creator and Tacoma Realtor Marguerite interviewed one of Tacoma's top buyer's agents, Sharon. Sharon shares her best strategies for Tacoma buyers to come out on top in this shifting 2023 market. We interviewed Sharon last year in Spring 2022 for the MovetoTacoma.com Podcast- but so much has changed since then we had her back for this video interview. That said, the original podcast goes into a lot of detail, definitely check it out! "How to Buy a House in Tacoma Right Now (2022)"
What can buyers expect when buying a house in Tacoma in 2023?
According to Sharon, over the past year buyers have been in a period where they have had an increased amount of power in the Tacoma real estate market. Over the summer and into the fall of 2022 buyers were getting seller concessions, closing costs, repairs, etc. As we are moving into the Spring 2023 market we are seeing fewer concessions and more multiple offer situations for buyers again, even though rates have only gone down slightly.
How much does it cost to buy in Tacoma in 2023?
The current median home price in Pierce County is about $500,000, with the median for Tacoma being more like $450,000. Of course this varies widely depending on the neighborhood. The most expensive neighborhoods in Tacoma have median home prices over $1,000,000. The least expensive neighborhoods in Tacoma still have median home prices under $400,000. Sharon cautions that homes under median are selling quickly in Tacoma. She advises her clients to be well prepared, pre-approved and educated about the market before making offers.
Are home prices in Tacoma going up or down?
As of January 2023 home prices were trending down in many neighborhoods, they had been since June of 2022. While demand for housing in Tacoma is still very strong, the increase in interest rates over the past year have made it so buyers qualify for less in general, which has impacted demand. As rates flatten out and decrease agents and economists expect the sales (and sales prices) to increase again. As Sharon says in the video, multiple offers and a competitive climate for buyers is still present- especially at 500k and below.
In this chart from the NWMLS (which tracks all the data for home sales in the region) you can see how home sales prices in Tacoma went up and down over the last 12 months. As the Spring market kicks off we are expecting that median price to head back up.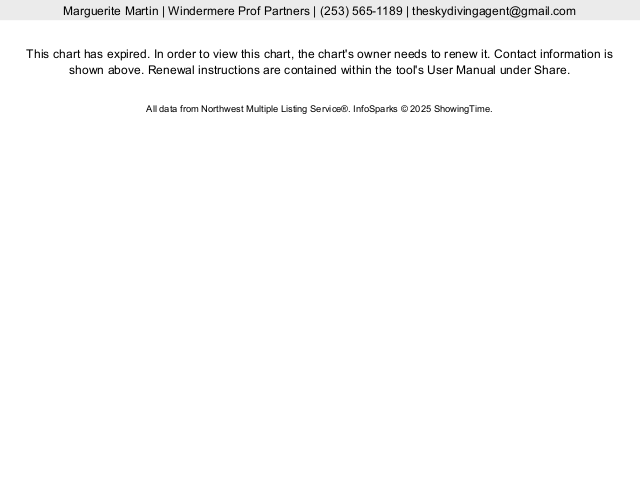 Additional resources for people looking to buy a house in Pierce County:
How to Choose the Best Tacoma Real Estate Agent (For you!)
Tacoma's Most Expensive Neighborhoods
The Most Affordable Neighborhoods in Pierce County
The Most Affordable Neighborhoods in Tacoma
How Much Does it Cost to Buy a House in Tacoma?
Marguerite Martin is a different kind of Tacoma real estate agent. Reach out to find out answers to questions you have about neighborhoods in Tacoma and Pierce County. Marguerite can connect you with a local real estate agent who specializes in the neighborhoods you love most. You can see reviews from past clients who've worked with Marguerite on Yelp and on Google.