Commuting from Tacoma to Seattle? You're not alone. Thousands of people who live in Pierce County commute to King County (and more specifically Seattle and Bellevue) for work each day, and this number is only going to increase over time. Even with more people working from home, commuting is still a must for many people.
What's it like commuting from Tacoma to Seattle?
While many people commute to Seattle by car, more and more people are taking advantage of the various public transportation options. Driving to Seattle from Tacoma only takes about 45 minutes when there's no traffic. But during commute times? There's ALWAYS traffic. A typical commute from Tacoma to Seattle in the morning will be 1 hour on a good day and an hour and a half on a particularly rough Friday morning.
The more urban areas of Pierce County are served by public transportation. There are buses and trains that connect Tacoma with Seattle. Within Pierce County there is Pierce Transit with bus service continuing to the suburbs like Puyallup, South Hill, Gig Harbor, Milton, Edgewood, and Northeast Tacoma. More rural areas like Graham, Kapowsin, Bonney Lake, and Key Peninsula are less accessible by public transportation.
Buses:
Pierce Transit runs all of the buses in most of Pierce County. To see a system map click here. There are ST Express buses that take people from Tacoma to Seattle, Bellevue, and Everett operated by Sound Transit.
Light Rail:
Sound Transit operates the Link Light rail that connects Downtown Tacoma to the Tacoma Dome Station. You can see a service map and schedule on the Sound Transit website here.
Trains:
Sounder Trains run from Lakewood to Everett stopping in South Tacoma, Tacoma Dome, Puyallup, Sumner, Auburn, Kent, Tukwila, Seattle, Edmonds, Mukilteo, and finally Everett.
Amtrak Cascades Trains take passengers from Tacoma Dome Station all the way to Vancouver Canada (to the north) and through Portland Oregon and on to California (to the South).
Lyft/Uber:
The Tacoma area is served by Lyft and Uber, though service can be slow. Coverage by car sharing companies outside of Tacoma is unreliable in Pierce County.
What if I'm commuting to SeaTac Airport, JBLM, or to Downtown Seattle?
These are the most common commute times from Downtown Tacoma by car:
Downtown Seattle – 1 to 1.5 hours in rush hour
Olympia – 30 to 45 minutes in rush hour
Bellevue – 50 minutes to 1.5 hours in rush hour
Joint Base Lewis McChord – 15 to 30 minutes in rush hour
Are more public transportation options coming to Tacoma?
Transit options in the Puget Sound area are expanding, but options aren't expanding quickly enough to meet commuter demand. So if you live in Pierce County and you need to commute to Seattle or the Eastside (which includes cities like Bellevue, Redmond, Factoria, Kirkland, etc.), then your commute is definitely going to affect where you decide to live. And where you choose to live will affect what commuting and transit options you have available to you.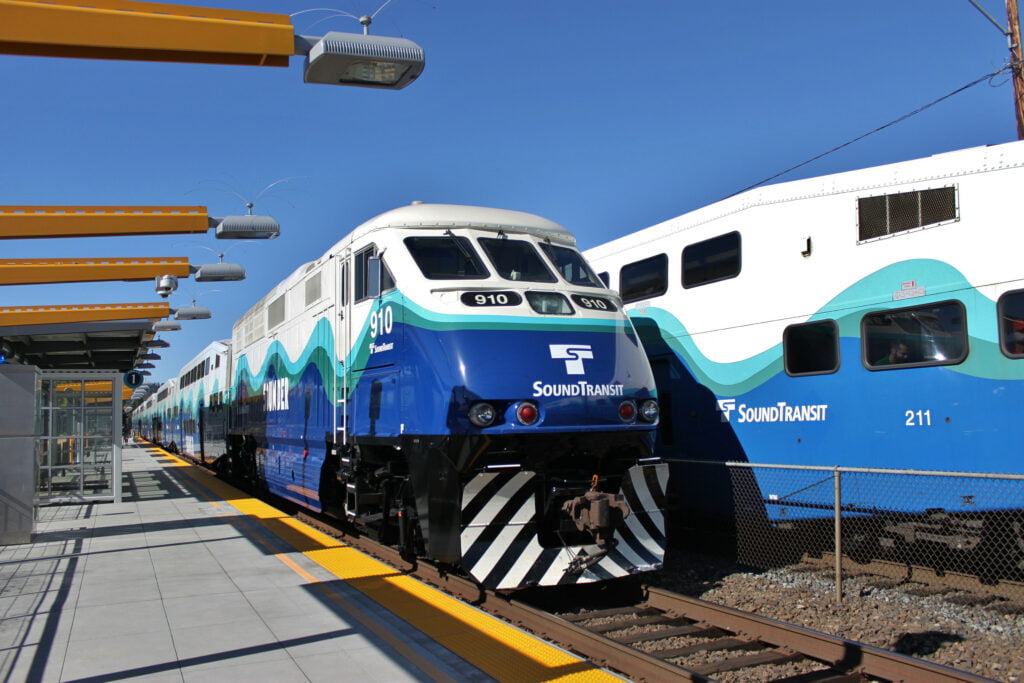 Commute to Seattle via The Sounder Train 
Sound Transit's Sounder Train is a big deal in the Puget Sound region. This commuter train serves thousands of people each day, which in turn gets cars off the roads (less traffic!) and gives commuters a traffic-free way to get into Seattle and back home. Many commuters are able to relax, catch up on reading, and even start and end their workdays on the train (in fact, some employers are totally cool with you clocking in while you're still on the train).
If the Sounder Train sounds like a desirable way to get to and from work in Seattle, then living close to a station is a must. You should also keep in mind that most Sounder Stations also have bus service, with buses usually running more frequently than the train.
Here are cities and neighborhoods in Pierce County and the Greater Tacoma area that will allow you to live close to a station:
The Tacoma Dome Station is super accessible from Downtown Tacoma. There are parking garages if you need to drive, you can hop on a bus to the Tacoma Dome Station, and the Tacoma Link light rail is another popular option. You can hop on it at several points throughout Downtown Tacoma and take it straight to the Tacoma Dome Station. In coming years, the Tacoma Link light rail is also expanding quite a bit, making it even easier to connect to the Tacoma Dome Station (and therefore Seattle) in a car-free way.
Located just west of Downtown, Tacoma's Hilltop neighborhood offers a centralized neighborhood that's close to many of Tacoma's best amenities, including Tacoma Dome Station. If you lived on the easternmost edge of Hilltop you could be as close as 0.8 miles to the Tacoma Dome Station, and the upcoming Tacoma Link Light Rail expansion connects Hilltop to the Tacoma Dome Station even more.
Tacoma's McKinley neighborhood in the Eastside is immediately south of the Tacoma Dome station and Interstate-5. In McKinley you could live as close as 0.6 miles to the Tacoma Dome station, even giving you the option to walk or bike. You can also hop on a bus to the station.
Located immediately south of Downtown Tacoma and Hilltop, Tacoma's Lincoln District neighborhood is a top choice for those who need access to the Tacoma Dome Station. In the Lincoln District you could live as close as 0.9 mile to the Tacoma Dome Station.
There is also another Sounder Train Station in South Tacoma. This opens up even more housing options if you need to be in close proximity to the train.
The Lakewood Station is currently the southernmost Sounder Station, and there are plans to expand the train to DuPont in the future. There are 600 parking spaces at the Lakewood Station making it easy to park and ride the rails.
Downtown Puyallup also has its own Sounder Train Station, and it's surrounded by Downtown Puyallup's historic charm and also housing. You could potentially live just a few blocks from the Puyallup Station, suddenly making a Seattle commute totally doable. To learn more about Puyallup and South Hill check out our video, "What it's like living in Puyallup."
Yet another popular place to live for people who commute to Seattle but want those "small town" vibes. The Sumner Sounder Station has 302 parking spaces, and there is residential housing merely blocks from the station. Learn more about commuting from Sumner in our video, "What it's Like Living in Sumner, Wa."
Commute to Seattle via The Ferry
Can you live in Gig Harbor and commute to Seattle? Yes you can, and if you're willing to have a slower commute (but the most gorgeous commute possible), you can take the Southworth – Fauntleroy Ferry over to Seattle. The Southworth Ferry is no
rth of Gig Harbor, so if you're considering the ferry as a possibility, living in Gig Harbor North will cut down your commute. The ferry drops off in West Seattle, which to be honest if you have to get to Downtown Seattle is a little tricky (as of the writing of this post in 2020) because of the West Seattle bridge closure. But it won't be closed forever, and it's especially not a huge deal if you get to work from home a lot and only need to go into the office every now and then.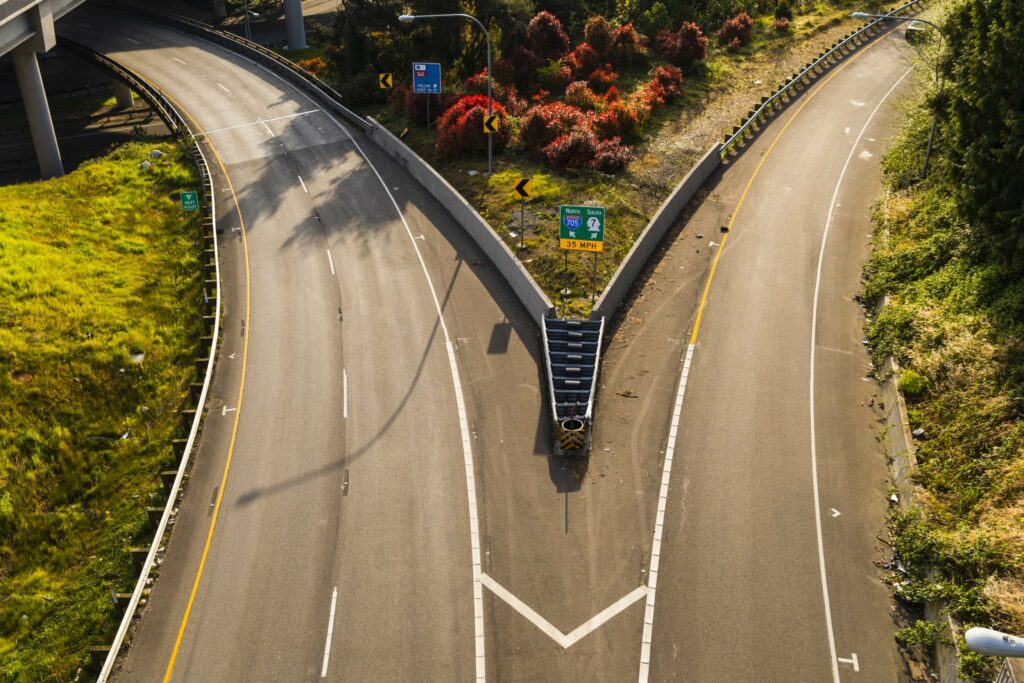 Commuting from Tacoma to Seattle via Car
Commuting to Seattle via car is of course always an option, and it's what thousands of people choose to do everyday. Because of this, traffic can be hard during rush hour, but it's also doable. These Pierce County and Greater Tacoma cities are the best options for commuting to Seattle via car:
Browns Point in Tacoma is the most northernmost neighborhood you can live in and still be in Tacoma. During good traffic it's about a 45-minute drive from the heart of Browns Point to Pike Place Market in Seattle (which we're just using as a reference point here since it's in the heart of Downtown Seattle).
If you live in the North End of Tacoma (especially in the Old Town and Proctor neighborhoods), you can take North 30th Street heading east to hop onto Schuster Parkway which then becomes Interstate-705 and connects to Interstate-5. When you're coming down North 30th Street you have an absolutely incredible view of Commencement Bay, and Schuster Park is also filled with big views of the Bay and Port of Tacoma.
Tacoma's Eastside encapsulates several smaller neighborhoods. McKinley, McKinley Hill, and Waller. the important thing here is that the Eastside is pretty much surrounded by Interstate-5 making it easy to hop on and off.
The city of Fife is another excellent option, in part because it's right on Interstate-5. You can live in Fife and not worry about the traffic jam that inevitably always happens by the Tacoma Dome and in good traffic you can drive to Downtown Seattle in 30 minutes.
Milton
Milton's big advantage is also the fact it offers easy access to Interstate-5 while bypassing the Tacoma Dome traffic jam. In good traffic Milton is about a 36-minute drive to Seattle.
Edgewood offers quick access to Interstate-5 and in good traffic is also only about ~37  minutes to Downtown Seattle.
Lake Tapps offers easy access to Highway 167, which offers a few opportunities to connect to Interstate-5 to get into Downtown Seattle. It's also a great option if you need to get to the Eastside—you can take Highway 167 up and connect to I-405 to get to cities like Bellevue and Redmond. Lake Tapps is also in between Sumner and Auburn, meaning you could also park at each city's train stations and take the train to Seattle.
Midland is especially unique in that you have easy access to Interstate-5 and it's one of the few places in Pierce County where you can own a home on some land. This is perfect if you just want to be spread out more or if you have farm animals yet still need to commute to Seattle.
---

BONUS: Commuting from Tacoma to Seattle via Link Light Rail
The Link Light Rail currently runs from Angle Lake (which is just before the Sea-Tac International Airport Station) north to University of Washington Stadium Station. There are some big expansions in the works.
First of all, the Link Light Rail is expanding to connect the International District Station in Seattle to the Eastside, with stops coming to top commuter destinations like Downtown Bellevue and Redmond (a definite perk for Microsoft employees!).
Secondly, the Link Light Rail will finally connect between Tacoma and Seattle. Suddenly it will be a lot easier to have another train option to commute to Seattle, but ALSO to cities on Seattle' Eastside and SeaTac International Airport.
Part of this Link Light Rail expansion will include a stop at the South Federal Way Station, making it a lot easier to live in Federal Way and enjoy a car-free option to commute to Seattle.
Sound Transit's Link Light Rail will also have a stop in Fife, opening up more options to live in Fife and have a car-free commute to Seattle as well.
To learn more about moving from Seattle to Tacoma- check out these resources:
For more information about buying a house in Pierce County check out these resources:
Would you like to learn more about how you can move to Tacoma in 2022? 
We have lot more info than just commuting from Tacoma to Seattle! Here are some additional resources for checking out how to move to Tacoma:
Marguerite Martin, Founder of MoveToTacoma.com is a real estate agent in Tacoma, WA . As a real estate "Matchmaker," she specializes in connecting real estate clients to the perfect agent in Tacoma and across the country. Learn more at Meet Your Guide.