What is Sumner, WA like? We've got you covered. Sumner is a small Pierce County town located about 12 miles southeast of Tacoma. In today's video Marguerite from MovetoTacoma.com interviews Kylee- who has lived in Downtown Sumner for years. She talks about what she and other residents love about living in Sumner. Sumner is known for it's convenient location for commuters, small town vibes, parades, and adorable downtown.
How much does it cost to buy a house in Sumner?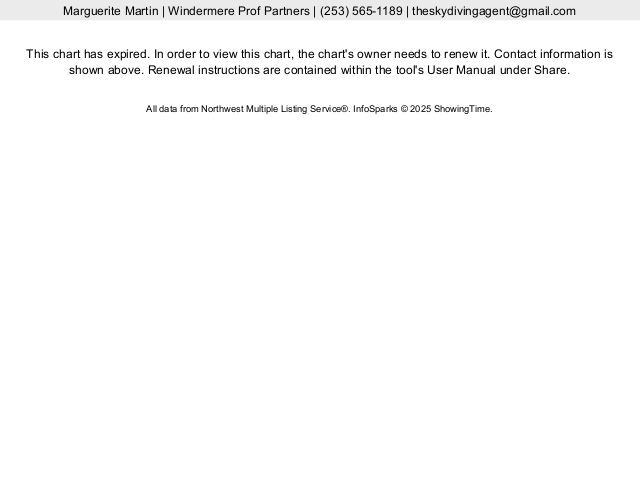 As of today the median home price in Sumner is about $595,000 (the chart above will update with accurate pricing even after this post is published!) Sumner's median home price is about 17% greater than the median home price for Pierce County which is currently $508,000. Homes in Sumner also sell more quickly. This month homes in Sumner were on the market for an average of 4 days vs 17 days for homes in Pierce County in general.
What is Sumner, WA like if you have to commute?
Sumner is a great place to live for people who have commutes. It's very centrally located, so if you have one person in the family commuting north to Seattle or Redmond and another family member commuting south to Tacoma, JBLM, or Olympia Sumner is a great compromise. Here are some sample morning commute times from Sumner. These are for the morning and while they vary based on traffic conditions they should be worst case scenario daily commute times.
Morning drive times from Sumner to:
Seattle – About 1 hour
Bellevue – About 1 hour
Tacoma – 30 minutes
JBLM – 40 minutes
Olympia – About an hour
If commuting by car isn't your thing, downtown Sumner has a commuter train. The Sounder trains travel from Lakewood to Seattle. That train starts in Lakewood and has stops in Tacoma, Puyallup, Sumner, Auburn, Kent and Tukwila before finishing in Seattle. There's another Sounder that runs from Everett and Seattle. The Everett/Seattle Sounder makes stops in Mukilteo and Edmonds. The Sounder commuter train regularly runs weekday mornings and afternoons only. You can see the schedule here.
What other neighborhoods are close to Sumner?
Downtown Puyallup – Like Sumner, Downtown Puyallup's historic downtown neighborhood offers a small-town vibe.  Puyallup is filled with local businesses that have been owned and operated by the same families for generations. Downtown Puyallup is down the hill from the newer South Hill neighborhood of Puyallup. Downtown is a bustling expanse of well connected neighborhoods, restaurants, businesses, shopping and schools. You can learn more from our article "What it's like living in Puyallup."
Edgewood – Edgewood has a variety of housing, but many of the properties are still on larger pieces of land than average. Folks looking to have a rural feeling lifestyle while still being close to everything love Edgewood.
Bonney Lake – Bonney Lakes feel is definitely more suburban than small town. The Lake Tapps/Bonney Lake area offers a big variety of planned communities and new construction. Bonney Lake also has lakefront homes and homes with views of the Puyallup Valley and Mt. Rainier.
More resources for Moving to Sumner, Washington:
Sumner Bonney Lake School District
Best Cities to Buy a House with Land in Pierce County
Marguerite Martin, Founder of 
MoveToTacoma.com 
is a real estate agent in Tacoma, WA . As a real estate "Matchmaker," she specializes in connecting real estate clients to the perfect agent in Tacoma and across the country. Learn more at 
Meet Your Guide.