The best hotels in Tacoma (in my opinion) are The Silver Cloud in Point Ruston, McMenamins Elks Lodge, and The Holiday Inn Express Downtown Tacoma. I'm gonna throw my honorable mentions at the bottom as well! Here are my reasons for liking these hotels best.
Neighborhood: Point Ruston (near Ruston)
View this post on Instagram
Look, compared to most cities Tacoma's hotels are not super expensive. But when I hear someone wants to splurge or experience a high level of customer service I recommend The Silver Cloud Point Ruston Waterfront located in the Point Ruston Neighborhood. NOT TO BE CONFUSED with The Silver Cloud Ruston Way located in Old Town.. The Ruston Way Silver Cloud is also very nice, (and is actually perched out on piers over Commencement Bay) but it is a bit older with fewer amenities.
The Silver Cloud Point Ruston has brand new rooms, valet parking, incredible waterfront views, and a full service restaurant (also with incredible views). If you're a local don't sleep on getting a waterfront view breakfast here sometime. It's convenient to be able to walk on Ruston Way in the morning or evening or meet people at one of the many restaurants nearby in Pt. Ruston.
Cons: This location is really for folks who have a car. It is possible to reach this area by bus, but it can be challenging.
Cost: $260/night for a King View Room (varies)
McMenamins Elks Temple – The Cool Choice
Neighborhood: Downtown Tacoma (St Helens)
I mean, I don't think there's a cooler hotel in Tacoma? This former Elks Temple is unlike any hotel you've ever stayed in before. It includes multiple bars, restaurants, a secret bar, a bar with a waterfall, and an incredible replica of Spanish Steps in Rome. It's also a concert venue! The location in downtown is very convenient, it's easy to get to the surrounding neighborhoods of Stadium, 6th Ave, Downtown Tacoma, and the Thea Foss Waterway on foot or by bus. If you're arriving in town by Amtrak or Sounder you can reach McMenamins on Tacoma's LINK Light Rail.
The rooms each tell a story of the buildings storied past. While the decor in the grafiti room was a little intense for peaceful relaxation, the King Balcony room with views of the water is pretty great.
Cons: Some of the rooms face an interior atrium which some folks love and some folks don't.
Cost: $165/night for a King Balcony with view (varies)
Neighborhood: Downtown Tacoma (just under Hillside/UWT)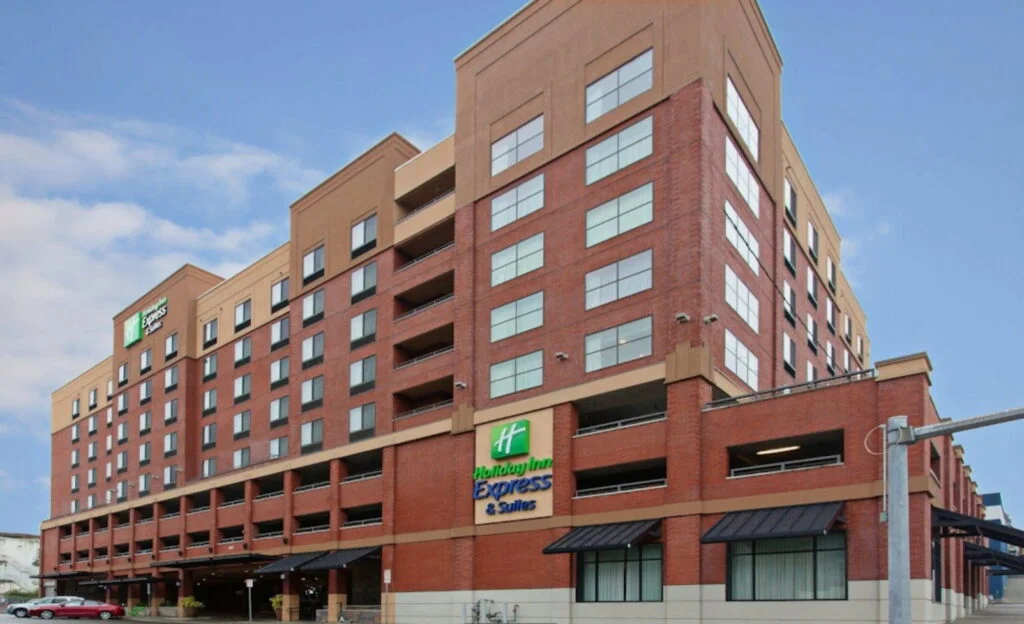 I know that when I was younger I would have never referred to a hotel that usually costs $100-125/night a bargain, but this affordable for Tacoma. While some of the hotels further out can be much cheaper, this one is newish, nice, and located right downtown. Located just one mile from the Sounder Station and Amtrak Station, you can either walk that mile or hop on the Link Light Rail and then walk .2 miles to the Holiday Inn.
Cons: There's nothing here you haven't seen in hotels all over the city. That's one of the nice things about staying in a Holiday Inn, but you'll have to get your "Experience" from Tacoma itself.
Cost: $117/night (varies)
Honorable Mentions
Hotel Murano
Neighborhood: Downtown Tacoma
View this post on Instagram
I cannot in good conscience make a list of great Tacoma hotels without including the Murano. Owned by Provenance Hotels Hotel Murano features an incredible sculpture from Greek glass artist Costos Varatsos out front. In addition different exhibits of glass art in the lobby, every floor features different artists. Considering Tacoma's relationship with glass art, this is a super fun hotel to stay in.
The views are incredible no matter where you stay in the hotel. I prefer facing Southeast. Pro tip: leave your curtains open when you go to bed. If you're luck7 and it's clear the sun rise over Mt Rainier will wake you up!
Cons: Last time I stayed (December of 2021) they didn't have a valet or concierge and limited food services due to the pandemic.
Price: $180/night (varies)
Marriott Tacoma Downtown
Neighborhood: Downtown Tacoma
View this post on Instagram
I love this Marriott because it's the only Tacoma hotel I've found with a rooftop hot tub and pool. I know Tacomans who rent rooms here in the summer just for the pool. The hotel is pretty new, the lobby is lovely, and the service is great. The rooms are also very modern. Much like Murano, you can either have city views or Mountain views. I usually prefer the mountain view, but the city view here is actually pretty wonderful!
Cons: Can be kind of pricey and the parking garage is TIGHT for anyone with a largish car or truck.
Price:  $225/night (varies)
Chinaberry Hill B&B
Neighborhood: Stadium District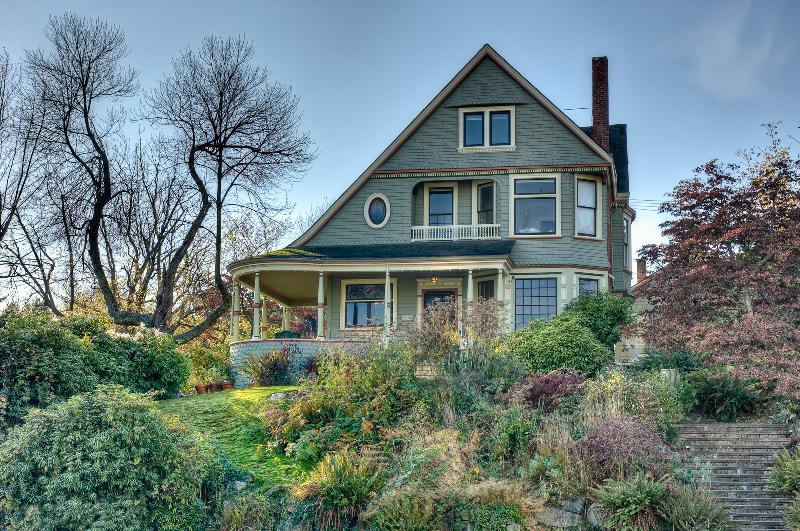 If you're looking for a bed and breakfast option in a historic home, check out Chinaberry Hill. Chinaberry Hill is a historic bed and breakfast located in the Stadium District neighborhood of Tacoma. Close to light rail, restaurants, historic Stadium High School, and the Ruston Way waterfront- Chinaberry Hill is a beloved choice of visitors and locals alike. "Chinaberry Hill was my first experience with Tacoma and part of why I fell in love with the city" says Sue D. "The owners were so nice – I went for a wander one day, exploring the neighborhood, and got all turned around. They came and found me and brought me back to the BNB."
Again, these are MY favorites that I recommend to friends and clients. Tacoma has lots of great hotels and airbnbs.These are great places to have your family from out of town stay, a weekend getaway to Tacoma, or to make a home base while you search for a home in Tacoma.
Resources:
Thinking of moving to Tacoma? Here's everything you need to know.
Thinking of moving to Pierce County? We have a guide for that too!
Here are some additional resources for checking out how to move to Tacoma: