Thinking of moving to Tacoma in 2023? Here's everything you need to know about what it's really like to live in The City of Destiny. Tacoma is located about an hour south of Seattle and two and a half hours north of Portland.  The city overlooks Commencement Bay on the Puget Sound. Tacoma's closest airport is Seattle-Tacoma International Airport, located about 30 minutes up I-5 from Downtown Tacoma.
What are the neighborhoods like in Tacoma?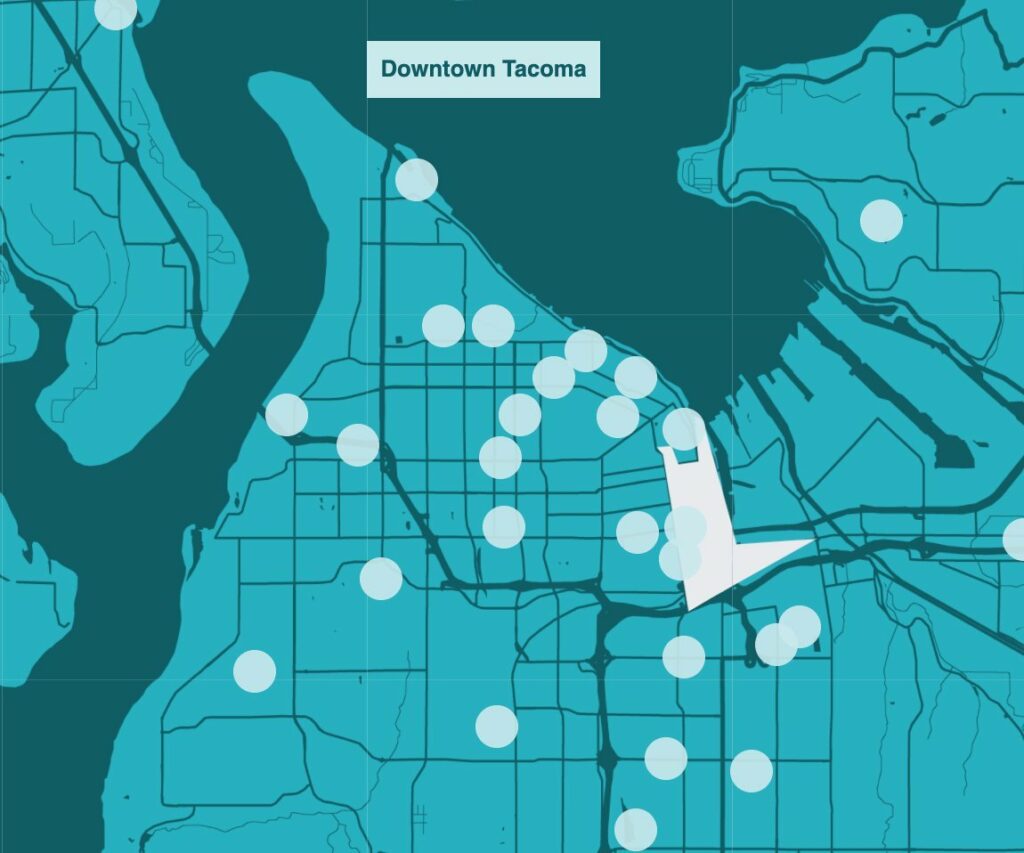 Tacoma has a wide variety of neighborhoods. Neighborhoods in the City of Tacoma proper is generally referred to by North, South, East, and West Tacoma. Additionally, Northeast Tacoma is located across Commencement Bay on the other side of the Port of Tacoma from Downtown Tacoma. Check out this clickable neighborhood map of Tacoma to easily learn the names and learn the lay of the land.
Areas of Tacoma
North Tacoma -The North Tacoma neighborhood is the area that encompasses some of Tacoma's most popular neighborhoods. Neighborhoods like Old Town, Ruston, Stadium District, North Slope Historic District, Proctor District, and University of Puget Sound Neighborhood are all part of the Tacoma's North End.
South Tacoma & South End of Tacoma – People often mix up or use South Tacoma and the South End  interchangeably- even locals! The South End and South Tacoma have become some of Tacoma's hottest neighborhoods in recent years. They contain some of Tacoma's most affordable neighborhoods and also some of its coolest business districts.
Eastside – The Eastside of Tacoma is located across I-5 from Downtown Tacoma to the Southeast. The Eastside is one of Tacoma's most affordable neighborhoods. East Tacoma is one of the most convenient neighborhoods in Tacoma for commuters due to its proximity to I-5 and Highway 512. East Tacoma has many historic homes.
West End & West Slope – The West Slope of Tacoma lives up to its name. Entire neighborhoods were developed along the hillsides facing Gig Harbor, Fox Island, and the Olympic Mountains. The West End of Tacoma is located in the middle of North Tacoma's biggest draws. People who live in the West End have easy access to some of the best parks in the county. The West End is surrounded Point Defiance Park, Vassault Park, Highlands Golf Course, Kandle Park (and the wave pool!) the town of Ruston, the Ferry to Vashon Island, and Titlow Beach.
Northeast Tacoma – Northeast Tacoma (also known as Browns Point) is located across Commencement Bay from Downtown Tacoma. Depending on where you're driving from, commuting to Tacoma will take about 15-20 minutes. If you're commuting to Seattle, Browns Point is as far north as you can live and still be in Tacoma.
Cities Near the City of Tacoma
There are a few cities so close to Tacoma that they feel like extended neighborhoods.
University Place – University Place has some incredible waterfront and mountain view homes. UP is also home to the only Trader Joe's in all of Pierce County. There are beautiful parks, schools, and a variety of architectural styles of homes available.
Fife – The City of Fife, WA is located between the City of Tacoma and the City of Puyallup. There's a saying, "Fife for Life" and that captures the sense of history and pride that many residents of Fife feel.  In Fife it's possible to to find homes with more property than in the surrounding areas. From most anywhere in Fife, the views of Mt. Rainier are spectacular.
Fircrest – The City of Fircrest is located between Central Tacoma, Tacoma's West Slope, and University Place. One of those idyllic "small towns" Americans tend to pine for, Fircrest is like something from another time. Conveniently located near Highway 16, it's also a great choice for those with commutes.
Ruston – While not technically located in the City of Tacoma, Ruston is a small city surrounded by Tacoma. Ruston is nestled up against Point Defiance Park and Commencement Bay. Many homes in Ruston have incredible views of the Puget Sound.
Is Tacoma affordable?
Yes and no. One of the biggest reasons that people are moving to Tacoma and Pierce County from out of area is because of how affordable Tacoma is compared to many other West Coast cities. Demand for housing in our area has increased exponentially over the past 8 years, and we are simply not keeping up with the demand. Right now the median home price in Pierce County the median home price is $520,000. In Tacoma the median home price is closer to $470,000. You can see the Pierce County and Tacoma median home price for 2023 in the chart below!
Here on MovetoTacoma.com we include the median home price for each neighborhood on the site! If you'd like to see the most affordable and expensive neighborhoods in Tacoma by median home price, click the links below.
Tacoma's Most Expensive Neighborhoods
Tacoma's Most Affordable Neighborhoods
Tacoma Real Estate for Investors 2023
For more information on how much it costs to live in Tacoma, check out the blog post Tacoma isn't affordable anymore, here's why.
How do I research the right neighborhood in Tacoma for me?
Check out this video about how to choose a neighborhood when you're moving to Tacoma!  Tacoma locals Marguerite and Anne talk about their process for helping friends and clients choose what neighborhood is right for them. Covering topics from safety, to home style, schools, and filmed on location in Point Ruston, Old Town, Thea Foss in Downtown Tacoma, South Tacoma, and South Tacoma Way– this video is an ideal resource for people researching Tacoma Neighborhoods.
The things to consider as you're choosing a neighborhood in Tacoma (and across Pierce County) are proximity to amenities, commute, budget, lifestyle preferences, and the type of home you want to live in. Marguerite talks about how if you have a particular type of home (such as a Historic Craftsman or New Construction) just adding your budget and commute to that criteria is going to narrow your neighborhoods down pretty significantly. Click here to visit the Move to Tacoma Neighborhood Guide.
What is there to do in Tacoma?
Tacoma is perfectly placed between the mountain (Mt Rainier) and the sea (Commencement Bay). In between are a huge variety of attractions and experiences you won't find anywhere else. On our Move to Tacoma Youtube Channel we've toured neighborhoods from North Tacoma to the Eastside, Downtown Tacoma, explored Things to do in Tacoma When it Rains, Showed off the beauty of Tacoma in the Fall, and even drove over the Narrows Bridge to explore Gig Harbor!
Chambers Bay Golf Course – You can play a round of golf on the Scottish links style course that hosted the 2015 Men's Open.
Pt Defiance Zoo & Aquarium – One of the finest zoos and aquariums in the Pacific Northwest, located in the 760 acre Pt Defiance Park.
Mt Rainier National Park – Visit this active volcano located 90 minutes from Downtown Tacoma. Hiking, camping, climbing and more.
NW Trek Wildlife Preserve – An incredibly unique experience, NW Trek is a wildlife park home to Bison, Elk, Bears, Mountain Lions, and so much more. See native animals in their own habitat.
LeMay America's Car Museum – For collectors, auto enthusiasts, and car people!
Museum of Glass – Glass art exhibitions and live creation of glass art in the MOG hot shop. 
Crystal Mountain – Skiing in the winter and great hikes in the summer, two hours from Downtown Tacoma.

How can I learn more about what Tacoma is really like?
For a small city, Tacoma has a lot going on in term of culture and the arts. If you're looking to check out what's happening in the City of Destiny check out these local media sources and follow your interests:
Tacoma Reddit – The good, the bad, and the anonymous of Tacoma. Everything you ever wanted to know about what's really going on in Tacoma- all you have to do is ask.
KNKX 88.5FM NPR – Tacoma's award-winning NPR Radio affiliate
The News Tribune – Largest newspaper in Pierce County
South Sound Magazine – Lifestyle magazine for Tacoma and Pierce County
Grit City Magazine – Tacoma magazine (print and online)
Channel253 Podcast Network – Locally owned podcasts covering news, politics, culture, race, eduaction, and more.
Grit City Podcast – one of Tacoma's first podcasts
Move to Tacoma Podcast – Interviews with Tacomans about life in the City of Destiny
For more information about buying a house in Pierce County check out these resources:
Would you like to learn more about how you can move to Tacoma in 2023? 
Here are some additional resources for checking out how to move to Tacoma:
Marguerite Martin is a different kind of Tacoma real estate agent. Check out the Tacoma Neighborhood Guide to find answers to questions you have about neighborhoods in Tacoma and Pierce County. When the time is right to start looking, Marguerite can connect you with a local real estate agent who specializes in the neighborhoods you love most. Click here to contact Marguerite.