People moving from Portland to Tacoma often tell me that Tacoma reminds them of Portland twenty years ago. There are a lot of similarities between Portland and Tacoma, and also a lot of differences! The Murray Morgan Bridge in Downtown Tacoma evokes Portand's Steel Bridge. Both cities have incredible views of volcanos. A Portlander driving Tacoma's neighborhoods will find streets full of familiar craftsman and foursquare homes. That said there are big differences. Tacoma's mountain is bigger- I hope that doesn't hurt any feelings but it's true. Instead of a river Tacoma is on the Puget Sound which means actual orcas swimming by. Portlands metro area has 650,000 people. Tacoma's has a third of that, 212,000 people. What they both have in common is that they are both iconic Pacific Northwest Cities that offer a great quality of life.
Here are our answers to common questions about moving from Portland, Oregon to Tacoma, Washington.
Are home prices different between Portland and Tacoma?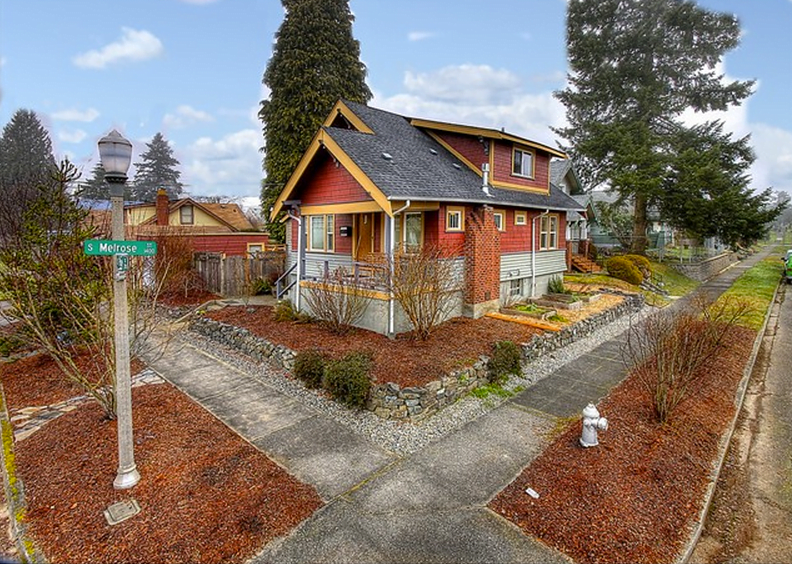 As of 2022, home prices in Tacoma and Portland are very similar right around $500,000. Here's an example of a craftsman home in Central Tacoma for $540,000. Compare that to this craftsman that sold off Division in SE Portland for $543,000. To learn more about what's happening with home prices in Tacoma check out our article about the 2022 Tacoma Real Estate Market. If you were expecting Tacoma to be less expensive than Portland, check out our article Tacoma isn't affordable anymore, here's why.
What's the best way to learn about neighborhoods in Tacoma?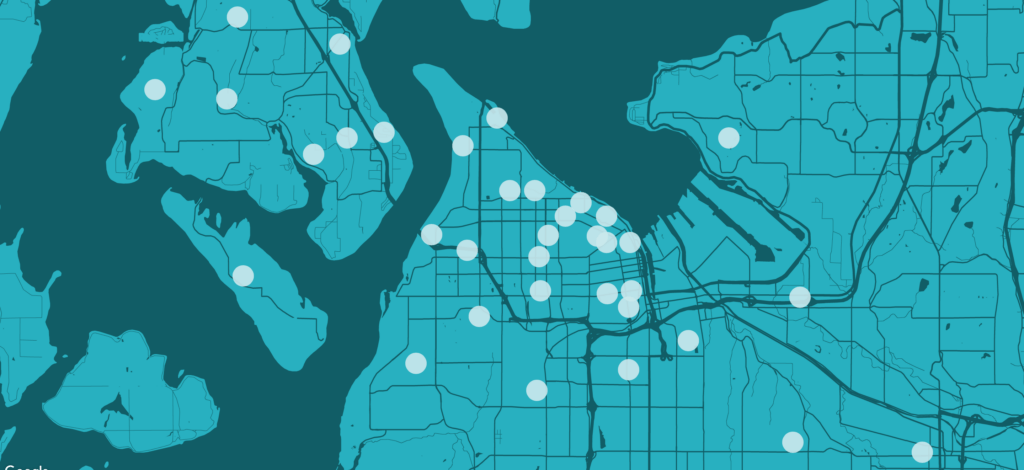 When people move to Portland, they learn about the quadrants. Northwest, Southwest, Southeast, Northeast- and now North and South Portland. Tacoma is a little different. Since the city is surrounded by water it's a bit different. You can see a map of Tacoma and a guide to all of the neighborhoods here. Here's a breakdown of the neighborhood areas of Tacoma:
Central Tacoma – Central Tacoma is a popular neighborhood. It has the historic homes and tree-lined streets that make North Tacoma so appealing, with the benefit of being considerably more affordable. Minutes from Downtown Tacoma and freeways make it popular with commuters who prefer to bus, walk, or bike to work. The median home price in Central Tacoma is $440,000.
Downtown Tacoma – Downtown Tacoma has bars, coffee shops, new restaurants, theaters, museums, and more. Fun fact, Tacoma is second only to Washington D.C. for the highest number of museums per capita! Artists from around the world perform at the variety of historic theater venues like the Pantages as well as the iconic Tacoma Dome. Alma is the place to be for great live music. The thriving Downtown Tacoma Farmer's Market attracts the regions farmers to Broadway every Thursday in the spring and summer. The median home price in Downtown Tacoma (mostly condos) is $327,000.
Northeast Tacoma – Not to be confused with North Tacoma, Northeast Tacoma is a 20 minute drive around Commencement Bay from Downtown Tacoma. Northeast Tacoma has plenty to do. When the weather is great you can head down to the beach around Lighthouse Park and watch the boats. The Centre at Norpoint has a gym and climbing wall for indoor fitness when the weather is less accommodating. Don't miss dining out at the Cliff House Restaurant and enjoying incredible views of the City of Tacoma skyline, rain or shine!The median home price in Browns Point/Northeast Tacoma is $600,000.
North End – North Tacoma is home to some of Tacoma's most popular neighborhoods. Home to some of the oldest neighborhoods and grand historic homes in the city, North Tacoma is also located close to Tacoma's popular Ruston Way waterfront park and Pt Defiance Park, a 702 acre unlogged old growth forest. Neighborhoods in North Tacoma are also among some of the most expensive in Tacoma. The median home price in North Tacoma is hovering right under $600,000, but the Most Expensive Neighborhoods in Tacoma area in the North End. The most expensive neighborhood in Tacoma is the Stadium District at $942,000.
West End – Living in the West End of Tacoma is great because there are a variety of eras of homes to choose from. From older to newer homes, single family to condos. The homes in the West End are some of the most affordable to be found in North Tacoma. That said, they're still conveniently located to the parks, towns, business districts, and waterfront that make living in the North End so great. The median home price in the West End is $553,000. The median home price in the West Slope is $700,000.
South Tacoma – South Tacoma is one of Tacoma's most affordable neighborhoods, and it's also very convenient. It's proximity to businesses on South Tacoma Way, the Tacoma Mall, to University Place, Joint Base Lewis-McChord, and to Interstate-5 make it great for commuting and running errands. From South Tacoma Way's historic business strip to the Tacoma Mall to Costco and everything in between. South Tacoma is also convenient to Whole Foods and Trader Joe's in University Place. South Tacoma has a huge variety of restaurants including Monteczuma's, Marcia's Silver Spoon, Peanut Sauce Thai, and more. Tacoma kids have been going to Chuck e Cheese on 48th street since the 80s, and nowadays Tacoma kids have a brand new community center at The Star Center. South Tacoma way has cool new bars like The Mule and old favorites like The Airport. The median home price in South Tacoma is $390,000.
South End – The South End of Tacoma includes neighborhoods like The Lincoln District, Fern Hill, and Wapato. Living in Tacoma's South End is super convenient. Whether you're commuting north to Seattle, to Downtown Tacoma, or south to JBLM, all of the freeways are right there. The Tacoma Mall is just across I-5. The South End has several local business districts including the Lincoln International District and the Fern Hill Business District. Pacific Avenue and all of the accompanying businesses also runs through the South End. Some of the best food in the city is located in the South End, including Vien Dong in the Lincoln District and Vuelve a la Vida on Pacific Avenue. Fern Hill boasts Little Jerry's, a Seinfeld-themed breakfast joint. The median home price in the South End is $400,000.
Eastside – The Eastside has some awesome parks, including McKinley park and Swan Creek Park. A summertime street fair on McKinley Ave brings the best of the community together. And people come from all over the city to eat at Antojo's and Top of Tacoma, one of Tacoma's best bars. Homes perched on steep hills boast views of the city, Tacoma Dome, and Mt Rainier. The median home price on the Eastside is $399,000.
How long does it take to get from Portland to Tacoma?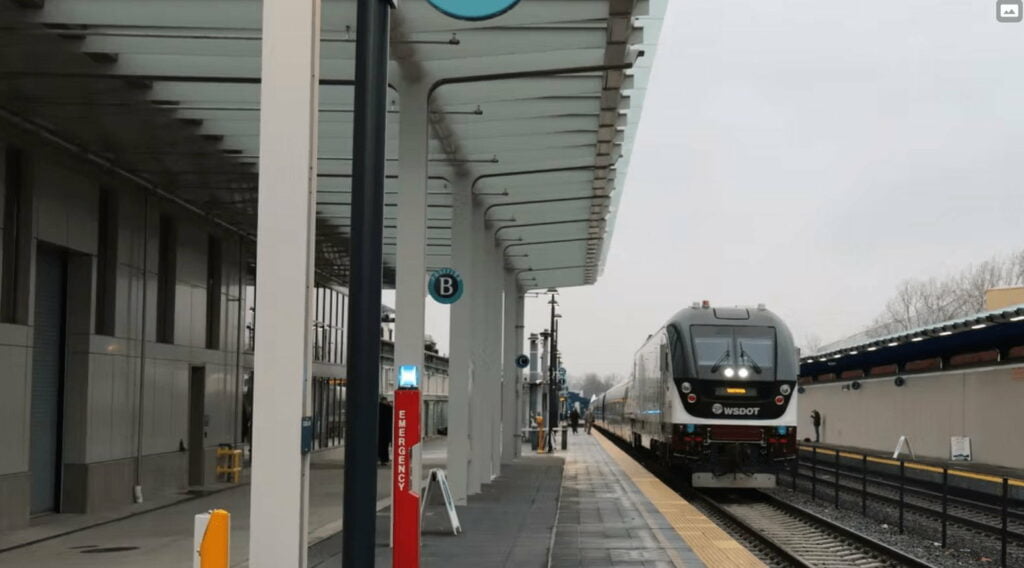 You can drive from Downtown Portland to Downtown Tacoma in about two and a half hours. If it's a holiday or Friday traffic that drive can take 3 hours. Many people prefer riding Amtrak which has 4 trains per day back and forth between Tacoma and Portland. Thanks to the new route that train ride takes about two hours and fifteen minutes. Of course, the dream of high speed rail from Tacoma to Portland continues to captivate the Cascadia region. Read the latest about how local politicians are trying to make that happen here.
How long does it take to get from Tacoma to Seattle? What about the airport?
Here are the most common commute times from Downtown Tacoma by car:
Downtown Seattle – 1 to 1.5 hours in rush hour
Olympia – 30 to 45 minutes in rush hour
Bellevue – 50 minutes to 1.5 hours in rush hour
JBLM – 15 to 30 minutes in rush hour
Commuting by car to Seattle or Bellevue can be really brutal. Check out driving alternatives like the ST Express Buses and Sounder Commuter Train. To learn more about commuting from Tacoma to Seattle check out the article Commuting from Tacoma to Seattle.
To Learn more about moving from Portland to Tacoma, check out these resources:
What are the most affordable neighborhoods to buy a home in Pierce County, WA?
Moving to Tacoma in 2022? Here's what you need to know.
How to Choose a Tacoma Neighborhood
For more information about buying a house in Pierce County check out these resources:
Would you like to learn more about how you can move to Tacoma in 2022? 
Here are some additional resources for checking out how to move to Tacoma:
Marguerite Martin, Founder of MoveToTacoma.com is a real estate agent in Tacoma, WA . As a real estate "Matchmaker," she specializes in connecting real estate clients to the perfect agent in Tacoma and across the country. Learn more at Meet Your Guide.