We just wrapped up the first quarter of 2022 and (no surprise) the Tacoma / Pierce County real estate market is still heavily favoring sellers. In spite of interest rate increases buyer demand in our area remains very strong.
Tacoma's intense real estate market is the way it is for a few basic reasons:
More people keep being born. Millennials are now aged 24-40, and they are the largest generation in the country. It's a HUGE number of people wanting to buy homes, and many of their parents and grandparents aren't interested in selling their homes. The demand is incredible.
People are still moving to the Pacific Northwest. Our weather is good, our politics are generally progressive, there are some huge employers, and we have great educational institutions. If you live here, I don't have to tell you why it's awesome. Chances are (unless you are descended from indigenous people) that you moved here too, or your parents or grandparents did.
Our city barely builds any new housing. Compared to other cities with populations of our size we build very little new housing. In spite of the growth management act and the fact that we KNEW these people would be moving here, we just haven't worked out how prioritize building new housing.
We don't insist on increasing density. Tacoma is surrounded by water by three sides and there's no real opportunity for us to sprawl. If we're going to increase the number of housing units in the city that is going to mean building up, and filling in the existing lots with ADUs and DADUs.
To learn more about why Tacoma prices are increasing so quickly, check out our blog post, "Tacoma isn't affordable anymore. Here's why."
How much does it cost to buy a house in Tacoma right now?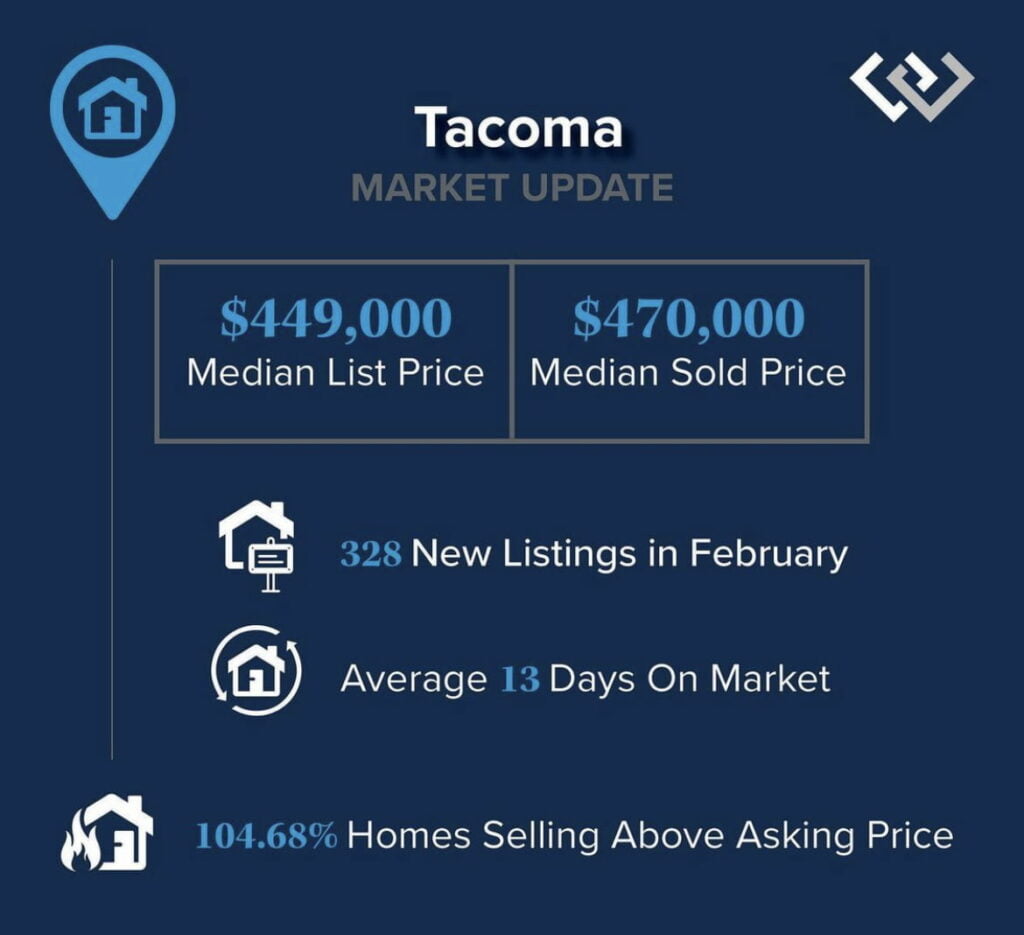 Pierce County home prices rose 18% from 2021 to 2022. The median price of homes sold in Pierce County in April of 2022 is $557,000. The median home price of homes sold in Tacoma in April of 2022 is $470,000. The housing market is most competitive for buyers searching for homes under $700,000. Due to a low inventory of homes for sale buyers agents from across Pierce County are reporting their clients are facing multiple offers. To learn more about the market visit, "Tacoma Real Estate Market 2022."
Tacoma home prices have been rising quickly over the past 5 years in particular.
How can I Buy a House in Tacoma Right Now?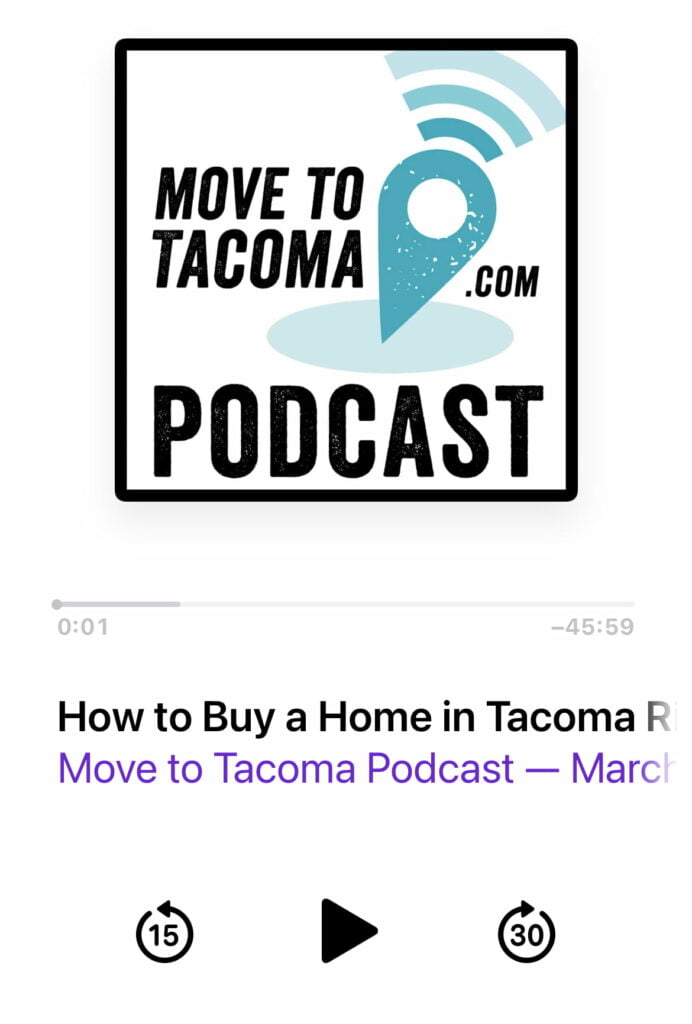 Buying a house in Tacoma has never been more challenging for buyers, especially buyers buying under $700,000. Marguerite invited Tacoma real estate agent Sharon Chambers Gordon onto the podcast to talk about what buyers can do to increase their chances of finding and winning a good house. She shares some of the advice that she gives to her buyer clients about buying in Tacoma's frenzied real estate market. Sharon also shares some of her tricks for winning a multiple offer. You can hear the Move to Tacoma Podcast on Itunes, Spotify, or here on the podcast page on this website. 
You can also check out this video interview with another Tacoma buyers agent, Keryn on strategies for being successful in the Tacoma housing market right now:
What are the most affordable neighborhoods in Tacoma right now?
The most affordable homes in Tacoma right now are Downtown Tacoma, the Hillside/UWT Area above Downtown Tacoma, South Tacoma, the St Helens/Theater District area between Downtown and Stadium, Mckinley Hill, and the Eastside of Tacoma. Here are the median home prices of the most affordable areas of Tacoma:
Downtown Tacoma $327,000 (Condos)
St Helens / Theater District $390,000
For more information about the most affordable neighborhoods in Tacoma visit the blog post, "The Most Affordable Neighborhoods in Tacoma 2022." If you're curious about the most expensive homes in Pierce County check out our blog post, "The Most Expensive Neighborhoods in Pierce County 2022."
How does Move to Tacoma help me find a house to buy in Tacoma?
Whether you live in Tacoma right now or are moving to Tacoma from somewhere else, MovetoTacoma.com is the best resource for helping you find your place in the City of Destiny.
Our clickable neighborhood map of Tacoma's neighborhoods is our pride and joy. Click through to find images and videos of each neighborhood. The Neighborhood guides on the map also include median home price information, blog posts about the neighborhoods, podcast episodes about the neighborhoods, and candid quotes from local neighbors.
The best way to learn about Tacoma is to hear from the people who live here. On the Move to Tacoma Podcast Marguerite interviews Tacomans who've been here generations and Tacomans who just got here. From business and technology leaders to politicians and activists and everyone in between. The Move to Tacoma Podcast will give you insight into why people move here and how they find meaning and happiness in Tacoma.
On the Move to Tacoma Blog we have been writing about things to do in Tacoma, where to eat in Tacoma, hot button community topics, neighborhoods and more since 2015. There are hundreds of posts to help you find what you love in the City of Destiny. From posts about where to eat and drink to interviews with locals- the blog is a great place to keep up one what's happening in Tacoma and Pierce County.
Marguerite Martin is a different kind of Tacoma real estate agent. Reach out to find out answers to questions you have about neighborhoods in Tacoma and Pierce County. When the time is right to start looking, Marguerite can connect you with a local real estate agent who specializes in the neighborhoods you love most. "I'm happy to introduce you to other agents I know to help find the perfect fit, at no cost to you!" – MovetoTacoma.com Creator Marguerite Martin
Additional resources:
The Most Affordable Neighborhoods in Tacoma 
The Most Affordable Neighborhoods in Pierce County
All About Moving to Pierce County
Resources for buying a house in Tacoma:
Marguerite Martin, Founder of MoveToTacoma.com is a real estate agent in Tacoma, WA . As a real estate "Matchmaker," she specializes in connecting real estate clients to the perfect agent in Tacoma and across the country. Learn more at Meet Your Guide.