North Tacoma Neighborhood Guide
Tacoma is made up of North Tacoma, Central Tacoma, Downtown Tacoma, the South End, South Tacoma, and the Eastside. For those interested in learning more about North Tacoma, this is the place!
Where is North Tacoma?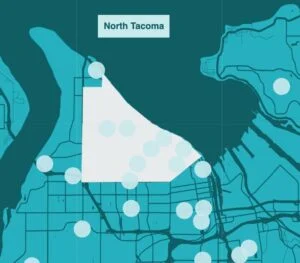 North Tacoma is generally accepted to be the area north of 6th Avenue and Division Avenue (bordered to the north by the Puget Sound). While this includes the city of Ruston, the West End, and the West Slope of Tacoma, those communities often identify as being "in the North End" if not actually North Tacoma neighborhoods. 
Neighborhoods in North Tacoma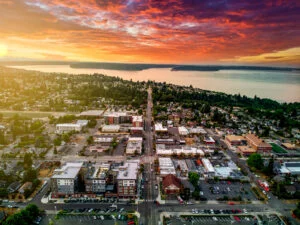 North Tacoma is home to some of Tacoma's oldest neighborhoods including Old Town- which was started in 1863 by settler Job Carr. Many of the homes in the North End are historic- especially craftsman, foursquare, and victorian homes.
Proctor – The Proctor District has a popular local business district with great shops and restaurants. It also has the most popular grocery store- Metropolitan Market! Proctor has a Saturday Farmers Market weekly March-December. Proctor is home to many historic single family homes and historic homes. The median home price is about $700,000.
Stadium – The Stadium District is named for Tacoma's Stadium High School- an iconic French Chateau Style structure perched over Commencent Bay. Stadium is home to a mix of historic mansions and apartments, historic homes, and a few new and newer apartments. It has several of Tacoma's most popular restaurants including Indo, Shake Shake Shake, Sel, and Art House Cafe. Stadium is also one of the most expensive neighborhoods in Pierce County with a median home price of $760,000. You can see a video about what it's like living in the Stadium District here.
Old Town – Tacoma's Old Town Neighborhood is home to a charming street of shops on North 30th. That includes bars, restaurants, coffee shops, and other businesses. Homes in Old Town are a mix of historic homes and newer construction. Many have incredible views of Commencement Bay. Old Town is very close to the Ruston Way Waterfront. The median home price is right around $700,000.
Three Bridges – A tiny, blink-and-you-miss-it neighborhood between Proctor and Stadium- Three Bridges is a charming and historic neighborhood. Home to a small and thriving business district and two easy to find bridges. The neighborhood is home to many historic craftsman and foursquare homes. The median home price in Three Bridges is right around $700,000.
UPS Neighborhood – This neighborhood of historic homes surrounds Puget Sound University, a private liberal arts school. Popular with students and long term Tacomans alike, this neighborhood is convenient to 6th Ave, Proctor, and Stadium Business District. The median home price is about $550,000.
North Slope Historic District – At this time the NSHD is the only historic district in the North End. Almost 80% of the homes in the neighborhood were built before 1930. This is the only neighborhood in North Tacoma where there are rules residents must follow when they remodel their historic homes. The median home price in the North Slope Historic District is around $575,000.
Point Ruston – Point Ruston has promoted itself as a "waterfront resort-inspired village" with some of the best waterfront access of any neighborhood in Pierce County. The Point Ruston area has many little shops, lots of restaurants, coffee and ice cream shops, and a movie theater. The community is dense and only has apartments and luxury waterfront condos. The median home price for those condos is almost $1,000,000.
Not North Tacoma but Nearly North Tacoma Neighborhoods
The City of Ruston – A tiny city surrounded by Tacoma. Ruston is located next to Point Defiance Park, Owen Beach, and the Ferry to Vashon Island. Ruston has a number of bars and restaurants. Point Ruston is a newer development on the waterfront that offers abundant dining and entertainment options as well as condos, apartments, and a hotel. Ruston residents have a direct commute via Ruston Way to I-5.
West Slope –  Many West Slope homes boast incredible views of the Puget Sound, the Olympic Mountains, and the Narrows Bridge. Homes on Tacoma's West Slope have some of the most spectacular sunset views you'll find anywhere. West Slope has all the conveniences you'd want in a suburb of the city. Easy access to the freeway, great grocery shopping, great parks, and access to the water.
West End – Homes in the West End are some of the most affordable to be found in North Tacoma. The West End is conveniently located to the parks, towns, business districts, and waterfront that make living in the North End so great.
6th Ave Neighborhood – 6th Ave is the dividing line between North and Central Tacoma. The 6th Avenue neighborhood has an abundance of cool shops, restaurants, and other local businesses to explore. You can visit record stores, boutiques, coffee shops and salons for the day and at night 6th Ave is hopping with great restaurants, bars, and live music.
Is Northeast Tacoma in North Tacoma?
No! It seems like it would be because it has "north" in the name. Northeast Tacoma including Browns Point is its own neighborhood- separated from North Tacoma by Commencement Bay and the Port of Tacoma. It can be hard to visualize so check out the Northeast Tacoma page here.
Water view Neighborhoods in North Tacoma
Since North Tacoma is bordered by Puget Sound many homes in North Tacoma have water views. Other than the tiny community of Salmon Beach (in the West Slope) there are no waterfront homes in the North End. This is due to the rail the rail lines that follow the waterfront. It is possible to find homes in most of the North Tacoma Neighborhoods with water views, especially in Old Town, Stadium District, Ruston, Pt Ruston, and the West Slope.
Schools in North Tacoma
Public – North Tacoma, the West End, West Slope, and City of Ruston are all served by Tacoma Public Schools. North Tacoma High Schools include Silas High School (formerly Wilson), Stadium High School, and Tacoma Science and Math Institute (located in Pt Defiance Park).
Private – Annie Wright School, St Patrick Catholic School, and Tacoma Christian Academy
University – Puget Sound (formerly University of Puget Sound) is located in North Tacoma between the 6th Ave Neighborhood and Proctor.
For more information on public, private, and religious schools in Tacoma and Pierce county check out Moving to Pierce County – What You Need to Know.
Parks & Recreation
North Tacoma has incredible access to nature. Pt Defiance Park and the Ruston Way Waterfront are both located in North Tacoma. Pt Defiance Park is a 760 acre old growth forest that includes hiking trails, beaches, Pt Defiance Zoo & Aquarium, and more. Ruston Way includes 2 a two mile trail for walking, jogging, cycling, roller blading, and fishing. There are also several waterfront restaurants along the route. In addition to these main parks there are many more North End Parks including Kandle Park (complete with wave pool in the summer!), Jefferson Park, Puget Creek Natural Area, and Vassault Park (great for tennis and baseball!).
Shopping & Entertainment
North Tacoma is home to two Safeways, a Metropolitan Market, Stadium Thriftway, and most recently the Central Co-Op. In addition there are a number of smaller markets and grocery stores. For shopping, the three most popular business districts for shopping are Proctor, Stadium, and 6th Avenue. The Three Bridges Neighborhood, Pt Ruston, and Tacoma's Old Town also have shopping districts.
North Tacoma Farmers Markets
There are currently two farmers markets in North Tacoma. The Pt Ruston Farmers Market is on Sundays in the summer. The Proctor Farmers Market is on Saturdays March-December and on 2nd Saturdays January-March.
Local Media in North Tacoma
For a small city, Tacoma has a lot going on in term of culture and the arts. If you're looking to check out what's happening in the City of Destiny check out these local media sources and follow your interests:
Tacoma Reddit – The good, the bad, and the anonymous of Tacoma. Everything you ever wanted to know about what's really going on in Tacoma- all you have to do is ask.
KNKX 88.5FM NPR – Tacoma's award-winning NPR Radio affiliate
The News Tribune – Largest newspaper in Pierce County
South Sound Magazine – Lifestyle magazine for Tacoma and Pierce County
Grit City Magazine – Tacoma magazine (print and online)
Channel253 Podcast Network – Locally owned podcasts covering news, politics, culture, race, eduaction, and more.
Grit City Podcast – one of Tacoma's first podcasts
Move to Tacoma Podcast – Interviews with Tacomans about life in the City of Destiny
Additional Resources:
Clickable Neighborhood Map of Tacoma and Pierce County
Waterfront Neighborhoods Near Tacoma
A Complete list of cities and neighborhoods in Pierce County
Would you like to learn more about how you can move to Tacoma? 
Here are some additional resources for checking out how to move to Tacoma:
5 Mistakes First Time Buyers Make
How Real Estate Agents Get Paid
Buying a House: From Contract to Keys
I also have this clickable neighborhood map and neighborhood guide that includes median home price by neighborhood if you'd like to explore Tacoma and Pierce County!
Here is a link to the MoveToTacoma.com Podcast if you'd like to learn more about Tacoma culture!
Marguerite Martin is a different kind of Tacoma real estate agent. Check out the Tacoma Neighborhood Guide to find answers to questions you have about neighborhoods in Tacoma and Pierce County. When the time is right to start looking, Marguerite can connect you with a local real estate agent who specializes in the neighborhoods you love most. Click here to contact Marguerite.