Do you want to know how much it costs to buy a house in Tacoma in 2023? We're here to break it down. Obviously, the cost of buying a house varies by neighborhood, home, the borrower's credit rating, and how much money a person has to put as a down payment on their home. That said, we can break down some of the most basic numbers to give you an idea before you reach out to a mortgage person or real estate agent and just give you an idea how it works. Remember, everyone's situation is different so make sure you talk to a mortgage professional to break down these numbers for your specific situation, This is just a rough idea!
How much do houses cost in Tacoma in 2023?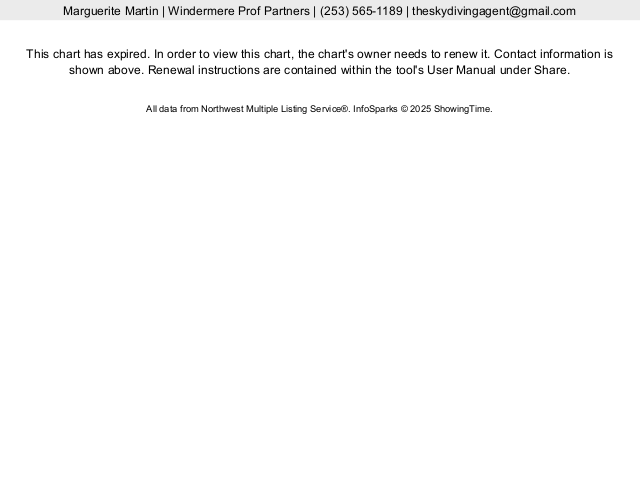 First, home prices in Tacoma vary quite a bit by neighborhood. The median home price of a house in Tacoma in January 2023 is $491,000. The lowest median priced neighborhood in Tacoma is a little under $400,000 and the highest is a little over $1,000,000. The median home price for a house in Pierce County in general is $530,000. For the purposes of this blog post we're just going to operate off of a home price of $500,000, which is pretty average right now. If you'd like to see what the median home price is in your favorite Tacoma neighborhoods check out the Tacoma Neighborhood Guide. If you'd like to find out where home prices are the lowest check out our blog post, "The Most Affordable Neighborhoods in Tacoma in 2023."
How much money do you have to make to buy a house in Tacoma in 2023?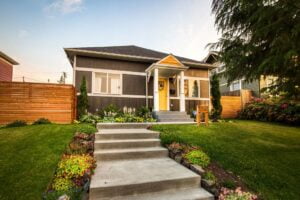 The amount you need to make to qualify for a $500,000 house varies based on your credit score and how much debt you have. While many people have some kind of debt (student loans, car loans, credit cards, etc) for the purposes of this blog post and simplicity we're going to assume no debt. The rough number that a a borrower or borrowers need to make to qualify for a $500,000 house, with a 3% down payment, assuming they have no debt, is about $9,000/month or $108,000. This could be one person making that much or a couple that makes that much combined. This scenario is based on a $500,000 purchase price,  6.37% interest rate, 3% ($15,000) down payment.
What is the payment on a $500,000 house in 2023?
Someone buying a house in this scenario is going to be paying about $3,673/month over 30 years. Here's how that rough payment breaks down:
$2,925/month mortgage payment
$100/month hazard insurance
$100/month homeowners insurance
$215/month mortgage insurance (this is generally required when you put less than 20% down)
$333.month property taxes
This makes the total monthly payment for a $500,000 house in this scenario $3,673 per month. 
What are the other costs associated with buying a house in Tacoma right now?
One thing to note, in addition to the 3% down payment of $15,000 the buyer or buyers will also need another $8,000 for closing costs. On top of the closing costs you're going to need $400-500 for your home inspection and $300 for your sewer inspection.
It's important to talk to your real estate agent because in some neighborhoods and price points there is the opportunity to negotiate with the seller to get them to pay some of your closing costs and other items. It depends on your loan what your bank will allow and whether or not you have a lot of competition for the property. A good lender/buyers agent combo that knows the Tacoma real estate market well will be a real asset here as you negotiate! You may be able to keep more money in your pocket.
Can I buy a house for less than $500,000 and have a lower monthly payment?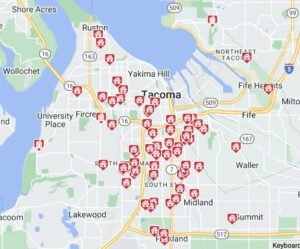 Absolutely, there are plenty of folks in Tacoma buying houses for less than $500,000. So far in January 2023 dozens of homes under $500,000 have sold in neighborhoods all over the city of Tacoma. In addition to finding a home at a lower price, there are other types of loans (FHA, VA) as well as downpayment assistance programs. A lender and real estate agent who specialize in first time buyers in Tacoma will be able to help you navigate and find the best scenario for you and your budget.
Is it a buyers or a sellers market in Tacoma right now?
The answer to this question depends on the price of the house and the neighborhood. To speak very generally it's more of a buyers market in the homes over $600,000. That said, because there is still not enough affordable housing neighborhoods with homes under $600,000 and ESPECIALLY any homes under $450,000 are seeing a lot of demand. You can see this in the chance of selling chart from May 2022 to December of 2022. You see that as interest rates rise the demand for the more expensive homes in Tacoma weakens. Demand for more affordable homes remains!
I want to buy a house in Tacoma in 2023. What do I need to do first?
If you're planning to buy a house in Tacoma in 2023 you should speak with a local lender here in Tacoma and have them run all your numbers. If there's a specific payment you want to keep it at they will give you an idea of what price range you will be looking at. Things like student loan debt, car loans, credit scores, and more can effect your payment. It's different for everyone! I recommend choosing an experienced buyers agent with a lot of experience in the neighborhood you're buying in.  If you have questions about the process of buying a house in Tacoma I'm happy to chat about it and make a recommendation for a local agent. You can connect with me (Marguerite!) for a call by clicking the contact form here.
Here are some more resources as you consider buying a house in Tacoma:
How to Choose the Best Tacoma Real Estate Agent
Marguerite Martin, Founder of MoveToTacoma.com is a real estate agent in Tacoma, WA . As a real estate "Matchmaker," she specializes in connecting real estate clients to the perfect agent in Tacoma and across the country. Learn more at Meet Your Guide.