Tacoma's Mayor Marilyn Strickland is on the podcast today to talk Tacoma- and what she predicts will be our direction (and biggest opportunities) over the next 10 years. What are our strengths? What are the obstacles that keep us from becoming the city we could become?
"I think that one of the challenges we have in this city is that there is a self esteem problem, and if often comes from people who've been here the longest." says Mayor Strickland. "Most of the time when I have visitors from other cities (and that is nationally or globally) they always marvel at how beautiful Tacoma is. They talk about the waterfront, they admire the stock of historic property, and they like the feel and scale of the city. And so I think for a lot of us who've been here a long time sometimes it's important to take a look and get some perspective."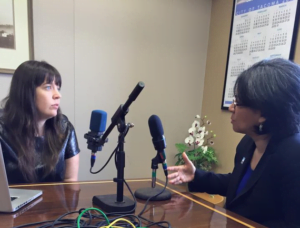 Mayor Strickland lives in Tacoma's Downtown Tacoma Neighborhood in one of the renovated historic condo buildings.
I learned some fun facts from the mayor about Tacoma that I didn't know- like that Tacoma has the most Museums per capita outside Washington D.C. Tune in for this great interview and learn about where Tacoma is headed over the next 10 years!
Show Notes:
Mayor Strickland says in order to appreciate our present we need to know our past- for an idea of how far we've come check out Steve Cyzewski's photos "Wandering Tacoma in the 70's."
The rumored China-based investment fueled condo/hotel tower I ask the mayor about- Yareton Investment article in the TNT
Check out other episodes of the Move to Tacoma Podcast:
001 – Commute Hacks with Justin Camarata
002 – Tacoma is not Portland North with Erik Hanberg
For more information about buying a house in Pierce County check out these resources:
Would you like to learn more about how you can move to Tacoma in 2022? 
Here are some additional resources for checking out how to move to Tacoma:
Marguerite Martin, Founder of MoveToTacoma.com is a real estate agent in Tacoma, WA . As a real estate "Matchmaker," she specializes in connecting real estate clients to the perfect agent in Tacoma and across the country. Learn more at Meet Your Guide.