The number of homes closed in September in Pierce County, WA fell 25% year over year. In September of 2021 1,845 homes sold in Pierce County. In September of 2022 that number fell to 1372. That's a decrease in volume of 25.6%. In the city of Tacoma closed sales in September were down 30%, from 550 closings in September 2021 to 385 in September 2022.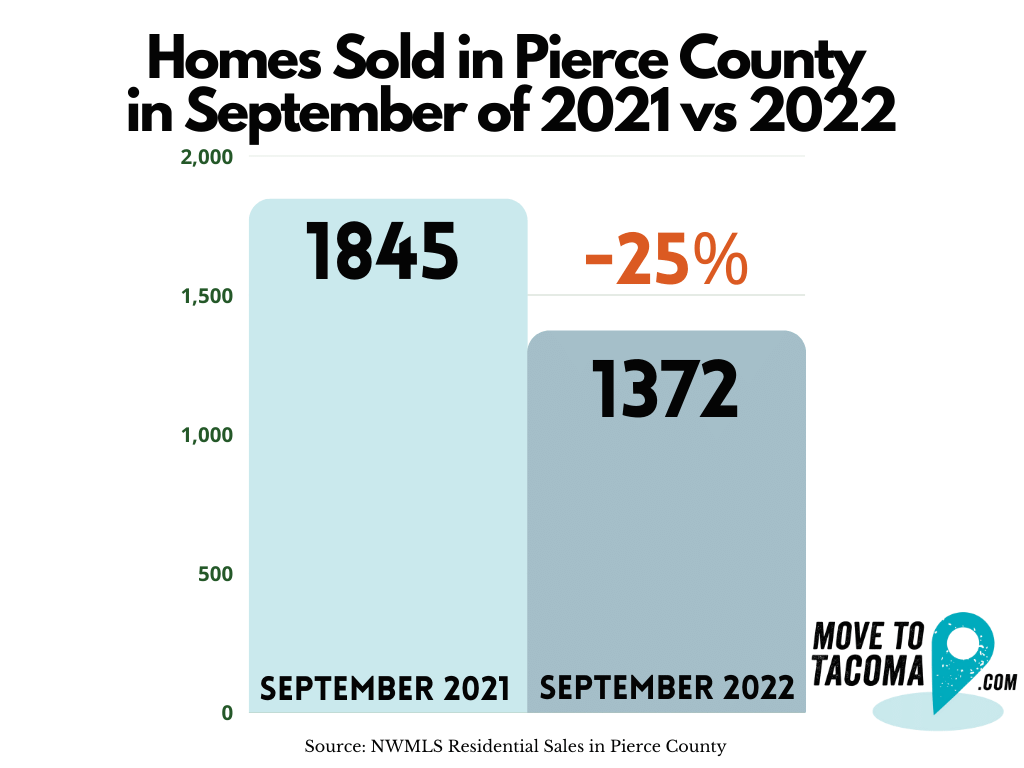 How much have Pierce County Home Sales fallen compared to last September?
The number of homes that have sold in Pierce County in September 2022 is 25% lower than the same month last year. For single family home sales in the City of Tacoma the number of homes sold September over September is 30% lower. This means the average number of days a house is on the market before it goes pending has gone from 6 days to 20 days. Or more precisely 6 days for both Pierce County and Tacoma in September of 2021 and 19 days for Tacoma and 21 days for Pierce County in 2022. This is a huge shift for Pierce County sellers and their real estate agents.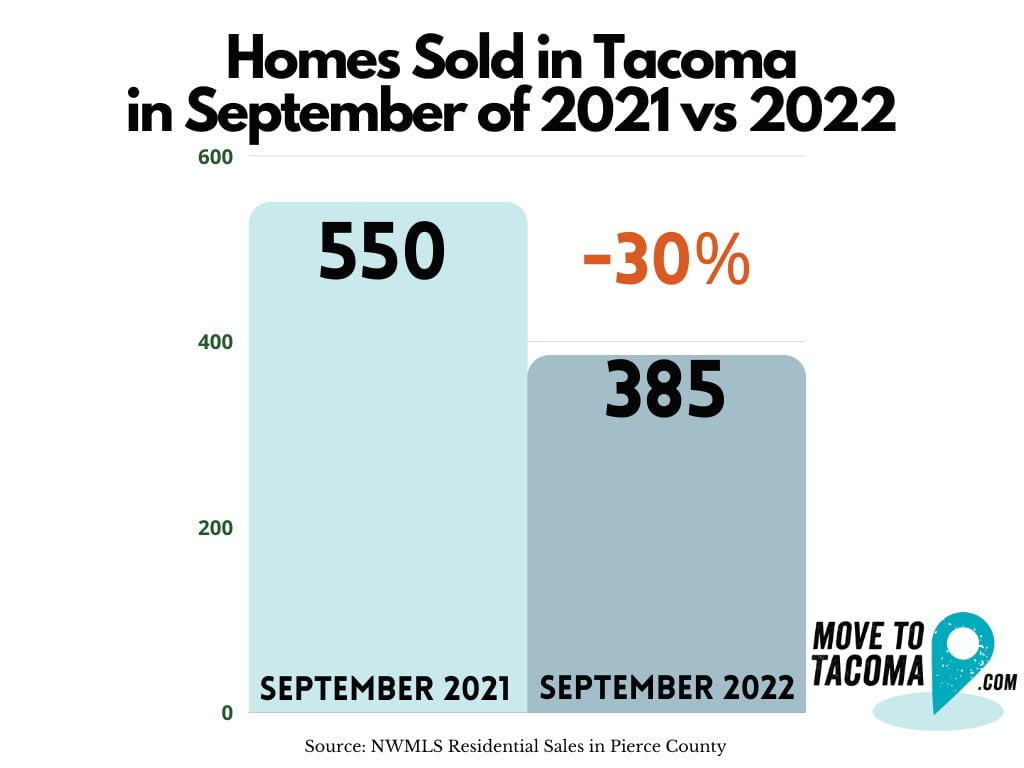 Are home prices dropping in Tacoma and Pierce County right now?
While technically the median home price in September of 2022 ($520,000 in Pierce County and $460,000 in Tacoma) is still higher than it was in September of 2021 ($499,950 in Pierce County and $448,250 in Tacoma), prices are expected to start falling. The graph below from the NWMLS shows the median price trend over the past year and you can see how the closed sales prices have peaked and are beginning to fall.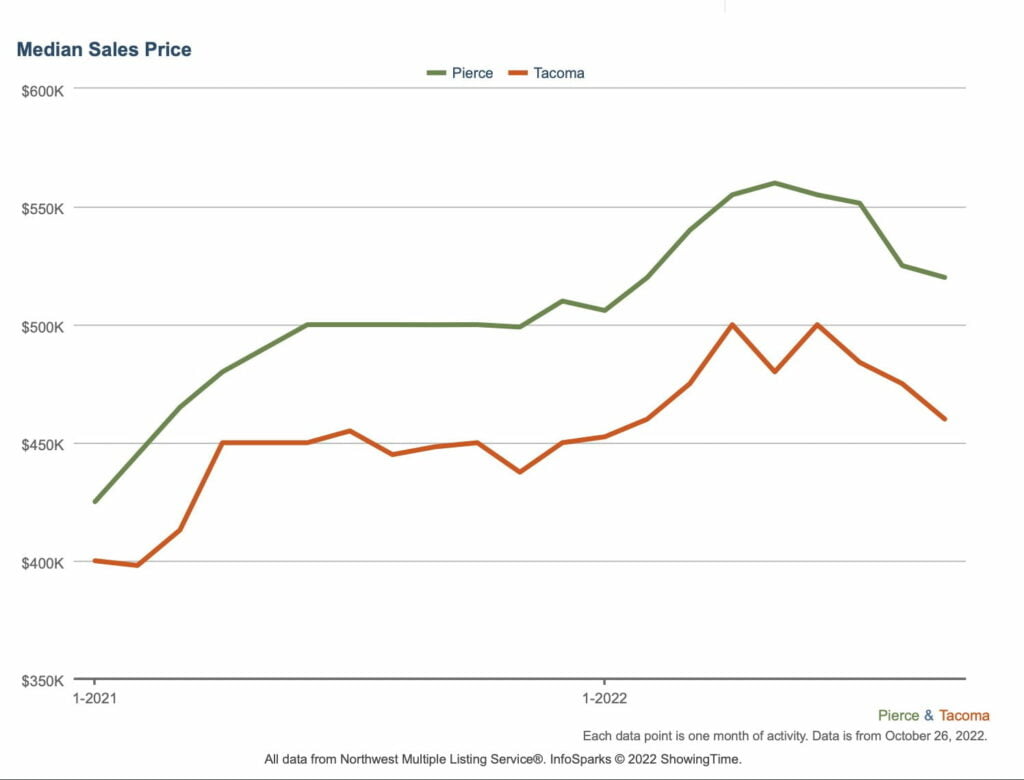 What does this mean for buyers?
Ugh, I am sorry to say that even though this is bad news for sellers, so far it's bad news for buyers, too. It's just bad news for everyone. Home buyers in Pierce County and Tacoma have been waiting for prices to ease off for YEARS as Tacoma and Pierce County has become unaffordable. The reason the sales are down and the prices are starting to drop is because buyers cannot afford to buy. Since the beginning of the pandemic the income a buyer needs to purchase a home has doubled. There is still a huge number of buyers in Tacoma and Pierce County that want to buy homes right now, but the difference between buying a $500,000 house at 3% interest and a $500,000 house at 7% interest is over $1,000 per month.
If your goal is to buy a house in the next year or two this COULD be a great opportunity.
Meet with a Lender – find out exactly what the price of your home would need to be in order to work for you at a 7% interest rate. This way if you can't afford the payment when the price of the home is $500,000 but you can afford a house at $440,000 you can work with your buyer's agent to watch the market closely for that opportunity. With any luck when interest rates come down you can refinance at the lower rate.
Find a Buyers Agent – Pick your buyers agent now. Pick someone with a proven track record of negotiating for buyers. Your agent will need a good understanding of your situation so they can advise you to strike when the combination of rates and pricing is favorable to YOU. This is kind of a lot so definitely work with your lender and buyers agent and strategize together about how to do this.
Advocate for more housing in Tacoma and Pierce County – Guess what, the market softening we are seeing is based on RATES. We still have a shortage of housing (market rate and affordable) in Tacoma and Pierce County. There is still not enough housing being built to house the people being born and growing up here, much less the thousands of people who are (STILL!) moving to the Pacific Northwest from across the country every year. WE STILL NEED MORE HOUSING short and long term.
What does this mean for sellers?
Here's my advice for people selling a house in Tacoma or Pierce County in the next 12-18 months. The number of homes for sale is WAY up over last year, which means you have a lot more competition. These are three things you need to focus on as you put your house on the market:
Prepare your home – In order to catch the eye of the increasingly small pool of buyers your house needs to either be cheap or cute. To get the most money for your house it needs to be clean, decluttered, in good repair, and staged for sale. For more information check out the video I did on How to Prepare Your Home for Sale.
Hire an Experienced Agent – Hire an agent who knows how to SELL A HOUSE. For the past few years the process of selling a house has required a different set of skills than will be needed in the coming market shift. You need an agent that is excellent at packaging your house for sale and negotiating with buyers who have more power than they did in the past. Expert photography, videography, online marketing, brokers opens, and REAL pricing and negotiation skills are not optional for successful agents in 2022. Make sure you hire someone with a proven track record of getting homes sold.
Price it Right – This is the hardest thing for any seller to do. Make sure your agent can show you their reasoning being the pricing strategy for your home. Don't just choose the person who tells you the highest price. You will need to swallow your pride, forget what your neighbor's house sold for in 2021, and look at what the market is doing NOW if you want to make sure that your home doesn't linger on the market and go through price reductions.
What does this mean for real estate agents?
This is going to be a really challenging period for real estate agents. In most cases, real estate agents receive no salary or benefits and pay for their own expenses. This includes marketing their seller's homes for sale, health insurance, taxes, gas, etc. The number of transactions in the market is shrinking. Therefor the pool of commission money that everyone is drawing from is also shrinking. I wrote an article about my Advice for Real Estate Agents in a Shifting Market over on LinkedIn. Agents need to focus on increasing their knowledge and skills for these new market conditions. Think about learning more about marketing, negotiation, assumable loans, and first time homebuyer programs.
Want to stay up to date on the Tacoma Real Estate Market Shift?
Check out my blog post "Best Tacoma Real Estate Resources" or visit these links:
The Tacoma Neighborhood Guide at MovetoTacoma.com – This is the most comprehensive guide to Tacoma neighborhoods. It includes quotes from the neighbors, pictures, videos, median home prices, and more.
Travel Tacoma – A regional guide and blog to Pierce County. A great resource on neighborhoods, businesses, and attractions in Tacoma and Pierce County.
TPCAR Blog – The main blog for the Tacoma Pierce County Association of Realtors. They have market update and policy/advocacy updates.
Washington Realtors Blog – Updates on the real estate market, political action, and covid rules in real estate from the state association.
Do you have other Tacoma real estate resources you rely on? We'd love to know. Drop us a line and let us know so we can make sure this guide is useful.
Marguerite Martin is a different kind of Tacoma real estate agent. Check out the Tacoma Neighborhood Guide to find answers to questions you have about neighborhoods in Tacoma and Pierce County. When the time is right to start looking, Marguerite can connect you with a local real estate agent who specializes in the neighborhoods you love most. Click here to contact Marguerite.