Tacoma real estate agent Marguerite worked with this family to help them acquire an extremely rare property, a triplex on Tacoma's Day Island. Finding a home that is both a great place to live and a great investment can be tricky. Some adventurous folks like Angela B and her family choose to purchase a multifamily property as their family home, living in one unit and renting out the rest. Multifamily on the island is rare, so procuring the property and then thoroughly inspecting it was the top priority.
Yelp Review for Tacoma Realtor Marguerite
Read Angela B.'s review of Marguerite – Tacoma Real Estate Agent on Yelp
It took us TWO YEARS to find our house, and that wasn't even the hardest part of the buying process. I am so relieved to have had Marguerite on our side though it all and I can't imagine how she could have been more helpful, professional, and pleasant to work with.

We had the luxury of being in a rental that we liked, so we weren't in a hurry to buy and we were holding out for the perfect place – a seller's agent's nightmare client! Yet, Marguerite always leapt to help us and wrote countless offers for us, from short sales to Fannie Mae to bidding wars. She stuck through it all with us, even when it seemed like our house hunt would be interminable.

Yet, we finally found our dream waterfront home on Day Island, and she moved heaven and earth to ensure that we were there right out of the gate. We saw it within four hours of it coming on the market and made our offer shortly thereafter. I am certain that her quick action is the reason we got the home.

I thought the biggest part of working with an agent would be looking for houses, talking about pros and cons, and writing offers. Boy, was I wrong – and I'm so glad I had Marguerite on our side through the rest of the process. I can't believe how much she hustled to close this deal for us. When our initial inspection called for an additional inspection, she found a competent specialist and set the appointment up immediately on our behalf. When there was uncertainty about our appraisal making it through the underwriting process, she kept us constantly up to date and informed. She even scanned binder-fulls of paperwork from the seller so we could review it from afar while we were on vacation.  She followed up on every detail and looked out for our best interests the whole way.

If that had been the end of the story, she would have five stars in my book. But, the thing that sets her apart from the rest is what happened after we closed the sale and moved in. Her job should have been done and she could have moved on with her life. However, when an unexpected issue popped up with one of the repairs the seller made during the sale process, she went to bat for us. She assured me that it would be repaired, even if she had to pay for it herself, because she wanted to make sure we felt good about our purchase and the process. She was able to arrange through the seller's agent for the seller to pay for the repairs. If Marguerite had been less professional during the sale process or had been less of an agent, we may have found ourselves sitting in small claims court. Instead, we are finding ourselves happily settling into our dream home.

Really, I can't overstate what a joy it was to work with Marguerite and how grateful I am we chose her to shepherd us through this process.  She was always a text message away and I felt that we had an advocate who understood us and was going to ensure we go the outcome we wanted. I can't recommend her more highly. – Angela B, 5 Star Yelp Review
Buying unusual properties requires patience and a desire to learn, and these buyers had it. Thanks to Angela B and family for trusting Marguerite to advise you through your Day Island home purchase.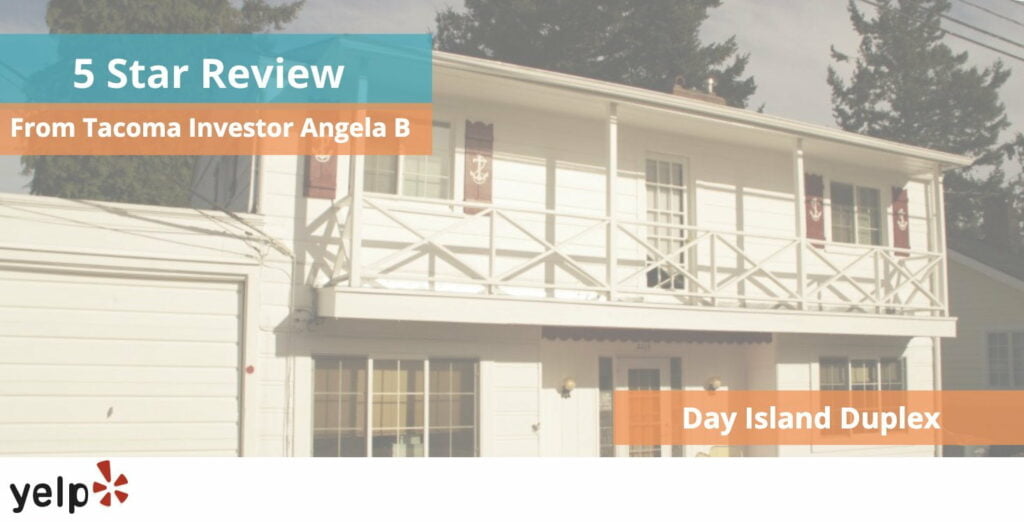 Contact Marguerite with questions about buying in Tacoma
Marguerite is a different kind of Tacoma real estate agent. Since launching MoveToTacoma.com in 2015 Marguerite now specializes in helping buyers and sellers identify exactly what their goals are. Marguerite then connects them to their ideal real estate agent, a hybrid of the real estate business model she calls matchmaking. Marguerite has matched hundreds of clients to awesome REALTORS® in Tacoma and around the country.
Resources for buying a house in Tacoma:
Marguerite Martin, Founder of MoveToTacoma.com is a real estate agent in Tacoma, WA . As a real estate "Matchmaker," she specializes in connecting real estate clients to the perfect agent in Tacoma and across the country. Learn more at Meet Your Guide.