Interested in the neighborhood of Browns Point? If you've been curious about this cozy little neighborhood in Northeast Tacoma, Washington, then you're in the right place. The area is geographically and architecturally quite different than the rest of Tacoma. Let's dive in.
Where is Browns Point in relation to the rest of Tacoma?
Browns Point is located in Northeast Tacoma. Do not confuse this with the neighborhood of North Tacoma– they are nowhere near each other. Northeast Tacoma is situated across Commencement Bay from Downtown Tacoma, separated by the Port of Tacoma. That means  if you're downtown you'll have to hop in your car and take a short 15-minute drive to get there. Browns Point is a little peninsula jutting out into the water, which means you're treated to incredible water views from almost every corner. Folks who live in Browns Point have some incredible views of the Puget Sound, the Downtown Tacoma skyline, Mt Rainier, and more.
What kinds of houses can you buy in Browns Point?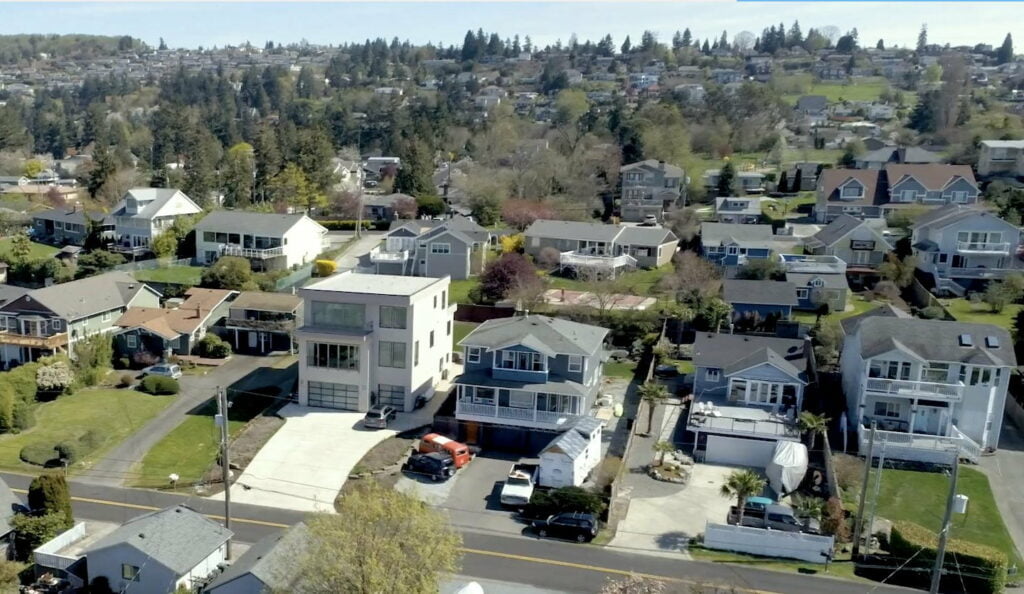 While the majority of neighborhoods in Tacoma are mostly historic homes, Browns Point is an exception. Neighborhoods in Northeast Tacoma have been built more recently than other parts of the city. The homes here have more of a suburban vibe, with more recent construction and cul de sacs. You'll find a variety of well-designed neighborhoods that cater to different tastes and preferences. In addition to more recently built homes, there's no shortage of stunning custom and spec view homes dotting the hillside with spectacular views.
What are the schools like in Browns Point?
While Browns Point may require a bit of a drive to reach downtown Tacoma, it's still very much a part of the larger Tacoma community. Students in the neighborhood attend the esteemed Browns Point Elementary. You can learn more about them at their school website here and see their report card from Washington State here.  For high school kids in Browns Point move on to the iconic Stadium High School. Stadium is one of the most stunning public high schools in the country. The school looks like Hogwarts. You can learn more at the Stadium High School website here, and see Stadium's report card from Washington State here.
Browns Point is a true gem in the Northeast Tacoma area, offering stunning water views, planned communities, and access to nature. If you'd like to learn more about Browns Point and other neighborhoods in Tacoma check out our Tacoma Neighborhood Guide. The guide has median home prices, pictures of homes, videos, what the neighbors are saying, and more.
More information about Tacoma:
Finding Waterfront Properties in Tacoma and Gig Harbor
The Most Expensive Neighborhoods in Tacoma
Most Affordable Neighborhoods in Tacoma
How to Buy a House in Tacoma Right Now
Explore Pierce County Neighborhoods
Wondering how Move to Tacoma can help you as you explore neighborhoods?
Our clickable neighborhood map of Tacoma's neighborhoods is our pride and joy. Click through to find images and videos of each neighborhood. The Neighborhood guides on the map also include median home price information, blog posts about the neighborhoods, podcast episodes about the neighborhoods, and candid quotes from local neighbors.
The best way to learn about Tacoma is to hear from the people who live here. On the Move to Tacoma Podcast Marguerite interviews Tacomans who've been here generations and Tacomans who just got here. From business and technology leaders to politicians and activists and everyone in between. The Move to Tacoma Podcast will give you insight into why people move here and how they find meaning and happiness in Tacoma.
On the Move to Tacoma Blog we have been writing about things to do in Tacoma, where to eat in Tacoma, hot button community topics, neighborhoods and more since 2015. There are hundreds of posts to help you find what you love in the City of Destiny. From posts about where to eat and drink to interviews with locals- the blog is a great place to keep up one what's happening in Tacoma and Pierce County.
Marguerite Martin is a different kind of Tacoma real estate agent. Reach out to find out answers to questions you have about neighborhoods in Tacoma and Pierce County. When the time is right to start looking, Marguerite can connect you with a local real estate agent who specializes in the neighborhoods you love most. You can see reviews from past clients who've worked with Marguerite on Yelp and on Google.