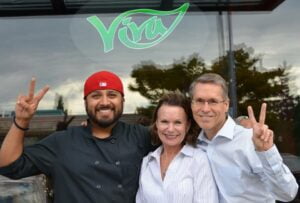 "Let food be thy medicine and medicine thy food."
Ok. That's a motto we can get behind! Located in the heart of the Tacoma Proctor District, Viva provides gourmet, guilt-free vegan food. They serve breakfast, lunch and dinner, and the menu is composed of raw and cooked foods, along with fresh juices and smoothies.
The Cuisine
Their mouthwatering gourmet versions of bar style food, such as nachos, tacos and burgers, along with soups, salads and snacks. If you want to taste a little bit of everything, the Viva Appetizer Sampler platter includes all of their appetizers on one spectacular platter. We also hear that the Raw Enchiladas, Portobello & Tofu Tacos, and Fruit Crepes are awesome! Check out their menu for yourself.
Viva / 2602 North Proctor Street, Tacoma, WA 98407 / (253) 503-6498 / Open Monday-Friday 10am – 9pm, Saturday 9am – 9pm, Sunday brunch 9am – 2pm