MovetoTacoma.com is proud to sponsor, "The Walk Home" the newest podcast from Tacoma Public Radio Station KNKX 88.5 in collaboration with The Seattle Times about the killing of Manny Ellis in 2020. The podcast offers an investigation and new insight into the murder of Manny Ellis by four Tacoma Police officers.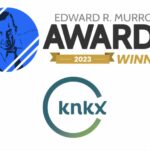 Update: The Walk Home Podcast has won two regional Edward R. Murrow awards. The podcast was awarded for "Best Podcast" and the other was in "Excellence in Diversity, Equity, and Inclusion."
Two of the reporters that created The Walk Home, Mayowa Aina and Kari Plog, are finalists for the Livingston Awards for this podcast. That award recognizes the best storytelling and reporting from journalists under 35.
The Walk Home from KNKX & The Seattle Times
The podcast asks important questions about systemic racism in Tacoma. It asks whether or not Tacoma police are accountable to anyone. It also looks into what it means for our community if justice is not available for everyone. Both the story of the killing of Manny Ellis and the podcast have received national attention. This focus on Tacoma, policing, and systemic racism in the community will increase as the trial of the four police officers nears.
Move to Tacoma Podcast Episode interviewing the Public Radio Reporters from KNKX
The MovetoTacoma.com Podcast had reporters Kari Plog and Mayowa Aina from KNKX 88.5 FM NPR on the Move to Tacoma Podcast. They talk about "The Walk Home" podcast which investigates the killing of Manny Ellis by Tacoma Police. Both reporters grew up in Pierce County and describe what drew them to create the podcast. They also talked about the challenges of reporting on the community you live in and the complexities of the justice system in a small city like Tacoma.
Recently the reporters at KNKX and The Seattle Times gathered at Theater on the Square in Downtown Tacoma to discuss the podcast and the upcoming murder trial. Seattle Times Reporter Patrick Malone spoke about what it means to investigate the police- you can see a clip here:
View this post on Instagram
The trial of the four officers who killed Manny Ellis is scheduled for January here in Tacoma. The case has already attracted national coverage. Listen to the podcast, share, and help keep the conversation going in Tacoma.
To learn more about the Manuel Ellis case check out the following stories:
Tacoma Mayor: Officers Who Arrested Manuel Ellis 'Should Be Fired And Prosecuted' – National Public Radio
Pierce County judge orders City of Tacoma to release unredacted police records in Manuel Ellis case – KNKX Public Radio
The Walk Home podcast offers new insight into Manny Ellis' killing by Tacoma police – The Seattle Times