Tacoma real estate agent and MovetoTacoma.com creator Marguerite Martin was recently quoted in an article in Bloomberg. The headline is, "The National Association of REALTORS is sorry about all the discrimination." The article talks about the history of discrimination by the REALTOR Association and the Association's recent apology. Marguerite was quoted saying now that real estate agents have apologized, they should pay reparations.
Another Illinois city, Evanston, in March became the first in the U.S. to offer reparations to Black households specifically to redress past housing wrongs, pledging $400,000 raised from a tax on marijuana and donations. Marguerite Martin, a Realtor in Tacoma, Wash., sees that as timid considering the damage. To make a difference, she says, reparations should involve government, real estate agencies and associations, and lenders—with agents perhaps contributing a share of their commissions. "We have to make a commitment as an industry that we owe this money and now we have to give it back," she says. Martin recalls a conversation with one of the NAR's diversity consultants, who asked her why more agents didn't work in Black communities. "Because they'll make less money," she responded. – The National Association of REALTORS is sorry about all the discimination, Bloomberg News 2022.
The article concludes that the issue of reparations in real estate is a complex issue that goes beyond just the real estate. It closes with a story of a company that moved across state lines to avoid doing business with the Black Community there, saying, "Hey, it's real estate."
If you'd like to learn more about the history of discrimination by real estate agents in housing click here:
How Racism Kept Black Tacomans From Buying Houses For Decades – Kate Martin for The News Tribune
The Inventors of America's Most Dangerous Idea – The Atlantic
How Real Estate Segregated America – Dissent Magazine
How Homeowners in Rising Markets Can Fight Displacement – Nerd Farmer Podcast
For information on how to find a real estate agent in Tacoma, check out Marguerite's article "An Insiders Guide to Choosing the Right Real Estate Agent" on LinkedIn.
To learn more about real estate agents in Tacoma recognized for Fair Housing work, check out "Tacoma Real Estate Agents Recognized as Fair Housing Champions."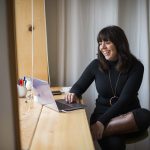 Marguerite Martin is a different kind of Tacoma real estate agent. Check out the Tacoma Neighborhood Guide to find answers to questions you have about neighborhoods in Tacoma and Pierce County. Is it time to start looking for a home or agent? Marguerite can connect you with a local real estate agent who specializes in the neighborhoods you love most. Click here to contact Marguerite.