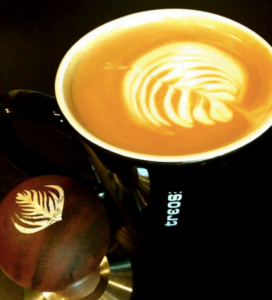 If a great cup of coffee is what you need, then check out Treos coffee shop in Old Town. During the day you will frequently see students studying at the shop, and at night you can enjoy beer, wine and live music. The Old Town Treos location is right along the water, so we recommend grabbing a cup of hot coffee while heading down to the waterfront to enjoy a walk with a view.
Drink & Eat
Treos is serious about their coffee. They're committed to the folks who grow their Fair Trade coffee, and only serve the best of the best. Treos also serves yummy pastries from the local Corina Bakery, as well as paninis and tapas. Drop in during the evening hours and enjoy a handcrafted beer and wine from the Northwest.
TIP: Treos Old Town hosts trivia nights every Tuesday at 6:30pm.
Treos is located at 2312 N 30th St. Tacoma, WA 98403 in Old Town, and recently opened 1201 S Union Ave, Tacoma WA 98405 on South Union / 253-212-2287