If you plan to buy a house in Tacoma or Pierce County this year, you are not alone. The median sales price of a home in Pierce County is $375,000 according to the Northwest MLS. The average home price is $421,327. This is pretty consistent with last year. In 2018, single-family home prices rose 10.23% in Pierce County from January through November of 2018.
To find out what $375,000 gets you in different neighborhoods in Pierce County, check out our post on "What You Get For $375,000 Across Pierce County."
The main reasons for this continued growth are:
1. More people are moving to Washington State.
This is not a surprise to anyone living in the northwest. In addition to population growth from people having kids, Washington State is second only to Idaho the highest rate of inbound moves. For the four-county Puget Sound region (that's King, Kitsap, Pierce, and Snohomish counties), the median sales price for December's closed sales was $495,000, up 10% from the year-ago figure of $449,950. 
While it can sometimes feel like everyone moving to Washington is moving to Tacoma, we are actually behind King and Thurston County as far as low inventory. 
The number of single-family homes for sale dropped all over the Puget Sound, but Thurston County had it even worse than we did it. The number of homes for sale in Thurston County fell by more than half (a 54% drop) in 2019. In contrast, the number of homes for sale in Pierce County fell 40% in 2019. King County fell 41.4%, Snohomish fell 36.1%, and Kitsap County fell 34.3%.
2. We aren't building enough affordable housing. Not even close. 
Not only are we not building enough affordable housing in Tacoma and Pierce County… we're really not building enough housing across the board. While many efforts have been made to help offset some of the impacts of housing in the region, we are not keeping up with population growth. The population of Pierce County residents that are unhoused has increased to 1,486 in 2018, and the new count will be conducted January 20th, 2020. 
If you'd like to learn more about the complexities of why we don't have enough housing in Pierce County (reasons range from lack of financing for developers to exclusionary zoning policies) check out these podcasts and videos featuring folks working to find solutions to our housing crisis here in Tacoma and Pierce County: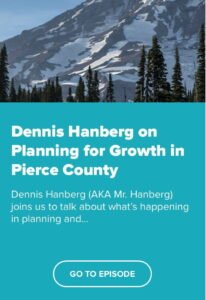 Podcast: Dennis Hanberg on Planning for Growth in Pierce County
Pierce County Planning and Public Works Director Dennis Hanberg was on the Move to Tacoma Podcast discussing what's happening in planning and public works at Pierce County and how the county relates to Tacoma's growth. He talks about how much Pierce County expects to grow in the coming decades and their plans to accommodate that growth.
---
Video: Build Housing Not Walls
Nate Bowling hosts a panel of two City of Tacoma employees, a developer, and a Metro Parks commissioner to dive deep into rising housing costs in Tacoma. Learn about the causes of the rent and property value increases as well as the consequences.
---
Video: The Rent is Too Damn High
Tacoma's rents are some of the fastest rising in the country. Nate Bowling moderated a panel of experts and dives into what is driving the shortage of homes for rent and for purchase. Learn about different approaches to increasing abundant housing and housing affordability. Program starts at 12:00 minutes in!
---