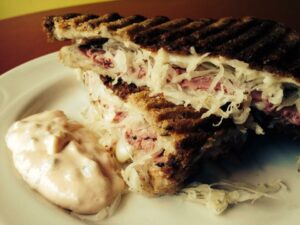 Located in the hip and hoppin' St. Helens neighborhood of Tacoma, Stink Cheese-Meat and El Tufo Wine Bar feature mouthwatering food and drinks. Stink offers a menu of incredible and unique sandwiches ("The Stinker" includes peanut butter, blackberry preserves, bacon and blue cheese on grilled multi-grain brain… dang), salads, soups, and of course, a wide selection cheeses, meats, and mouthwatering sides.
Must-Try Menu Items
When you're ordering at Stink, be sure to give their weekly Mac 'n' Cheese a try! Not only does this dish have exciting new flavors that change every week, but it's also made on a cookie sheet—yum! We also recommend trying their Prosciutto & Brie sandwich, and, if it's available, their 5 Mushroom Soup—both get high marks for their deliciousness.
TIP: Definitely don't overlook the side salad that comes with every order; it features a delectable mix of honey roasted nuts, grapes, bleu cheese, and a killer balsamic vinaigrette.
Stink Meat & Cheese / 628 St Helens Ave / (253) 426-1347 / Tu-Th 11am-7pm, Fri & Sat 11am-8pm