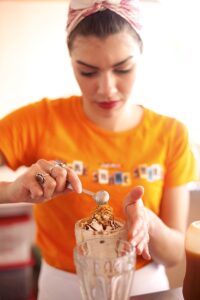 This retro burger joint has quickly become a local staple and a favorite of Tacoma residents and visitors alike. Founded by Steve and Gordon Naccarato (the Chef behind Pacific Grill and Smoke + Cedar) and Robert Stocker, Shake Shake Shake opened in 2011 and has been growing and adding to their mouthwatering menu since. 
The Shakes
As the name might suggest, Shake Shake Shake is known for their fantastic selection of milkshakes. A few of their deluxe flavors (and most popular offerings) include Miso Butterscotch with Salted Caramel, Banana Brûlée, Peanut Butter & Jelly, the Tiger Shake (featuring Almond Roca and Salted Caramel) and more. They also have a selection of Boozy Shakes and cocktails.
The Burgers
A tantalizing selection of burgers (including their Famous Hickory Burger and the Steak-n-Bacon burger), hot dogs (the Tacoma Dog, Bacon Dog and Real Hot Hot Dog are among offerings), shoestring fries make up the menu… and more. Their unique dipper sauces for fries, sweet potato fries and onion rings include Umami Bomb!, Rooster Ketchup, Curry Ketchup, Honey Mustard, Truffle Aioli, Secret Sauce and Tartar Sauce. …Are you hungry yet?!
At Shake Shake Shake, you won't want to get your food to go. The restaurant's unique atmosphere is part of what they're all about. With a now-iconic "EAT" sign (just check their instagram—not many visit without snapping a pic with it!), vintage tables and chairs were salvaged from a bowling alley being torn down, a soda fountain bar and a stunning outdoor picnic area complete with a firepit, you can tell that the owners really gave it their all.
TIP: Shake Shake Shake now serves breakfast! Their incredible breakfast menu is available on Saturdays and Sundays 8:30am – 11am.
Shake Shake Shake / Stadium District of Tacoma at 124 N. Tacoma Ave. / (253) 507-4060 / Open Monday – Thursday: 11:30am – 9:00pm, Friday and Saturday: 11:30am – 10:00pm, and Sunday: 11:30am – 8:00pm