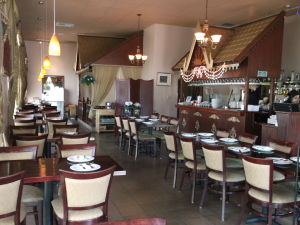 Thai food in Tacoma is no joke. Across the city there is no shortage of fantastic Thai restaurants. Royal Thai is one of the best in town. Technically across the street from Tacoma in Fircrest, Royal Thai is offering some of the most delicious thai food in town. While they offer a number of delicious dinner options, at lunch their specials menu is a serious bargain.
In addition to the friendly service and warm atmosphere, the friendly service at Royal Thai makes it a fantastic place to go on your lunch hour, or order out and take back to work for that marathon meeting.
Our favorite lunch combos at Royal Thai:
Green Curry Lunch Combo
Comes with delicious green curry, pad thai, soup, and rice.
Cashew Chick Lunch Combo
The cashew chicken combo comes with cashew chicken, rice, pad thai, and soup.
All of the lunch combos are right around $11 which makes it a great place to go for a hearty delicious lunch that won't break the bank!
Royal Thai – 2045 Mildred St W, Fircrest WA Phone: 253-564-9409
Tip: Try the Princess Snow Pea!