For the past few years, people have been asking: Has our market recovered from the recession yet? When will it fully recover? What can we expect?  
On January 21, 2017, TheNewsTribune.com published an article that details the current state of the Pierce County housing market. Here are a few of the takeaways:
Median home selling prices in Pierce County are back to 2007's highs.
King County has already surpassed peak pre-recession.

King County median home sale prices before the recession reached $430,000; in December 2016, median home sale prices reached $505,000.
Home values in the Puget Sound are expected to continue to increase over the next decade.

According to Peter Orser (chairman of the board of advisers for the Runstad Center for Real Estate Studios at University of Washington), we are headed in the direction of San Francisco's real estate market. Orser expects home prices in our region will increase 5-10% for several years. "Tacomans would be wiser to plan for an average of 3% increase over the long term; that's been more normal here historically," shared Real Estate Agent Marguerite Giguere.
Currently, Pierce County is experiencing a seller's market.

There's not much inventory; according to Kevin Mullin at Windermere Professional Partners, in December 2016, Pierce County had 1.5 months of inventory. In December 2016, North Tacoma only had 0.9 months of inventory (homes are on the market for an average of 26 days). For comparison, in February 2012, North Tacoma had 4.7 months of inventory (homes were on the market for an average of 85 days).
---
Take a closer look at Pierce County's real estate market here: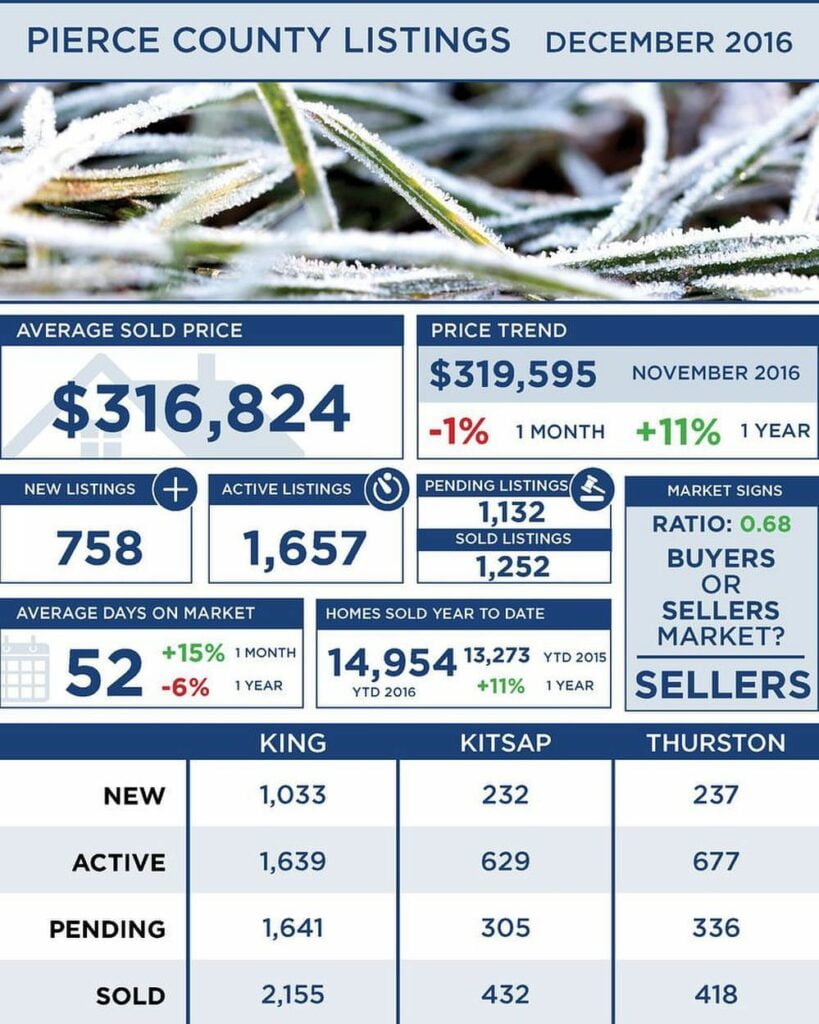 For more detailed information, click here to read the entire article "Pierce County housing market recovers from years of lost equity" on TheNewsTribune.com.
---
[content_boxes layout="clean-vertical" columns="1″ icon_align="left" title_size="" backgroundcolor="#e5e7e8″ icon_circle="" icon_circle_radius="" iconcolor="" circlecolor="" circlebordercolor="" circlebordercolorsize="" outercirclebordercolor="" outercirclebordercolorsize="" icon_size="" link_type="" link_area="" animation_delay="" animation_offset="" animation_type="0″ animation_direction="down" animation_speed="0.1″ margin_top="" margin_bottom="" class="" id=""]
[content_box title="Want to buy a house in Tacoma?" icon="fa-home" backgroundcolor="" iconcolor="" circlecolor="" circlebordercolor="" circlebordercolorsize="" outercirclebordercolor="" outercirclebordercolorsize="" iconrotate="" iconspin="no" image="" image_width="35″ image_height="35″ link="https://movetotacoma.com/meet-your-guides/" linktarget="_self" linktext="" animation_type="0″ animation_direction="down" animation_speed="0.1″] The Tacoma real estate market is complex. We'd love to help you find a local expert to be your buyer's agent Contact us to learn more![/content_box]
[/content_boxes]