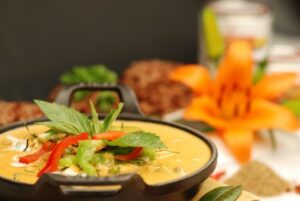 Located in the heart of downtown Tacoma's University of Washington Tacoma and Hillside neighborhood, Indochine is a prominent restaurant in Tacoma's dining scene on Pacific Ave. Just across the street from the Washington State History Museum, Indochine's close proximity to shopping, museums and the Tacoma Dome make it a perfect stop on a day of city sightseeing.
Indochine's beginnings go back to 1995—the Ngov family began Café Indochine in Federal Way, and after expanding the restaurant, they opened Indochine Asian Dining Lounge in 2005. The design and construction of this prized location took two years, and it certainly shows! Its romantic, cozy interior features a unique pavillion dining table, a reflecting pond, bar, and special banquet rooms.
The Cuisine
And if possible, the cuisine surpasses even its fine interior. Dishes are primarily Thai, but many have a strong influence from other culture's cuisines, including elements from Chinese, Indian, Japanese and Vietnamese foods. Curries, salads, and lots of seafood dishes make up Indochine's delectable menu. Plus, they serve amazing desserts like Lemon & Coconut Cake with Coconut Creme, Nemesis Flourless Chocolate Cake with Gelato, and Mango Sticky Rice.
TIP: Indochine serves homemade gelato in a great variety of flavors!
Indochine Asian Dining Lounge / 1924 Pacific Ave, Tacoma, WA 98402 / 253-272-8200 / Open Tuesday – Thursday: 11am to 9pm, Friday: 11am to 10pm, Saturday: 12 pm to 10pm, Sunday: 12pm to 9pm, & Closed Mondays.