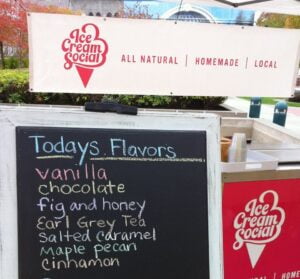 Located on 6th Avenue right next to Red Hot, Ice Cream Social is a local business that serves handcrafted ice cream made from local and natural ingredients. When you walk into the shop, you are greeted by the smell of freshly made waffle cones… mmmmm!
The Ice Cream Social Story
Owner Layla Isaac started serving her product at the Tacoma Farmers Markets and when she saw the amount of support for her business values and phenomenal products, she grew her business and opened up a local ice cream shop.
I Scream, You Scream…
The flavors at the shop change daily and a wide variety of flavors including sweet and savory are offered. You can always sample a few options before making a decision, and some of their unique flavors include Mad Hat Earl Grey, Star Anise, Roasted Banana, Strawberry Marscapone & Honey, Fresh Fig, French Toast, Valhalla Coffee, Pecan Pie, Strawberry Sorbet, and many, many more.
TIP: Vegans are welcome as well—one delicious vegan option is their Coconut Chocolate Chip flavor.
Ice Cream Social's "Scoop Shop" is located at 2914 6th Ave, Tacoma / 253-327-1660 / Open Sunday 11am – 10pm | Monday – Thursday 1pm – 10pm | Friday 1pm – 11pm | Saturday 11am – 11pm