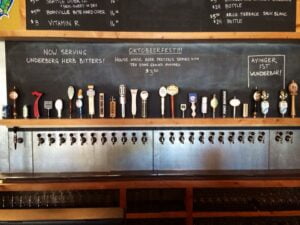 A must-visit hot spot on 6th Ave, The Red Hot has a fun, quirky atmosphere that provides an assortment of craft beers, ciders and wine, along with an extensive selection of gourmet hot dogs. The food is tasty, inexpensive, and the beer options are always rotating—one visit won't be enough. The Red Hot is ranked #1 for BEST Hot Dog in Western Washington and one visit there will be enough to show you why.
The Eats
Hot dogs are in the $4-5 range and come with a variety of topping to suite all tastes, from classic mustard and sauerkraut to all-meat chili and nacho cheese sauce. The most unique of all might be The Hound Dog, a sweet and savory delight with creamy peanut butter and bacon on top. Vegetarian? No problem! Red Hot has veggie dogs that can be subbed for any of their dogs.
The Drinks
The Red Hot has a huge selection of 20+ rotating beers on tap—it's seriously worth a visit just for the beer alone! They do an awesome job of featuring lots of local Washington brews, and there are only a few that are from out of state.
TIPS: The Red Hot is a 21+ only establishment. Have kids? Grab your dogs to go!
The Red Hot / 2914 6th Ave. Tacoma, WA 98406 / (253) 779-0229