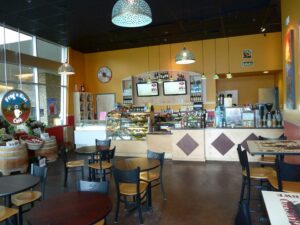 Frog and Kiwi is one of the most unique cafes in Tacoma for one reason: their awesome play area for toddlers! Located in the University Place Town Center, Frog and Kiwi offers a safe 1,300-sq. ft. facility to little ones to run around in (although do keep in mind that parents need to stay and watch—there's no daycare available). With a fun climbing structure and plenty of toys to keep the little ones entertained, parents can enjoy a few moments of peace with a great cup of coffee or a delicious snack while their little ones run wild.
The Cafe
Frog and Kiwi offers an eclectic menu, including espresso drinks, pastries, cookies, gelato, sandwiches, paninis, soups, fruit smoothies, and gluten free treats.
TIP: After 2pm on Tuesdays and Thursdays, the child play area is only $2!
Frog and Kiwi Cafe / 3609 Market Place #101 / (253) 292-1318 / Mon-Fri 7am-7pm, Sat-Sun 8am-5pm (Check their Facebook page for updates to their play area schedule.)