This December marks the 30th year of an annual Tacoma tradition: The Point Defiance Zoo & Aquarium Zoolights celebration. We talked with Kris Sherman, the Media Relations Manager at the zoo, about the return of some favorite light displays; new, innovative pieces; and what makes this year's Zoolights something you won't want to miss.
When did Zoolights officially begin?
2017 marks our 30th annual Zoolights. It began in 1988 with just a few hundred lights. In 2017, we have our most gorgeous, most glorious, most bedazzling Zoolights ever with 650,000 energy efficient LED lights. It's absolutely beautiful.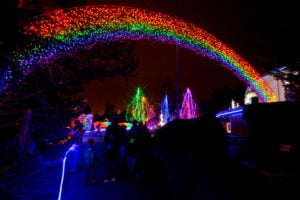 How long does it take to set all those lights up? How many people lend a hand?
I don't have an exact count off the top of my head of how many people actually set it up. I can tell you that we have an operations staff at the zoo. That operations staff is responsible for the maintenance of the zoo — keeping the buildings cleaned, keeping the grounds looking amazing all year. They maintain the zoo 24/7. Zoolights is their labor of love.
One of our zoo operations staff members named Justin Pfeiffer is our Zoolights lead. He makes sure all the lights get set up and his crew starts that around October 1st. It takes from the beginning of October to the day before Thanksgiving to get it all set up. Almost two whole months.
They do some work before that too, because they are always thinking about what wonderful new creations they can make for Zoolights each year. One of the most unique and interesting things about Zoolights at Point Defiance Zoo & Aquarium is that we don't go out and buy our decorations off the shelf. Everything is made in-house and made specifically to reflect the animals we have at the zoo and other local landmarks.
We have a 23-foot replica of Mt. Rainer on top of the aquarium. That was made by one of our Zoolights staff a few years ago. He decided that it would be fun to have Mt. Rainer be accurate as possible, so he got numerous photographs of the mountain so that he could get the shape and scale right. If you look at a photograph of the mountain, you'll see that he did an amazing job of recreating the white glacial patches that flow down the mountain.
There is also a replica of the Tacoma Narrows Bridges with traffic going back and forth. So it's not just animals, but our staff has been creative over the years with creating local landmarks as well. They seem to be some of the visitor favorites.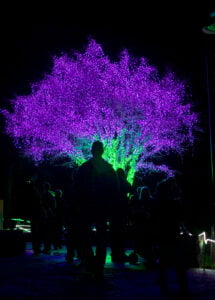 We also have some displays that have been around for many, many years and get returning visitors very excited. Perhaps the most iconic of those, and probably the most photographed, is what we call the Flame Tree. That's a big tree with a green trunk completely wrapped in lights and a huge, purple overhead canopy. That tree alone has 30,030 lights on it.
What is your personal favorite installation?
It's difficult to pick a favorite because everything is so vastly different. I love the animated animal displays. I think my favorite display may be the red wolf howling at the moon. It's just gorgeous. The red wolf is one of our signature conservation program animals. That light display does a great job showing people one of our zoo animals and does it in such an engaging way.
Do the animals react to these displays at all?
The lights aren't inside the habitats and I haven't heard reports of them affecting the animals at all. But speaking of animals, one of the great things about Zoolights is not only are we the oldest, and we like to say the best, holiday light display in the Puget Sound region, but we're also the only one where you can come to see lights and… sharks! And meerkats! Although most of our animals sleep at night, we do have a number of them that visitors can see during Zoolights. You can see a number of aquatic species and in the kids area there are several animals that you can see, including meerkats and goats.
The last few years we have transitioned to completely 100% LED lights. That's a point of pride for the zoo because we are a conservation organization. As you know, LED lights use a lot less electricity than the older incandescent lights. This also makes Zoolights brighter than it's ever been and more energy efficient than it's ever been. Even after 30 years, we are still learning and finding way to make this more fun and interesting. This year we've got a giant octopus and sea turtles. We are particularly celebrating sea creatures this year because we are going to open a brand new aquarium next summer.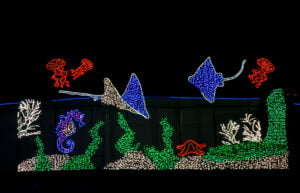 That means you don't have those lights where if one bulb goes out, the entire strand of lights goes out, right?
I don't believe we have those, thankfully!
If someone is planning to visit to Zoolights, what information do they need?
It began the day after Thanksgiving and goes until January 1st. It is every night from 5 p.m to 9 p.m. The only night we are closed is December 24th. You can buy tickets and learn more at pdza.org.