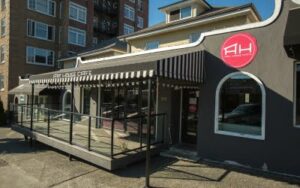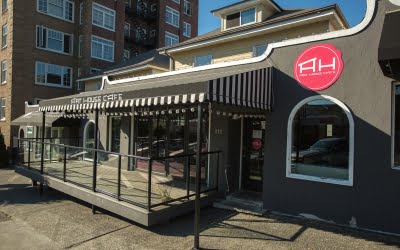 One of the things that is coolest about living in Tacoma's Stadium District is how walkable it is. If walking to breakfast is your thing, you're going to love Art House Cafe at 111 North Tacoma Ave. At Art House you'll find your standard delicious breakfast fare (omelets and pancakes) but also some special items you won't find anywhere else.
Finding local places that serve breakfast 7 days a week is always a joyous discovery in Tacoma. Sometimes Mondays can be a real challenge! Art House Cafe delivers the goods by having breakfast every day from 8am to 3pm.
Some of our favorite breakfast delights are:
OMELET OF THE DAY – $12 ($14 with egg whites)
Comes with three fillings, spring leaf salad, and rosemary roasted potatoes. If you're not into the omelet of the day just tell them what you'd like in there instead!
PRESSED EGG SANDWICH ($12)
This one is super popular with our friends, made on rustic sourdough (that they make in house) with poached pear compote, blue cheese aioli and applewood smoked bacon and rosemary roasted potatoes!
SAUSAGE, EGG & MONTEREY JACK STUFFED BUTTER MILK BISCUIT – $12
It's a biscuit filled with breakfasty goodness with house-made sausage gravy. Need we say more?
On warm sunny days Art House Cafe has outdoor dining on the patio, which is great for enjoying the sunny weather and watching the people go by while you have your breakfast. If you're going to breakfast on the weekend expect a wait- the word about Art House Cafe is out!
Art House Cafe – 111 North Tacoma Avenue – Tacoma, WA 98403 Phone: 253-212-2011 Email: Info@ArtHouseCafe.com
Tip: At Art House Cafe they make a lot of their baked goods in house, so make sure you try some carbs!