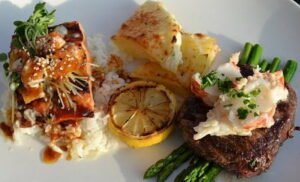 Stanley and Seafort's Steak, Chop, and Fish House offers upscale American classics in the heart of Tacoma. With a menu featuring– you guessed it– delicious steaks, fresh seafood, and other classic delicacies, not to mention fabulous service and a STUNNING view, Stanley and Seafort's is not to be missed!
Our Recommendations
A favorite at Stanley and Seafort's, the Rock Salt Prime Rib is cooked to your liking, accompanied by mashed potatoes and seasonal vegetables, and offered in three different sizes—it's a great choice if you're looking for a quality piece of meat. If you're more in the mood for surf than turf, give their North Atlantic Lobster Tail a try. Yum! If you're looking for something a little lighter, or just want an appetizer to start things off right, be sure to try their Oven Roasted Crab and Artichoke dip– a favorite amongst the regulars!
TIP: Stanley and Seafort's offers free valet parking to its customers!
Stanleu and Seafort's Steak, Chop, and Fish House / 115 E 34th St. / (253) 473.7300 / Mon-Thurs 11am-9pm, Fri 11am-10pm, Sat 4pm-10pm, Sun 4pm-9pm