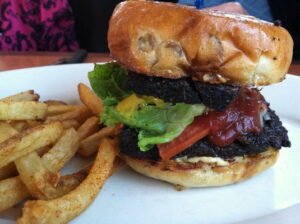 Quickie Too is Plum Bisto's original vegan diner location. Nestled in the Hilltop neighborhood, Quickie Too serves classic comfort food dishes in their wonderful, mouthwatering vegan form. Cute décor and reggae music makes for a laidback dining experience—get ready to kick back, relax and dine on some excellent eats.
The Menu
An extensive menu of vegan appetizers, entrées, and desserts (vegan milkshakes FTW!) makes this a vegan food lovers dream come true. The Vegan Mac & Yease and mashed potatoes with gravy are a must try and on Sundays… plus they serve brunch! Enjoy breakfast favorites such as muffins, coffee with dairy-free creamer and a tofu scramble.
Tip: When you come to Quickie Too, make sure you are not in a hurry… the service is as laidback as the environment.
Quickie Too / 1324 Martin Luther King Jr. Way, Tacoma, WA 98405 / (253) 572-4549 / Open Monday, Wednesday, Friday 11:00 am – 8:00 pm, Tuesday, Thursday, Saturday 11:00 am – 5:00 pm, & Brunch is served Sunday 11:00am to 3:00pm