Want to learn more about the history of Tacoma? We have compiled some resources here to get you started on your journey. Tacoma is home to some great resources. That includes the Washington State History museum and the Northwest Room at the Tacoma Public Library. Let's look at some great places to research Tacoma history!
Black History in Tacoma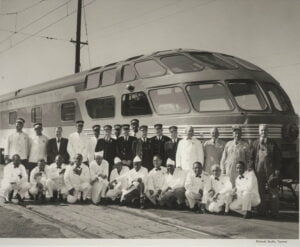 Black Tacomans worked to end discrimination long before the civil rights movement. Tacoma's NAACP was founded in 1913. To learn more about Black History in Tacoma check out these articles:
Japanese American History in Tacoma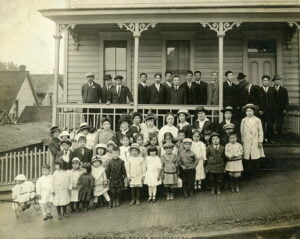 Before WWII, Tacoma had a thriving Japan Town in Downtown Tacoma.  After Roosevelt signed Executive Order 9066–over 700 Japanese Americans were forcibly evacuated from Tacoma's Union Station. They were sent to Pinedale Assembly Center near Fresno, California. To learn more about the history of Tacoma's Japanese community check out these resources:
Tacoma Japanese American History Website – This site is run by historian Tamiko Nimura, a third-generation Japanese American and second-generation Filipina American. The website is dedicated to sharing, promoting, and gathering information about the little-known history of Japanese Americans in Tacoma.
"Reclaiming the Lost History of Tacoma's Japantown" from Grit City Magazine by Jack Cameron
"Remembering the Day Tacoma's Japantown Dissapeared" from NPR KNKX 88.5 Radio
"Becoming Nisei" Nisei refers to Japanese Americans in Tacoma born between 1930-1950. The book (written by University of Washington Professors Lisa Hoffman and Mary Hanneman) includes stories of growing up in Japanese American Tacoma before the incarceration. Check out the video below for an interview with the authors.
The History of Tacoma by Decade
A few years ago we did a Tacoma history series on the MoveToTacoma.com podcast. We interviewed Tacoma historian Michael Sullivan about the history of Tacoma. What we thought would be a 2 part episode ended up being an hours long 6 part series. It spans 100 years of Tacoma's history. You can find them on Apple Podcasts or click on the images below to hear the Tacoma History podcast episodes:
Illuminating Tacoma's History in the Northwest Room with Anna Trammell
Interested in doing rese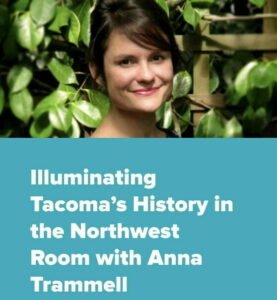 arch into Tacoma's History yourself? In this episode of the Move to Tacoma podcast, Marguerite Martin interviews Local History Librarian Anna Trammell. Anne is a librarian at the Tacoma Public Library's Northwest Room. The Northwest Room features archives of Tacoma's local history, genealogy, and special collections,. This treasure trove of information is constantly evolving. The episode covers:
The history of the physical location of the Northwest Room. It's housed in the original Carnegie library that was built in 1903.

What exactly you might expect to find in the Northwest Room. That includes its unique collections, meaning they have the only copy in the world. This might include rare books, maps,

architectural drawings, etc. 

How they go above determining what to archive about present day history. This is not just about looking at the past—this is also about creating documentation about what is happening today so people 50 years from now can look back.

How the Northwest Room determines what is included,. And how they are partnering with communities to avoid gaps in coverage.

You can search for your address and see if there are any digitized images of your home, references to your property in newspapers, etc. 
The Washington State Historical Society with Mary Mikel Stump
Interested in learning more about the Washington State Historical Society and the mysterious items contained in their basement? Check out our podcast interview with Mary Mikel Stump.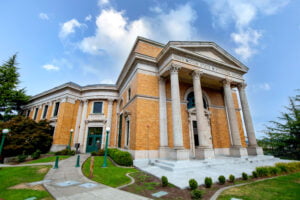 While history hounds are in the know, many may wonder what's the difference between the Tacoma Historical Society and the Washington State Historical Society. Mary Mikel Stump clarifies that the WSHS is a parent agency and was founded in the late 1800's. She reveals that the epic looking brick building in the Stadium District is not a secret spy agency as Marguerite has long suspected.It is the Washington State Historical Society HQ.
"As a non-profit and a state agency we look to see how the history of the state of Washington connects us all." Mary Mikel also discusses the very reasonably priced annual membership and perks. She laughs when talking about the abundance of 4th and 6th graders that visit the museum but assures listeners, "there's a lot to do in-between." And she reflects on how people connect with objects on display and the stories contained within those objects.
Stump and her husband, who works with Metro Parks, live in a lovely older home in Tacoma's North End. She says, "We had an antique house in Texas, it's not a house, it's a lifestyle. I kept gravitating to old houses here with walkable neighborhoods and the North End has so much to offer."
Tacoma History Resources:
Tacoma History Website – Maintained by Tacoma Historian Michael Sullivan
"The Best of Times and the Worst of Times on Broadway" – An interview with Steph Farber, owner of LeRoy Jewelers which stayed open through downtown Tacoma's struggles in the 70's and 80s.
Northwest Room at Tacoma Public Library – Tacoma Public Library's local history, genealogy and special collections.
Washington State History Museum – Located in Downtown Tacoma the museum has standing and rotating exhibits that tell the story of Washington State's past.
Tacoma Historical Society – Preserves, presents, and promotes Tacoma's history. Located in Downtown Tacoma.
Would you like to learn more about how you can move to Tacoma in 2022? 
Here are some additional resources for checking out how to move to Tacoma: