Join writer Tamiko Nimura, and historian Michael Sullivan on a free, one-mile walk, sponsored by BCRA on Wednesday, July 10th from noon to 1pm. It will start at the top of the UWT stairs at S. 19th and Jefferson Ave. This event is free, open to all ages, and ASL interpretation will be available.
Tacoma Historian Michael Sullivan is a popular past guest on the Move To Tacoma Podcast. You can hear him talk about the history of Tacoma's former Japantown in this episode on Tacoma's history by clicking the image below: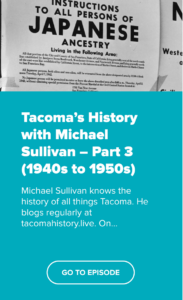 Between the 1880s and the 1940s, immigrants created a vibrant Japantown in downtown Tacoma. The neighborhood extended from S.17th(Union Station) to S. 11th, between Pacific Ave. and Market St.  It included a hotel, shops, restaurants, places of worship, and a Japanese Language School. Over 900 Japanese Tacomans were forcibly removed from Tacoma during the Japanese Internment in May of 1942.
If you're unable to attend the free walk on July 10th download the free app with a guided walking tour and take the tour on your own time.

Click here to download the Apple version of the walking tour.

Click here to download the Android version of the walking tour.