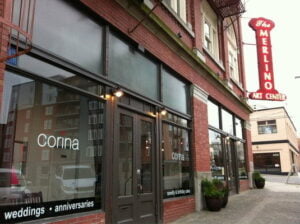 Corina Bakery is the perfect St. Helens spot to grab a fresh baked treat and a cup of coffee crafted with care.
Their website can be slightly misleading—they kind of appear to be just a cake bakery, which they are—BUT they also have cafe seating! Corina Bakery is a popular spot for people to hang out and work on their computers while they enjoy an espresso and a delicious treat. If you are stopping by first thing in the morning, they have quiches, croissants and breakfast sandwiches, too.
The drinks are made with love and you will usually find a work of art crafted in the foam of your beverage. Another bonus is the location. Located in the Merlino Art Center, right next to The Grand Cinema, Corina Bakery is a great place to enjoy coffee with friends before or after seeing a great film Tacoma's Non-Profit movie theatre. Win, win!
Full-Service Bakery
In addition to being an amazing cafe, Corina also sells beautiful custom cakes, and you can also buy slices of cake to enjoy in-shop.  In addition to their huge selection of pastries and baked goods, their team of talented bakers and cake decorators whip up pies and cheesecake, too!
TIP: There are always vegan options, including cookies, cakes and cupcakes.
Corina Bakery / 602 Fawcett Ave, Tacoma, WA 98402 / Open Monday – Friday, 7:30am to 7:00pm, Saturday 8am to 7pm, Sunday 9am to 6pm