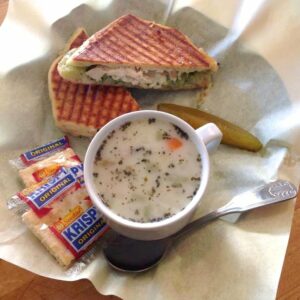 Located in the Proctor District, Café Brosseau is a warm, kid-friendly environment that has exceptional customer service and delicious food and beverages. The welcoming staff, and kids play area makes the café feel very down to earth and relaxed. Even leashed furry friends are welcome! There is a little something for everyone at this café.
Good Eats
Food includes sandwiches, hotdogs, soups and pastries, and they also serve breakfast, including omelets, cinnamon rolls and breakfast sandwiches. Café Brosseau serves locally roasted Madrona coffee, tea from Mad Hat Tea (located in Downtown Tacoma), and a delicious selection of other beverages.
TIP: (If you're in a hurry, give them a call as you head over and they're prepare your order ahead of time for you!
Café Brosseau / Open 7 days a week from 7am to 5pm / 2716 North 21st Street, Tacoma, WA 98406 / 253-327-1306