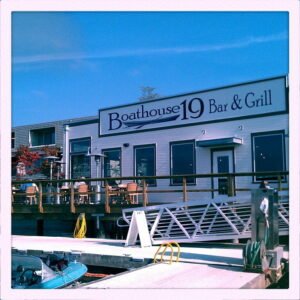 With beautiful outside seating and amazing food, Boathouse 19 is a Tacoma waterfront favorite. The restaurant boasts stunning ocean views both from inside and from their amazing deck, and it especially comes to life in the summertime.
The Eats
"Snacks" and appetizers are aplenty on Boathouse 19's menu; locals recommend their seasonal pickle jar, Classic Seafood Cocktail, and Cajun fries (they're fresh cut!). For the main course, the N'Awlins Po-Boy is a great choice… and their list of "American Backyard Burgers" won't disappoint… people rave about them.  Try the California Burger with pepperjack cheese, pico de gallo, and avocado. Yum!
Their dessert menu features delectable treats like Bourbon-Soaked Apple, and their "Old Fashioned Shakes" menu is a mouthwatering list of indulgence: Blueberry Brown Sugar, S'more, Banana Caramel… the list goes on.
TIP: Be sure to try out Boathouse 19's happy hour—they have a huge variety of drinks AND food for amazing prices ($5 Happy Hour Special Cocktails! $5 mini pulled pork sandwiches!) Their happy hour is daily in the bar from 3pm to 6pm and 9pm to close.
Boathouse 19 / 9001 S 19th St. / (253) 565-1919 / Mon-Sat 11am-close, Sun 11am-9pm