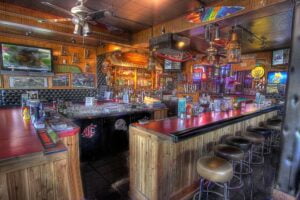 Located in the West Slope neighborhood of Tacoma, The Beach Tavern is a local icon with fantastic food and a friendly atmosphere. Established in 1934 (just six months after prohibition was repealed!) The Beach Tavern has been supplying locals and a long list of regulars with delicious drinks and bar food ever since.
The Eats
A great place to go for a pitcher of beer and a sandwich, The Beach Tavern is your quintessential American bar. Regulars rave about their from-scratch meatloaf, and their other "Homestyle Favorites" menu offerings, including Turkey & Gravy, Steak & Fries, and Grilled Chicken Breast. They also have a selection of hand-pressed burgers, 14 sandwiches to choose from, seafood, appetizers and more.
TIP: These guys have some seriously fab happy hour deals, from $3 chili dogs to large micro pitchers for only $12.75. Check out deals for each day of the week here!
The Beach Tavern / 8612 6th Ave. / (253) 564-9984 / Mon-Sat 10am-2am, Sun 12pm-12am