Tacoma is home to some amazing people doing awesome work for our community, and we wanted to shine some light on some unique nonprofits in Tacoma that you may not have heard of yet!
We asked local nonprofit expert Erik Hanberg to share 5 nonprofits that people may not know are in Tacoma. Erik wears many hats (you can learn more about his ventures here!), and one of his areas of expertise is in the nonprofit world. Not only has Erik authored a series of books for nonprofits, but he also runs a website and hosts a podcast that's all about small nonprofits! (Visit ForSmallNonprofits.com to learn more!)
Read on to learn more about these awesome Tacoma nonprofits:
---

Since humble beginnings in 1994, Hilltop Artists has been serving youth between the ages of 12 and 20 and transforming their lives through the power of art and mentorship. "Tacoma loves glass and this is iconic," shares Erik. Partnerships and numerous classes have allowed this nonprofit to thrive as a safe and creative space for kids and young adults who face may obstacles to success.
As a nonprofit that's dedicated to connecting young people from diverse backgrounds to better futures, Hilltop's glass-blowing workshops have increased the chances of academic and personal success for students all while providing beautiful artwork for the community through installations and glass sales.
How to Get Involved & Support Hilltop Artists:

Check out their

events page

so you can support their next glass sale! Also, Hilltop Artists is always looking for volunteers, so if you would like to be added to their email list, you can contact Ellen Aronson at

earonson@hilltopartists.org

or at 253.571.7720. If you would like to make a donation to Hilltop Artists,

click here

.
---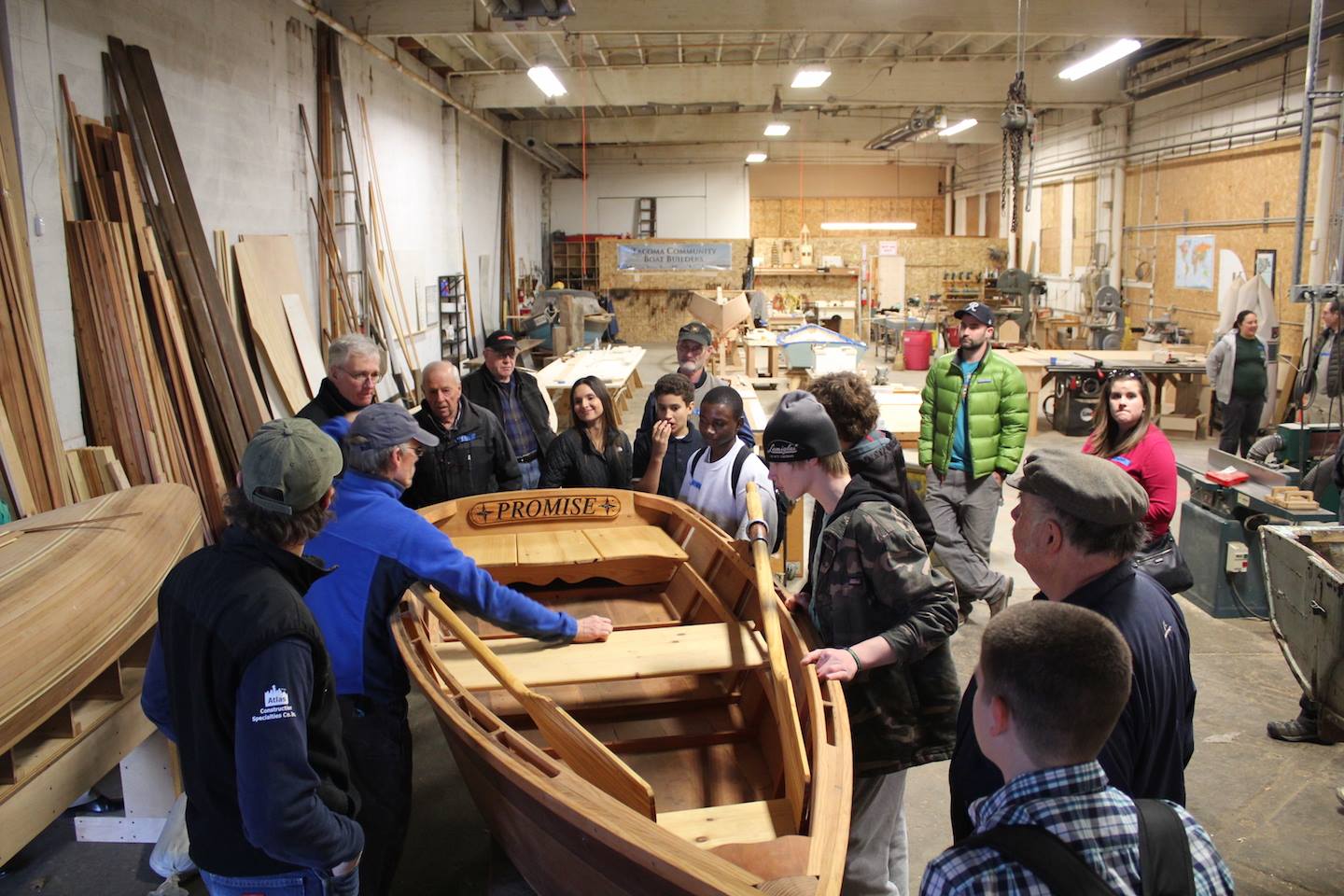 Photo courtesy of the Tacoma Community Boat Builders Facebook page
Many young people dream of adventure, but unfortunately, many of today's youth have their dreams taken away early by circumstance. Luckily, organizations like the Tacoma Community Boat Builders exist to change that:
"Through partnerships with the courts and Remann Hall, at-risk youth can learn how to build boats, toolboxes, and work with wood at TCBB," shares Erik. "It's important work for kids who need it."
Indeed, TCBB provides local young males with the unique opportunity to gain skills, build relationships, and experience the joy and accomplishment of sailing a boat that was created by one's own hands. Leading our future through hardship to paths of success, TCBB's "quest of the wooden boat" is one worth supporting!
How to Get Involved & Support:

If you would like to make a donation to TCBB today,

click here

.

Follow Tacoma Community Boat Builders on Facebook
---
With a goal to abolish the outdated marginalization and stigmas associated with the culture of skateboarding, Alchemy Skateboarding is a Tacoma-area nonprofit that is dedicated to providing youth with opportunities to learn and grow through this sport.
Today, "Tacoma is the first place in the nation to integrate skateboarding in the public school system (you can get a PE credit for skateboarding and there's more coming)," shares Erik. "Alchemy Skateboarding has been instrumental in advancing skateboarding."
With the legalization of skateboarding as a form of transportation in Tacoma, the opening of the city's only indoor skate park, and more to boot, skateboarding has definitely come a long way!
How to Get Involved & Support:

To find out about the volunteer opportunities available at Alchemy Skateboarding,

contact the organization today

. If you would like to make a donation to Alchemy Skateboarding,

click here

.  
---
"What started as a project to fill empty storefronts during the recession grew into a program that helps creative entrepreneurs get their businesses started," shares Erik. "This is an awesome program."
Spaceworks Tacoma offers "training and support for artists and creative entrepreneurs." Providing local creatives with temporary spots for art installations, small business training, peer-to-peer support, and short-term spaces for larger art projects or pop-up shops, Spaceworks' mission is to make Tacoma culturally vibrant and economically strong. With community interaction encouraged and greater visibility made possible, Spaceworks is not just a nonprofit that supports artists; it is a nonprofit that celebrates the wonderful creative culture of Tacoma.
How to Get Involved & Support:

If you would like to volunteer at Spaceworks Tacoma, you can fill out a form

here

. If you would like to make a donation to Spaceworks Tacoma,

click here

.

 

  
---
Photo courtesy of the Oasis Youth Center Facebook page
Acting as the only drop-in and support center for LGBTQ youth in Pierce County, the Oasis Youth Center is committed to creating a space where LGBTQ youth between the ages of 14 and 24 can receive the encouragement they need to become healthy and productive members of the community.
Leadership training, crisis intervention, and housing program referrals are only a few of the many services this organization provides in addition to a free, fun, and safe place for youth to just hang out without judgment. With the vision of a world in which queer youth are valued in the community, the Oasis Youth Center brings us one step closer to making that vision a reality.
How to Get Involved & Support:

If you would like to intern or volunteer with Oasis, send an email to

oasis@oasisyouthcenter.org

today. If you would like to make a donation to Oasis,

click here

.

Follow Oasis Youth Center on Facebook
---
*Cover photo courtesy of the Alchemy Skating Facebook page 
---